New philosophy turns Tribe into a threat
January, 1, 2010
01/01/10
6:01
PM ET
How were we all so wrong about William & Mary?
Wait. Did I just say that out loud? Was there a reason to be even thinking about this historical institution founded in 1693 in the colonial hamlet of Williamsburg, Va.?
This is a school that has never been to the NCAA tournament. Its only appearance in the NIT came in 1983. The Tribe have never been ranked.
The joke of losing to Bill and Mary just isn't funny anymore. It's a tired tale. But it's time to take this men's basketball team about as serious as the students on campus must handle midterms.
[+] Enlarge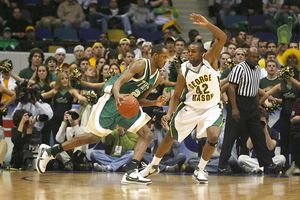 Geoff Burke/US PresswireDanny Sumner, left, and William & Mary are a CAA team to watch this season.
William & Mary was ranked No. 7 in the collegerpi.com poll through Sunday's games and that isn't likely to drop this week.
Why not? The Tribe won at Maryland on Wednesday. They had already won at Wake Forest and defeated a Richmond team that has wins over Mississippi State, Missouri and Florida and just lost to that same Demon Deacons club in overtime.
The RPI is buoyed by losing by nine at Connecticut and a triple-overtime, buzzer-beating loss at Harvard, which as we all know now is no slouch.
On Dec. 5, the Tribe also took out one of the Colonial favorites, VCU, by one to start league play. The league slate continues Saturday with a road game at Hofstra.
Blue Ribbon picked William & Mary 11th in the CAA. The Tribe's final RPI the past five years reads like this: 238, 159, 203, 263 and 286. The win totals aren't much better with 10 a year ago, a rare blip two seasons ago with 17 (and an appearance in the conference tournament final), then 15, eight and eight.
"I wouldn't blame anyone for picking us 11th,'' said sophomore guard Quinn McDowell, who scored a career-high 28 points in the win over the Terps. "We were pretty bad last year. The expectations were pretty low.''
William & Mary has as good a résumé as any school in a non-power six conference. As long as the Tribe, which now have to be considered a CAA favorite, finish in the top two in the league, they should get an at-large bid. So what happened?
"We found something that works,'' McDowell said. "We went to work in the offseason. Had a commitment to each other and found a great system that we believe in.''
William & Mary coach Tony Shaver was a Dean Smith disciple, playing at North Carolina in the 1970s. He was schooled on being a press, run and trapping team. But let's be honest here: That's just not going to fly at William & Mary. This is a school that needs to be niche.
"I made a gut-wrenching decision,'' Shaver said. "I had to abandon my system. I knew it wouldn't lead to the best results at William & Mary.''
So Shaver did what countless coaches have admittedly done from Roy Williams to John Calipari. He went poaching.
"I stole some from John Beilein [from West Virginia and Michigan], the NC State stuff [and now Arizona State] from Herb Sendek and then added some stuff we like,'' Shaver said. "It's a style offensively that is predicated on a lot of 3s, opening the floor, a bit of backdoor cuts and defensively we're doing a lot of different things from some matchup to man.''
It's hard to argue. The Tribe have won nine straight games, one shy of a school-record 10 straight by the 1929-30 team. The Tribe's two road wins against ACC schools was a first in school history.
McDowell said four of the five players on the court can all make shots. The 5-man is a passer and screener. Look at the balance as David Schneider (averaging 16.7 points and 6.2 rebounds), McDowell (16, 3.5), Danny Sumner (13.1, 3.9), Marcus Kitts (6.9, 6.4) and Sean McCurdy (6.5, 4.4 apg) make for a solid five. If it sounds similar to the hybrids out of the original Princeton offense that Georgetown, Northwestern, Arizona State, Oregon State and Richmond all run in some variation to their liking, then that's fine to toss that blanket over it if you'd like.
The interchangeable parts make it hard to guard as long as the Tribe make shots. But there has to be more than just a system. These players have to believe in themselves and not get rattled at perceived higher competition. That was the case at the Comcast Center. McDowell said Shaver made it clear in the locker room that the win over Wake Forest was solid, but beating Maryland would prove they belong.
"I wish I could tell you that there was some kind of magic pixy dust in our water,'' McDowell said. "I don't think there is. It's been a combination of things from the offense, to this team. We're not blowing out teams. But we find ways to win, especially in tough environments on the road.''
In years past, teams such as Gardner-Webb have made their mark with a stunning road win at Kentucky or something similar. But then they fade by the New Year, never to be heard from again, even within their respective conference.
That doesn't seem to apply here.
The Tribe followed an opening weekend of losses to UConn and Harvard with the Richmond and Wake wins and then won at Maryland weeks later.
This just doesn't happen at William & Mary.
"It's no secret,'' McDowell said. "It's not a rich basketball tradition here. But that's part of the excitement trying to build something that's never been done before.''
What Shaver did in switching his philosophy was make his program unique. In the Pac-10, no one enjoyed playing Oregon State, Arizona State or Washington State last season. The same is true of playing Richmond in the Atlantic 10 or Northwestern in the Big Ten.
"I wanted our program to be hard to prepare for,'' Shave said. "We do some unusual things. I wanted to have a system that skilled players could really flourish in with passing and shooting. All of those are a lost art. It helped us find good players that knew they would fit in here.''
Shaver said the Tribe clearly snuck up on Wake. But he said that wasn't the case against the Terps. Now, the Tribe are no longer the given win, the team other CAA teams will look down upon. The Tribe are suddenly the team to beat. The wins at Wake and Maryland made the Tribe the first CAA school since the league was formed in 1985 to win two road games against ACC opponents in the same season. They were only the third and fourth road wins at an ACC school for a CAA school.
Those results demand and command respect.
"We're going to get everybody's best shot now,'' McDowell said. "The programs in the CAA know us better, they've played us multiple times and in some way playing those hostile road games will be tougher than playing at Maryland.''
As the new year starts this weekend, the Tribe have a bid in front of them to earn. They have done quite enough to warrant the attention of all 10 members of the NCAA tournament selection committee. Remember, it is the best 34 at-large teams remaining after the automatic berths. History means nothing in that room. You earn your spot based on what you've done this season. William & Mary has done more than most so far.
"It would mean the world to a lot of people,'' said Shaver of a first-ever NCAA berth. "Not just to the guys here, but to the guys who have played here a long time. I know it's premature for me to talk about that, but it would mean the world.''