Some observations from Wednesday's action
January, 7, 2010
01/07/10
3:28
PM ET
The only plausible way Cornell gets an at-large berth to the NCAA tournament is if the Big Red were to win the rest of their games, lose at Harvard and then lose to a similar streaking Crimson in a one-game playoff berth for the Ivy's automatic berth.
And even that may be a reach for the NCAA tournament selection committee. Going two-deep in the Ivy? Unlikely.
Eight of Cornell's 12 wins have come away from home. That list includes name teams such as Alabama, UMass, Saint Joseph's, Davidson, St. John's and La Salle. None of those teams may be in the NCAA tournament, but these are still quality wins. The only losses were at Syracuse, at home to Seton Hall and now at Kansas, 71-66, on Wednesday night -- after the Big Red led for much of the game.
[+] Enlarge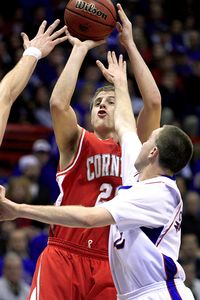 AP Photo/Orlin WagnerRyan Wittman scored 24 points on Wednesday, but it wasn't quite enough against No. 1 Kansas.
Harvard's only losses so far are to Connecticut, Georgetown and at Army with wins over Boston College, GW and Rice. Once again, it may not have an NCAA win on its resume, but still more than impressive for an Ivy.
So, let's assume the only way in is to win the Ivy League regular season (since the league doesn't have a conference tournament).
If that happens -- and Cornell is certainly the favorite -- what awaits is one heck of a first-round opponent for someone in the NCAA tournament.
"They could beat anybody, regardless of their seed," said Kansas coach Bill Self on Thursday. "I'll make a prediction now. They'll be a team that nobody wants to play. If they make shots, they can beat anybody. They're tough, they rebound the ball, they don't turn it over and their point guard, Louis Dale, wasn't full strength."
Dale had missed the last three games with a high ankle/Achilles injury.
The difference for Cornell from the outset of this season is that the Big Red have a big man in Jeff Foote (a backup big in Kentucky transfer Mark Coury, who had seven boards at KU), a shooter in Ryan Wittman (24 points vs. KU) and upperclassmen role players who don't make many mistakes.
"We couldn't guard [Foote] or Wittman early," Self said. "They got 49 points in the first 23 minutes of the game. They will be a tough out come March."
Cornell coach Steve Donahue said he has been flooded by calls, e-mails and text messages since the Big Red's near-miss at Phog Allen.
"We have a lot of good players but if we don't have Foote we can't compete with those teams," said Donahue, echoing a comment he made earlier in the week. "They missed 31 shots, but offensive rebounded only eight. We're an extremely confident group."
But Donahue said he knows once the Big Red get back from this road trip -- they're off to play South Dakota on Friday -- and get past Clarkson, the Ivy will be unforgiving with an opener against Columbia on Jan. 16.
"Our league is a one-bid league so you can't slip up," Donahue said. "Columbia will play us better than anyone else."
Self should know about how to assess a team like Cornell. The Big Red don't have a game-changer like Stephen Curry (although Wittman is certainly a star), but this Cornell team is Davidson-like and could go on a run come March like the Wildcats did two seasons ago, which ended in an Elite Eight loss to Self's eventual-champion Jayhawks.
Sherron Collins was a sophomore on that team. He was a much-needed and leaned-on junior last season. But with the addition of freshman Xavier Henry, the improved play of Tyshawn Taylor and the Morris twins -- Marcus and Markieff -- he doesn't need to do as much. That's why Self said Collins has flown a bit under the radar this season with three single-digit scoring games.
But the Jayhawks desperately needed the make-a-play Collins on Wednesday night. He scored 33 points, converted 13 of 14 free throws and converted a three-point play to give Kansas the lead by two with 49 seconds left.
Self said he had no idea Collins could get through the lane and get fouled to put the Jayhawks up two at that moment.
"I knew we couldn't take a bad shot and then he just goes in for the three-point play like we drew it up," Self said. "He made the plays late."
Self said a deep bone bruise had been bothering Collins earlier in the season.
"He sacrificed more than anybody," Self said of Collins relinquishing his scoring role more this season. "He has played more of a point guard. His numbers aren't quite as impressive. But he's healthy now and there's been no better player since Christmas."
Kansas' real season began with the homestand against Michigan and Cal, continued with the road win at Temple and the close win over Cornell and will carry on with a road game at Tennessee on Sunday. Self said even with the Volunteers being depleted due to the suspension of four players, he knows the game will be closely contested.
"One thing Bruce [Pearl of Tennessee] and Mike Anderson [of Missouri] do best is plugging in guys to their system," Self said. "You see the style more than you see the players. It doesn't make a difference who is out there, they have a chance to be successful."
• At some point a projected NCAA-bound team has to win some marquee games to be deserving of a bid.
Seton Hall is facing that reality Saturday against Cincinnati.
The Pirates must win. They must start with a quality win and get on a roll. Seton Hall came close again Wednesday night, tied with Connecticut late before the Huskies busted out on a 9-0 run and won 71-63.
But that's three times now (even though it's against three of the top five or six teams in the league) that the Pirates have lost late. Losing at home to West Virginia and Syracuse and now at Connecticut -- with a nonconference loss wedged in between against Virginia Tech in Cancun -- is a slide. Take out a win over Navy and you've got a real serious spiral with a previous home loss to Temple making it five losses in the last six games.
"Dean Smith used to say that you don't want to make too many games life or death because you'll die a lot of deaths. I like that line," Seton Hall coach Bobby Gonzalez said. "I don't want to say it's life or death and put more pressure on the kids."
Nevertheless, Gonzalez said the Cincinnati game is a "very, very important game for us."
Gonzalez said the difference with last season's team and this one is that opposing Big East coaches do feel some genuine unease about playing the Pirates. And he's right. The talent has unquestionably been upgraded. The addition of Herb Pope inside and now guard Keon Lawrence and forward Jeff Robinson have made the Pirates more on par with the upper echelon of the league.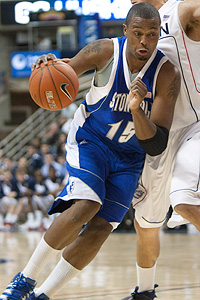 AP Photo/Thomas CainHerb Pope and the Pirates dropped another close one Wednesday night at Connecticut.
After Wednesday's game, Connecticut coach Jim Calhoun raved about Pope and his ability to board. He was averaging 14 boards in the first two Big East games and grabbed 14 in just 24 minutes (foul trouble) in Storrs. But Gonzalez is still figuring out who he wants to play and is leaning on Lawrence and Jordan Theodore instead of senior Eugene Harvey at the point.
Gonzalez said it was akin to Duke coach Mike Krzyzewski making the decision last season to go with Jon Scheyer and Elliot Williams at the point over senior Greg Paulus.
He cited Harvey's turnover issues (three in seven minutes against the Huskies) and his inability to play like a senior. But he hasn't given up on Harvey and he will be in the top eight. Still, if the rotation of the top seven stays put with Pope, Jeremy Hazell (who shoots too much), Robert Mitchell, John Garcia, Robinson, Lawrence and Theodore, then the Pirates have enough to be a pest in the Big East.
But they've got to get on a roll with a win over Cincinnati, Louisville, Pitt and at South Florida (with maybe a loss at Georgetown in the middle) to be taken seriously. If that occurs, the Pirates would be 4-4 after eight games and at least in the conversation heading toward the second half of the league season.
"We're going to be a team to reckon with," Gonzalez said. "I think if we played [UConn] in our building or on a neutral court, we can play with them. They're a good team and they won the game but we're right there with them. Once we beat somebody, we're going to get some confidence and eventually get on a roll."
The Pirates lost in overtime to the Mountaineers and the Hokies and in the final possessions against Syracuse and UConn.
"We're minutes away," Pope said. "We've got the right attitude, but we need timely rebounds."
Robinson said the Pirates must get everybody to trust one another.
"We've got good enough talent and everybody plays hard," Robinson said. "We just have to mix the chemistry together."
Some quick hitters from Wednesday night:
• William & Mary notched its sixth road win, by one over Delaware in overtime. The Tribe were down by seven points in overtime before David Schneider hit a 3-pointer with 2.8 seconds left to finish with 26 points and the win. The Tribe aren't blowing anybody out, but they just keep winning, save the one loss at home in the league to UNC Wilmington. If the Tribe finishes first or second in the regular season, I still like their chances to be on the board late in the at-large pool with nonconference wins at Wake, at Maryland and over Richmond.
• The CAA shift is on with VCU continuing to struggle, dropping one to Drexel and falling to 1-3 in the league. That's not something we're used to seeing.
• Gregg Marshall has quietly put together quite a team at Wichita State. The Shockers are back to being a contender like they were under Mark Turgeon in his final two seasons. Wichita put Missouri State back into pretender-instead-of-contender status by winning on the Bears' homecourt by three. WSU is 14-2, 3-1 in the league.
• Northern Iowa continues to be the best road team in the Valley and, led by Jordan Eglseder, beat Southern Illinois in Carbondale. The Panthers deserve to be ranked, with only one loss on the season. Eglseder had 17 points and 14 rebounds against the Salukis.
• You knew Marquette was going to nab someone. Buzz Williams' team has come close and plays so hard and the Golden Eagles' win over Georgetown really came as no surprise to other Big East coaches after checking in with a few late Wednesday and Thursday.
• Jimmer Fredette is playing with strep throat and wasn't himself against UNLV, but it didn't matter. BYU isn't a one-man band. Jonathan Tavernari scored 14 of his 17 points in the second half for the Cougars' gritty 77-73 win over Runnin' Rebels.
• The score of the night wasn't in Lawrence but in Corvallis, Ore. Seattle, under first-year coach Cameron Dollar, shocked Oregon State 99-48. But NBA flavor of the month Charles Garcia wasn't even a major factor. He had four fouls and scored just 10 points in 15 minutes. How good is Harvard? The Crimson beat Seattle 92-71 last week. The WCC would be wise to look at expansion with Seattle. Gonzaga may not like the idea, but the Redhawks are looking like a good fit again within Division I.