Hunter continues work for Samaritan's Feet
January, 11, 2010
01/11/10
12:35
PM ET
For a moment, think of Ron Hunter as more than just the head coach of IUPUI.
Don't worry about the Jaguars' 4-1 record in the Summit League or their 11-7 mark overall.
Think of him as a person who is doing as much as he possibly can to directly affect millions of children around the world.
[+] Enlarge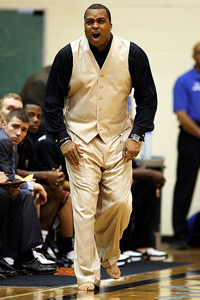 Andy Lyons/Getty ImagesOnce again, IUPUI coach Ron Hunter will coach shoeless in support of Samaritan's Feet.
Nationally, IUPUI is an acronym that loses its meaning for most outside of Indianapolis or the Summit League.
Internationally, when children see his face and his boxes of shoes on past visits to Peru, Costa Rica and this May to South Africa, he will be seen as one of the most popular people these children have met.
For the third year in a row, Hunter will coach barefoot to draw attention to the millions who are without proper footwear. On Thursday against Oral Roberts, he will coach without shoes or socks. He did it two years ago in conjunction with Martin Luther King Jr. Day and the nonprofit Samaritan's Feet. He is still working with the organization after taking a trip to Peru two summers ago once a trip to Africa was deemed too dangerous by the university. He took his team last summer to go to Costa Rica to do the same thing. Now he's looking at an excursion to South Africa May 20-29 in advance of the World Cup there in June. But even before that trip, Hunter wants to help here at home and is planning a 10,000-shoe distribution at the Final Four in Indianapolis the first weekend on April. "We're going to bus kids in from cities around the state, from Gary to Michigan City to Fort Wayne," Hunter said. "We'll have four or five sites set up on the Thursday before the Final Four [April 1]. The recession has been so bad this year that we want to help children with a new pair of shoes that didn't have them." Hunter's goal is to raise two million shoes with this latest campaign. He wants to enlist the support of fellow coaches on the National Association of Basketball Coaches, a board that he serves on as a member. He wants at least nine other coaches to go with him to South Africa, during a time that he says serves as coaches' down time in their yearly game/practice/recruiting schedule. "This whole thing has changed my life," Hunter said. "It has become a full-time job. There isn't a day that doesn't go by that I don't have a request. Because of the recession I want to help the people here even more. I still believe that kids are a lot worse off elsewhere. We're in a blessed country and we take things for granted." Hunter said he'd love to get coaches on this trip to show them how they can change their perspective in life.
"I'd love to take a guy like Urban Meyer [Florida coach who took a leave of absence to deal with the stress coaching has put on his health]," Hunter said. "We work hard and we try to win national championships but at the end of the day you can't take any of that with you. Yeah, I love to win games and I love coaching but it won't come close to seeing a child and make that child's life better or to see a parent cry because they couldn't help. This is now part of what I do."
Hunter said fans can physically drop shoes off at the IUPUI game but he said he's working with Samaritan's Feet to do more online so schools like IUPUI and others that take on the program later this week aren't dealing with the cost of shipping the shoes out. "The university here has been great to allow me to take my time for this," Hunter said. "I don't use university time or money. I don't ask my secretary to do things. But she gets bombarded with calls from around the world. This is now my mission." Hunter wants people to continue the cause and head to the Samaritan's Feet Web site at
Samaritansfeet.org
. Hunter is not alone. Last Friday, Florida State women's coach Sue Semrau coached against Virginia in her bare feet to raise awareness. According to Samaritan's Feet's Web site, one million pairs of shoes have been raised with coaches going barefoot for games. The cost on the Web site is $5 per pair and fans can also text SHOES to 85944. "We're also getting help from shoe companies," Hunter said. "I'm hoping we'll see everyone at the Final Four, members of the NCAA, coaches and others giving out 10,000 shoes to the state of Indiana. This is my mission."
Hunter is hoping that coaches at all levels of basketball this weekend will coach in their bare feet to draw attention to the problem of those who don't have shoes.