Struggling Florida finds itself at a crossroads
January, 13, 2010
01/13/10
6:45
PM ET
GAINESVILLE, Fla. -- If Florida is to be an NCAA tournament team again -- if it's to snap a two-year hiatus after consecutive NCAA titles -- the Gators must start a roll Saturday against LSU.
They came close to upsetting Kentucky on Tuesday night, coming back from 15 points down to tie the game. But alas the Wildcats were too talented at the major positions, point guard, interior rebounding and finishing -- something the Gators used to own in the SEC a few years ago -- and closed out the game.
[+] Enlarge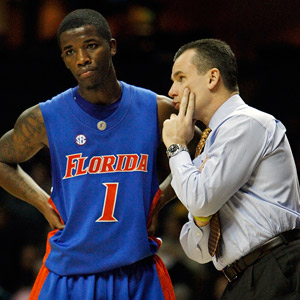 AP Photo/Mark HumphreyKenny Boynton (left) is one of Billy Donovan's most productive players, but the Gators need more help.
So now, after beating Michigan State in New Jersey, knocking off Florida State at home and giving Syracuse a game at times before losing in Tampa last month, the Gators find themselves in a precarious position.
They are 0-2 in the SEC after losing at Vanderbilt and to Kentucky. In the next two weeks, they'll face LSU at home, travel to Arkansas and then host South Carolina and Georgia. If Florida is an NCAA tournament team, it must win these games to create some separation.
Gators coach Billy Donovan has had quite a philosophical viewpoint while coaching an elite program. He has plenty of experience managing egos with a roster that has had its share of big-time players mixed with classic four-year players who are necessary to win at a high level. He has been to three national title games and won two, and consistently has Florida known as a national name, even during the past two struggling seasons.
Donovan said he has seen the arc of a season.
"Every team is jacked up for the start of practice, but then the excitement wears off," Donovan said. "You have the first game and then everyone is focusing on minutes. Then you start to distribute them and then you start to understand there is a ceiling to get better. We have a high ceiling."
But Donovan admits there was a dip in intensity when the Gators came off the Michigan State win and Syracuse effort but then landed with a thud when they failed to hold on to a double-digit lead against Richmond in Sunrise, Fla., and then fell flat by losing at home to South Alabama.
Getting beaten at Vanderbilt was arguably expected because the Commodores are always a tough out in Nashville, especially when they are as talented as they could be this season. Kentucky simply was more talented.
"I'm anxious to see how this team responds against LSU," Donovan said. "It's critical for us to separate ourselves. Do they come together as a group? How will this team come together for practice Thursday? What kind of effort will we have? There are external motivational things that happen, like playing Michigan State or Kentucky. But how internally motivated are you?"
The Gators have an entertaining and productive backcourt in Erving Walker and Kenny Boynton. Walker can shoot the Gators out of a game or keep them in one, as he did against Kentucky with four 3s. Boynton can make nearly as many plays.
Alex Tyus is finding his role as an inside-out player, but Donovan said the Gators need a third reliable scorer behind Boynton and Walker. It was evident that it can't be Dan Werner, who made 1 of 8 shots, which included four 3-point attempts. Werner is a leader when the Gators play zone, a player Donovan relies on defensively to get his teammates in the right place. But he has become an offensive liability. It's a tough call because Werner has been such a loyal player for Donovan and is needed on defense.
Georgetown transfer Vernon Macklin had foul trouble in the first two SEC games and can't seem to find a groove. Chandler Parsons, Erik Murphy and Ray Shipman are all role players who might make a shot, grab a board or facilitate a pass. But none is a third scorer for the Gators.
"We've got some stuff there, but every team comes to a crossroads," Donovan said. "You can go into the league with false sense of who you are. We're at that crossroads right now, and which path will we choose?"
It's not healthy to consider how the Gators would be with Nick Calathes in the backcourt with Boynton and Walker. Calathes left Florida after his sophomore season last year for a Greek contract and may not be heard from again professionally stateside. The Gators would be a tough out with those three together. But he's not here, so it's not worth thinking about.
The Gators are no different than a number of teams that have had some decent wins, a lucky win (Parsons' 75-foot heave to win at NC State) and a bad loss or two. They will be in a pool of teams with countless others that the selection committee will have a hard time separating. That's why the Gators must act now and take care of the teams perceived to be below them to erase some of the questions.
• Former DePaul coach Jerry Wainwright, who was fired Monday, said in a text message that he wants to continue coaching but isn't sure he can. Wainwright is one of the more respected coaches in the country for his basketball knowledge. He is held in high esteem by USA basketball and had success at UNC Wilmington and Richmond. But he never got into a good groove at DePaul with NBA early-entry defections.
Romanticizing DePaul is not the answer. DePaul was a better fit for Conference USA than the Big East. For DePaul to be successful in the Big East, it will take playing games closer to campus, not in a barren facility. Money must be poured into the program. Marquette has passion, a loyal fan base and an NBA arena that it can fill. The Golden Eagles have done things right. DePaul hasn't.
I've known Tracy Webster, DePaul's interim coach, since he was a high school senior and was recruited to go to Wisconsin in 1989-90. Webster is Chicago strong and deserves a shot. He's a good man. But the Blue Demons may need something to jolt the program back to life, and that could be taking a flier on Isiah Thomas from Florida International. We'll see how it plays out, but the Blue Demons must take a chance.