Cyclones stunned by Staiger's decision
January, 20, 2010
01/20/10
1:08
PM ET
Lucca Staiger
celebrated with his teammates in the locker room after Iowa State beat Nebraska.
He was at practice Monday, prepping for Wednesday's game against Texas Tech.
He showed no signs of pulling off what would ultimately be one of the most selfish moves a player on any team could make.
[+] Enlarge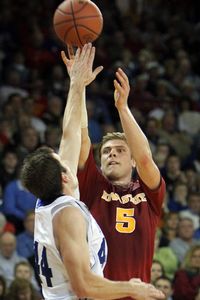 AP Photo/Charlie NeibergallIowa State will miss the shooting of Lucca Staiger, who hit 10 3s against Drake earlier this season.
He quit on his teammates, on the staff and on the school Tuesday when he walked into Iowa State coach Greg McDermott's office and said he was going to play in Germany.
This was hardly a quick decision. McDermott said Staiger had a plane ticket to go back to his native Germany.
"You don't buy a plane ticket home if it's not in the works," McDermott said Wednesday. "I'm disappointed. He knew when he practiced Monday that he wasn't going to play against Texas Tech."
Staiger released a statement Tuesday saying he had an opportunity to play professionally in his home country and decided to pursue it right away. He said he would miss his teammates and thanked the fans. He also had a telling statement that he felt it was "important to make this move now because the opportunity might not be there in the future for me."
That's almost the exact thing that happened to Florida in February 2004 when Christian Drejer bolted on Billy Donovan and the Gators in the middle of the SEC season for a pro contract in Spain.
It didn't matter that the season was still going on. A deal was on the table and Drejer, like Staiger, felt pressure to take it immediately rather than wait to see if it would be there at the end of the season.
McDermott said he wouldn't have had any problems with Staiger for leaving for a pro career in Germany after the season was over.
"What happens is they'll say if you don't take the offer now, it's not going to be there," Donovan said Wednesday. "Drejer was told if he didn't take the offer, an $800,000 a year deal, then he's not going to get it. He wasn't going in the first round that year. So they go back."
Donovan said the mentality for a foreign player, who really only wants to be a pro, isn't the same as an American. They're not viewing college basketball in the same prism as an American since college basketball isn't treated the same way overseas.
"Christian told one of our coaches after it happened that he had no idea that it would be such a big deal," Donovan said.
That's what's hard to understand. How could Drejer -- and in this case, Staiger -- not think that this was an affront to his teammates, turning his back on them in the middle of a season?
"His goal was to play professionally and I think he saw that the NBA wasn't going to happen," McDermott said. "I would understand at the end of the season. I can't rationalize it now."
Iowa State's administration has backed Staiger the past three seasons, working with him as he tried to gain eligibility. Staiger had to sit out his freshman season because he played for a professional team in Germany, and then he played 32 games last season before appearing in all 17 games this season. He was averaging 9.4 points and shooting 42.5 percent on 3s.
"His case helped others and now you don't see players sitting out the whole year like [Nebraska freshman] Christian Standhardinger," McDermott said. Standhardinger, also from Germany, had to sit out the Huskers' first 15 games due to amateurism eligibility issues. The NCAA has taken a hard stand on international players who were on a team with professionals, even if they weren't being paid.
"What I don't understand is why come back from Christmas break?" McDermott said. "We had four or five days. It made no sense to me. Obviously he didn't care about his team."
Staiger clearly didn't, at least not in the same way someone else might. This illustrates Donovan's point that an international player might not see college basketball in the same prism as an American. But that is still hard to understand.
Staiger started against the Cornhuskers in Lincoln on Saturday. He played 25 minutes and scored seven points. The Cyclones played only eight players, and it was more like seven because Dominique Buckley got just six minutes.
Staiger's departure leaves the Cyclones with eight scholarship players after McDermott decided that suspended freshman guard Chris Colvin would dress Wednesday.
"Whether he plays or not, I'm still not sure," McDermott told The Des Moines Register. "We will have him available to play if we need him."
Colvin was suspended the past three games for violating team rules.
"It's not fair to the other seven players," McDermott said of not giving the Cyclones a chance to win. McDermott suspended Colvin from games, but not practices.
Junior guard Charles Boozer went down with a torn ACL in a loss to Texas on Jan. 13. Senior center Jamie Vanderbeken (knee, foot injuries) has been hurt and has played in only 10 games. McDermott said Vanderbeken will seek a medical redshirt for an additional season. The 12th scholarship player, freshman guard Antwon Oliver, is redshirting and won't come off that status.
Staiger's 3-point shooting (48-for-111; team highs for 3s made and attempted) will be missed, though. McDermott said he will lean heavily on sophomore Scott Christopherson (19-of-38 on 3s) to make some 3s. But of course this means more of a load on Craig Brackins (16.3 ppg, 8.1 rpg) and Marquis Gilstrap (14.7, 8.9).
The Cyclones had NCAA tournament aspirations when the season started. They are 12-5 overall, 1-1 in the Big 12, and their best wins include Iowa, Saint Louis, Houston and Nebraska, none of which will be an NCAA team. If Iowa State has any shot, it has to come by beating elite Big 12 teams.
That mission begins Saturday against Kansas.