Harris set to return to disappointing Wolverines
January, 25, 2010
01/25/10
9:02
PM ET
When evaluating Michigan in the preseason, the consensus -- and rightfully so -- was to project on the production returning and assume the Wolverines would be just as good if not even better than the team that advanced to the second round of last year's NCAA tournament.
Manny Harris was returning, and so too were DeShawn Sims, Zack Novak and Stu Douglass. Plus the Wolverines would get a full year from Laval Lucas-Perry.
But what didn't come back -- what is clearly missing from this Michigan team -- is leadership from two players who were hardly perceived as necessities.
Gone from last year's team are seniors C.J. Lee and David Merritt, who played in all 35 games but were ninth and 12th respectively on the scoring list.
"They were born leaders," Michigan coach John Beilein said. "It was obvious to us. C.J. is already going into politics and David already has started his own company."
[+] Enlarge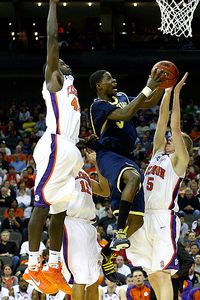 Jamie Squire/Getty ImagesManny Harris led Michigan to a NCAA win last year, but hasn't been able to make the Wolverines a contender this season.
As the Wolverines slumber through a disappointing 10-9 season (3-4 in the Big Ten), what is missing from this group is the locker room and practice leadership that clearly wasn't in place when Harris went awry last week. The junior guard was suspended for a behavioral issue (you can read into this as you see fit) in practice last week in advance of a game at Purdue. The Wolverines' leading scorer didn't play against the Boilermakers because of the action and according to Beilein was going to issue a public apology later Monday.
Beilein said Harris apologized to the team Sunday in practice in preparation for Tuesday night's game against No. 7 Michigan State (ESPN, 7 p.m. ET). Beilein said unless something happens again, Harris (who is averaging 19.2 points, 6.7 rebounds and 4.3 assists a game) will be in uniform against the Spartans.
From at least one source, what occurred in practice was Harris exhibiting frustration over the way the season has evolved. During his Sunday apology, Harris apparently told his teammates that "it" wouldn't happen again and that he would be a better example to the rest of the team.
Beilein said Lee and Merritt were the type of players that were leaders in the locker room and during practice. They were the coach on the floor that a head coach desperately needs.
"Basketball is a flow sport where play continues," Beilein said. "It's not like football where you can have the quarterback huddle everyone up after a dropped pass."
Beilein said that Lee and Merritt didn't let last season's team drift. And this exact type of situation -- not knowing where the leadership might come from -- has occurred elsewhere this season. Like at Boston College, for example.
The Eagles didn't fret much about losing Tyrese Rice because he had a bit of an enigmatic personality and tended to drift. But what Rice could do, and had the respect to do it among his teammates, was get the Eagles refocused at times if the situation called for it. Biko Paris, who took over for Rice, doesn't have the demonstrative personality and neither does Reggie Jackson or Rakim Sanders. Senior Tyler Roche doesn't have that personality trait and neither does Joe Trapani. Yet, a lack of leadership in key moments has led to BC floundering in home games it should have won like against Rhode Island, Harvard and Maine.
But the Eagles (11-9, 2-4 ACC) were picked ninth in the ACC and even though they should have a much better record, there wasn't as high an expectation for them as there was for the Wolverines. Michigan, which lost to BC at home in the Big Ten-ACC Challenge in December, was ranked No. 15 in the preseason.
The Wolverines did find a way to beat Ohio State without Evan Turner and held on to beat Connecticut. But they didn't show leadership in late-game situations against Alabama in Orlando in the Old Spice Classic or at Indiana (Dec. 31) or against Northwestern at home (Jan. 10). UM wasn't expected to win at Kansas, but losses at Utah, Marquette in Orlando, at Wisconsin and of course at Purdue without Harris didn't help the Wolverines' profile, either.
Look, blaming the problems on the loss of Lee and Merritt may sound like an excuse, but no one has apparently filled the void.
The Wolverines aren't dead yet with Michigan State up next, followed by Iowa and then a trip to Northwestern before hosting Wisconsin and then at Minnesota and Iowa in a key six-game stretch over the next three weeks.
"We've got to get hot," Beilein said. "We haven't responded when we've had a lead late in the last four minutes against Northwestern, Wisconsin, Alabama or at Indiana. We need to do a better job with that."
And they need someone to act as an extension of Beilein, someone like Lee and Merritt who can be more assertive and get in someone's face. If it doesn't happen soon, the Wolverines will be (at best) playing their final game this season in the NIT.
Editor's note: Michigan sent out a press release this afternoon announcing Harris has been reinstated to the program and will play Tuesday against Michigan State. The release included the following comments from Harris: "I wanted to take this opportunity to apologize to the university, the coaching staff, my teammates and every U-M fan for not being able to help the team against Purdue. I made a poor decision during last Friday's practice which I regret very much. I fully accept the suspension from the coaching staff. It was the correct decision. I cannot tell you my disappointment for letting my teammates down and showing the lack of leadership that I normally try to provide. I love my teammates, the coaches, this program and especially all the fans who have continued to support me. I have learned a great deal from this situation and I don't ever want to have it happen again."