Davis leading upstart Blazers
January, 27, 2010
01/27/10
4:58
PM ET
Mike Davis' plan for this season was to surround
Elijah Millsap
with
DeMarcus Cousins
,
Eric Bledsoe
and
Casey Mitchell
.
He would have already had Jamarr Sanders and Aaron Johnson and would have been the pick to win Conference USA.
[+] Enlarge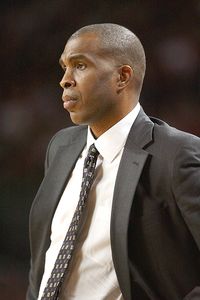 Andy Lyons/Getty ImagesMike Davis has UAB out to an 18-2 start this season.
But he lost Cousins, Bledsoe and Mitchell to higher-profile programs. Cousins and Bledsoe followed John Calipari from a possible Memphis destination to Kentucky. Mitchell signed with West Virginia.
The obvious reaction would have been to expect UAB to lack the necessary talent to be a title contender this season.
Think again.
Just when it appeared Davis didn't have what he needed to outlast Tulsa, Memphis, UTEP and upstart Marshall, the Blazers are blazing a trail this season -- they have the league's best nonconference résumé and are looking at a possible at-large bid.
"We thought we were going to have this special year with those guys," Davis said Wednesday after Tuesday night's league win over Tulsa put the Blazers at 6-0 in the league, 18-2 overall. "But it all worked out."
Cousins and Bledsoe are integral parts of Kentucky's top-ranked team. Mitchell is a spot shooter for the Mountaineers. Millsap is a star for the Blazers, averaging 16.6 points and 9.6 rebounds. Sanders is a complementary scorer who chipped in with 12 points against the Golden Hurricane, and George Drake got to the line and made all 10 of his free throws.
The Blazers didn't shoot well on 3s (2-of-14) but forced 17 turnovers and kept Tulsa from shooting better than 40 percent or making more than three 3s.
It was yet another example of Davis' squad manufacturing a win.
UAB has had late-possession or comeback wins over Arkansas, SMU and Marshall on the road and over Cincinnati and Butler at home. The only blemishes were against Kent State and Virginia, both away from home and hardly regrettable.
"We've prepared for this," Davis said. "Our strength and conditioning guys worked really hard over the summer. We've spent so much time on defense, about 75 percent of our time. We've developed some toughness in our kids. We've got really tough kids."
Davis has had a high turnover rate in his tenure at UAB. There was plenty of hype when he resigned at Indiana. He was likely going to be forced out anyway, but landed at UAB, in his home state. But attempting to lure transfers and high-profile recruits didn't end up making the program a real challenger to Calipari and Memphis. The Blazers have been in two NITs, which is more normal than abnormal for UAB.
But Davis has the program on seemingly stable ground right now in a year that was supposed to be a transition.
"We don't panic, and we don't get rattled," Davis said. "We were one free throw away from beating Memphis two years ago, and we had six scholarship guys. We just ran out of gas."
Davis said dealing with the adversity early in his UAB tenure and having to handle a depleted roster made him a better coach.
He has grown quite a bit, too. His decision to resign at Indiana, he said, was in hindsight a mature move.
"The reason I did it was I wanted our guys to be able to have a good year," Davis said of his February decision to resign at the end of the season. "You may not know it from a fan standpoint, but all of the negative stuff has an effect on the players. I did it because I wanted everyone to know that I wouldn't be here next year. I knew we could finish strong and focus on the one goal to win games. I didn't want any of this 'win one for the coach.'"
Davis said a cloud lifted once it was clear he wasn't going to be there the following season.
"I felt like there was a weight off my shoulders," Davis said. "It was tougher on the coach and the players when you're in limbo."
Davis is hardly in jeopardy now. He has turned the Blazers into a consistent winner this season and the team to beat in C-USA in a year when the Blazers were pushed behind Tulsa, Memphis and UTEP.
"We've come from 24, from 14 [from behind]," Davis said. "We've become a tough team with a lot of tough people."