49ers running with A-10 big boys
February, 1, 2010
02/01/10
12:55
PM ET
While Saint Louis coach Rick Majerus aptly questions whether the Billikens should be in the Atlantic 10 or are a more natural fit for the Missouri Valley, the same query about Charlotte is no longer an issue.
After a few wayward years in the A-10, Charlotte has found its footing after being a bit flustered from being forced to make a move out of Conference USA during the reshuffling of 2005.
The 49ers are on the verge of their first NCAA tournament berth since 2005, when they were in C-USA. The A-10 years have been somewhat awkward, like a teenager in middle school trying to find the right crowd.
Charlotte had winning league records twice -- 11-5 in 2006, 9-7 in 2008 -- but wasn't really in tune for a title.
[+] Enlarge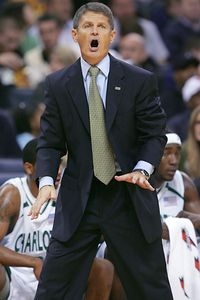 Streeter Lecka/Getty ImagesBobby Lutz has Charlotte up near the top of the A-10 standings.
"I probably didn't handle the transition as well in recruiting," Charlotte coach Bobby Lutz said. "It was just different."
Lutz said the 49ers had found a recruiting angle that worked in C-USA, notably getting junior college players from Texas.
"It was an adjustment," Lutz said. "Now we're comfortable as to who we are regardless of the league. Did we struggle with talent the last couple of years? Yes."
What Charlotte did, according to Lutz, was recruit the best players it could get and Lutz said he felt like the 49ers nabbed those who were targeted. But in the early years of the move to the A-10, Charlotte wasn't getting those same type of players, injuries hammered the program and the 49ers were a bit irrelevant.
That has changed dramatically this season with Charlotte off to a 16-5 start with a road win at Louisville (even with three guards out for the Cards) and a 6-1 mark in the A-10 coming off wins over Temple and UMass. The 49ers are in step with Xavier (7-1) and Temple (6-1) for first in the A-10 and a game ahead of Rhode Island (5-2) and Richmond (5-2), making up the five most-likely NCAA at-large candidates (sorry but Dayton just doesn't have the résumé at this juncture).
Charlotte's No. 44 RPI is buoyed by five games against the Top 25 (although only one win). The 49ers did play at Duke (loss), at Tennessee (loss) and against Georgia Tech (loss) out of conference.
Charlotte's role as a major player in the A-10 appears to be solid. Xavier and Dayton have the facilities. Temple has a quality place to play, the Philadelphia interest and the tradition. Charlotte should be right there with those programs on a regular basis, especially with the move to add football in 2013 to increase its profile.
But to make the 49ers relevant in their own market and certainly nationally again, Lutz must get the program into the NCAAs again. Lutz said he has four years left on his contract and hasn't felt any issues in terms of job security. He has been highly successful in Charlotte and continues to make this team competitive.
The A-10 has traditionally been the one league outside of the power six that has been able to get an at-large berth.
What might be missing for the Charlotte faithful are the mega personalities, the villains that Charlotte fans had in C-USA with Bob Huggins, John Calipari and Rick Pitino.
"Fran Dunphy is a great coach, a guy that's it's hard not to like," Lutz said. "But like it or not, there were personalities that brought interest. Fran Dunphy can coach with anybody in this league. He's one of the great coaches in the country. But none of the coaches in the league have that persona that make fans come and hate them. They're all classy coaches and great guys. That's a compliment to the league."
Lutz isn't and wasn't inferring that Huggins (whom he considers a good friend), Pitino and Calipari aren't in that classy group. But they were an attraction that the coaches in the A-10 aren't in terms of headline names.
Regardless of who is on the opposing bench, Charlotte had to have a winning product on the court for there to be interest.
Boston College transfer Shamari Spears has found his niche with the 49ers. He struggled to hold on to the ball in key situations for the Eagles but hasn't had an issue with the 49ers in leading them in scoring (16 ppg, 5.7 rpg). Derrio Green, a transfer guard who has two more seasons of eligibility remaining after this season, is a big-time scorer in the mold of previous Charlotte players under Lutz. He is averaging 13.8 overall, but went for 34 in a win at UMass, 26 in the win over Temple and 31 in the loss to Georgia Tech.
The core of this team will be back next season, giving Charlotte even more reason to gloat that it is no longer an afterthought in the league.
Charlotte still has nine more games, including going to Dayton, hosting Xavier and finishing with games at Rhode Island and against Richmond. There is still plenty of work to do to ensure a berth. But for now the 49ers are relevant once again.
"We've won every game we're supposed to win," said Lutz. "If the Old Dominion game is at home, we're probably favored. Yes, Louisville was down a few players but we beat them bad, it might have been the worst loss of Rick Pitino's tenure. We were still learning at the time. We were adding new scorers to our program."
The 49ers have made two NITs in the A-10 but the injuries and the defection of point guard Mike Gerrity to USC were a setback. The waters are calm now and Charlotte should be poised for a run to March.
"We've had two NITs in the last four years and in some places that's good enough, but not here," Lutz said. "I'm OK with that."