Pastner still winning at Memphis
February, 3, 2010
02/03/10
3:35
PM ET
The prediction in the spring, the summer and the fall hasn't changed one bit for Josh Pastner.
He had the toughest job of any new coach in the country.
Pastner took over the Memphis program after John Calipari led the Tigers to a national title game, blazed a trail in Conference USA with teams left in the dust behind them and collected NBA draft lottery point guards in successive seasons.
[+] Enlarge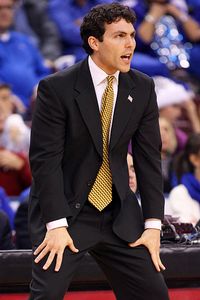 Nelson Chenault/US PresswireJosh Pastner has Memphis just one game back in the C-USA race.
Oh, and the top recruiting class in the country followed Calipari to Kentucky.
Pastner had to make do with players who likely wouldn't have been starters had Calipari and the incoming recruits stayed in Memphis. Even if you assume that Duke's Elliot Williams still would have transferred home to Memphis regardless of who the coach was, that's just one player getting the initial nod from Pastner who would have possibly started for Calipari.
So for Pastner to be 15-6 and 5-2 in C-USA through Tuesday is quite an accomplishment. The Tigers don't have an NCAA-caliber profile yet. To get one, they might have to sweep this week's homestand against UAB on Wednesday and against Gonzaga on Saturday.
The Tigers are no longer the favorites in Conference USA, with UAB, UTEP and Tulsa all a game ahead of Memphis and sharing that tag in early February. Losses, whether they were in the final possession or not, to UMass in Boston and at SMU were indicative more of an NIT profile than of an NCAA one. Losing at home to UTEP was a symbol that the FedEx Forum is no longer impenetrable. Losing at Syracuse or earlier in the season to Kansas in St. Louis was expected.
But throughout this season, the youthful Pastner has not shown any sign of panic. He has always been like Doogie Howser or Alex P. Keaton, the fresh face thrust into a much more grown-up world.
Pastner always had the drive to succeed; he is constantly preaching optimism in an Anthony Robbins way, and yet, he understands the demands of the job.
"In April, after 21 games, if you'd say we were going to be 15-6, most would say you were crazy," Pastner said. "We lost an entire recruiting class -- four starters."
Willie Kemp, Doneal Mack, Roburt Sallie, Wesley Witherspoon and Pierre Henderson-Niles, who wouldn't have logged double-digit minutes had Calipari stayed and brought his recruiting class with him, are playing heavy minutes for Pastner.
"The most challenging thing has been constantly managing the personnel and the egos and mixing and matching to make sure everyone is on the same page," Pastner said. "It's easier said than done. Losing is no fun. And winning is very hard. But we can't sit and dwell on it. We've got limited numbers. I can't beat them down."
Pastner made a mature hire when he tabbed former Rice coach Willis Wilson to be an assistant. Wilson has seamlessly moved into the role as elder statesman on the bench, a necessary aide to Pastner.
Pastner's recruiting hasn't been an issue, as he rounded up Scouts Inc.'s No. 1 class in the country for 2010, led by shooting guard Will Barton. The talent, and just as important, the depth, is on the way next season.
This was the bridge year, to see whether Pastner could coach at a high level and keep the Tigers relevant. He has done well and has a shot to ensure the Tigers are on the bubble with an impressive homestand this week.
The Tigers' margin for error is incredibly thin. Williams, averaging 19.8 points a game, has to play well for the Tigers to win. Getting Angel Garcia back from a knee injury and seeing whether he can help the Tigers over the final month would do wonders inside. But counting on him is asking too much at this juncture.
The Tigers are perimeter-oriented, and if they don't make shots, they don't win.
The homestand will conclude with Central Florida on Feb. 10. The Tigers then have a brutal Conference USA finish with four of the final seven games on the road, including games at Tulsa, always crafty Houston and a return at UAB. Of course, of all the years for C-USA to move the tournament out of Memphis to Tulsa, it happens to be Pastner's inaugural season as a head coach.
If Memphis lands in the NIT instead of making a return to the NCAAs, no one should balk. Expectations had to be lower. Managing a postseason squad amid all the hurdles would be a significant accomplishment.
• Kentucky coach John Calipari scoffed at the "John Wall controversy" this week. Calipari said Wednesday that he had no idea there was even any chatter about Wall's postgame quotes from Saturday until Sunday when Wall wanted to talk to him.
He said Wall was contrite in discussing with him his play of late. Calipari said he just told Wall to settle down, not play to the hype that has engulfed him of late, and to enjoy himself. Clearly, Wall did in the win over Ole Miss on Tuesday night.
Calipari reiterated to Wall that the Wildcats had lost only one game and added that Wall better be having fun this year. If not, then what's wrong? Wall's quote was certainly inflammatory when taken alone. But sometimes we all have to take a step back and realize that comments in the heat of a loss, especially the first one, can be a bit too raw. If there is a controversy at Kentucky with Wall and Calipari, I'm not seeing it.
• The talk of the tournament imminently expanding to 96 teams needs to chill. There is no immediate movement on this subject.
The NCAA has a right to explore the marketplace within its CBS contract. The CBS deal has three years remaining on it, and the NCAA can opt out after this season. But it hasn't yet. This is far from done. What the NCAA did was ask potential television partners -- NBC/Comcast, Fox, CBS (possibly with Turner) and ESPN -- how, if at all, they would change the format if they got the tournament. There is no set number of additional teams. A television partner could propose 65, 68, 72, 96 or 128. Everything is on the table.
And even then, there is a process -- a long, exhaustive process like everything in the NCAA legislative structure, which usually moves at a glacial pace. The NCAA, led by vice president Greg Shaheen, has to get opinions from the NCAA tournament selection committee, the conference commissioners (notably the power six) and the board of directors. The conference commissioners are likely to lean toward the status quo, get the bloated back-end money from the CBS deal because it's a sure thing, and see whether the market changes in two years. The NCAA would like to get a long-term deal, but that's a gamble, too, since the price tag could be less now than it might be in two years if the market were to improve.
Still, I'm convinced through my various conversations with those who have direct knowledge of the subject that no deal has been struck with CBS-Turner or ESPN to change the tournament or its television partner. This is a process that will evolve in the spring and summer and isn't being decided in the dead of winter.
And for those who care, it is no coincidence that the NIT contract expires this season. It would make a clean break to get rid of the postseason NIT with a new contract. But if the timing isn't right, the postseason NIT can survive for another few years in a short deal until a final decision is made on the JV field.