In odd season, Bruins still in hunt
February, 4, 2010
02/04/10
6:02
PM ET
WESTWOOD, Calif. -- Here is what's crazy about this season on a national level and, of course, in the Pac-10.
As poor as UCLA has played at times this season, as awful as the losses against teams in the WCC and Big West look on the stat sheet, as subpar as a 10-11 overall record looks in early February, the Bruins still have a real shot to win the conference and get to the NCAA tournament.
UCLA (5-4 in the Pac-10) hosts Stanford and Cal this weekend before a critical three-game road swing to USC, Washington State and Washington. The Bruins are just one game out of first-place; Cal and Arizona are tied at 6-3. The Bruins are tied with Arizona State for second place, and are a game ahead of Washington, Washington State, Oregon, USC and Stanford -- all at 4-5. Oregon State brings up the rear but not that far behind at 3-6.
The mediocrity -- or the competitive balance -- the Pac-10 is experiencing has given life to teams that would normally be thinking about how to motivate in the final month without a chance for the postseason.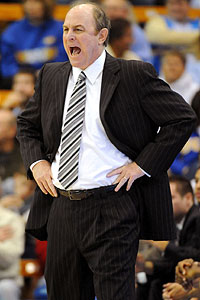 Kirby Lee/Image of Sport/US PresswireIn just about any other season, Ben Howland's chances at a Pac-10 title would be nil.
"Two years ago, if this was happening [to UCLA], we would have won two games, maybe three games, if we were playing with this current team, especially in 2008," UCLA coach Ben Howland said of the Pac-10 when it was rolling with NBA talent and a lock for multiple NCAA bids. "The league was that good, that talented."
Howland, like the rest of the Pac-10 coaches, is touting the youth of the league, rather than the demise.
"Our guys know what's going on," Howland said. "They read the paper. They're motivated. We start three seniors [Michael Roll, Nikola Dragovic and James Keefe] and they want to go out [in the NCAA]. They've all been a part of Final Four teams and want a good feeling on how they're going to leave here."
Howland said what will be critical for the Bruins, or any other team that has visions of winning the Pac-10 tournament in Los Angeles, is to avoid needing to play four games instead of three. The Pac-10 will still play an 8-9 game but won't have a 7-10 game because USC banned itself from the postseason.
"You've got to be one of the top six seeds so you only have to win three games," Howland said of the Pac-10 tournament, although with only nine teams eligible for the tournament, the seventh-place team will start in the quarterfinals.
The Bruins were a few possessions away from being 6-3 and tied for first, but instead lost in overtime at Oregon. Had that game gone for the Bruins, they would be entering the Stanford game on a four-game winning streak.
"If we had [beaten Oregon] we'd be tied for first right now," Howland said. "We've won some close games but we could have lost them too and been eighth or ninth. We are where we are but I think we're getting better."
The reason is that Howland finally committed to a zone defense to start the Pac-10 season. Howland said the Bruins didn't have the depth, the athleticism or the pressure ability to play man-to-man. But he was being stubborn and wouldn't budge on the subject in the nonconference, sticking to man-to-man. He waited to break out the zone until the first game of the Pac-10 against Arizona State, which ended up being a 72-70 UCLA win. Howland finally abandoned man in favor of what worked for the Bruins -- a zone. Starting the three seniors has helped push the Bruins to three wins in the past four games. While Malcolm Lee is still struggling from the perimeter (27.5 percent on 3s), he is doing a solid job at the point now. Tyler Honeycutt is the Bruins' top rebounder, and Reeves Nelson is the glue guy (boards, screens and hustle) whom the Bruins needed earlier in the season.
"I talked about it in November but unfortunately I didn't commit to it until January. It was poor coaching," Howland said. "Looking back at it, if I had committed to it in early December we might have won a few more games or had the potential to."
Hard to say whether a zone would have worked against Mississippi State or at Notre Dame. It wouldn't have mattered against top-ranked Kansas.
But the Bruins are hardly dead after that 0-for-3 in Anaheim at the 76 Classic, plus the losses to Kansas and Mississippi State that added up to a five-game slide. Normally, a team that is 10-11 at this juncture in the season would be toast. But this is not a traditional season in the Pac-10. Everyone, save USC, is in play.
The Bruins, who shed themselves of Drew Gordon earlier in the season after he decided to transfer, have had injuries to deal with, including Jerime Anderson, who missed three games against Washington, Washington State and Oregon. He returned against Oregon State from a hip flexor injury and was running the floor well in practice Wednesday. But Anderson's absence opened up the opportunity for former walk-on Mustafa Abdul-Hamid, who hit the game-winning shot against Washington. He played double-digit minutes against Washington, Washington State and at Oregon. He played eight minutes at Oregon State, and Howland said he'll get even more time moving forward.
"He hit the shot of the year against Washington," Howland said of Abdul-Hamid's buzzer-beater.
Howland said Anderson will play this weekend. And while there might be overall angst in Bruin nation, the reality is UCLA is still very much alive in the chase for Pac-10 regular-season and tournament titles. Who would have predicted that possibility after Anaheim in November? It was hard to predict that the Bruins could be an NCAA tournament team. Now, if they were to get in, we won't even begin to assume the seed since it would have to be double-digit. But at that point, who would care?