Hogs persevere after slow start, distractions
February, 8, 2010
02/08/10
2:00
PM ET
Arkansas is in first place in the SEC West, has won four straight and has the one point guard not named
John Wall
or
Devan Downey
in the SEC you definitely would need to keep an eye on if you had to choose a third to watch.
But the vindication in Fayetteville hasn't dealt only with the winning streak and newfound standing in the SEC or even the need to check out game-changer Courtney Fortson.
Although Arkansas coach John Pelphrey didn't use the word "vindication" in a conversation Saturday night, he clearly is peeved that the Razorbacks were ripped for their character after an August rape allegation against three players. This past week, the special prosecutor of the case decided not to file charges against the three players in question -- Marcus Britt, Glenn Bryant and Nick Mason. DNA testing proved they didn't commit the act they were accused of doing. Britt, Bryant and Mason originally were suspended from the team at the beginning of the season for a violation of team rules.
[+] Enlarge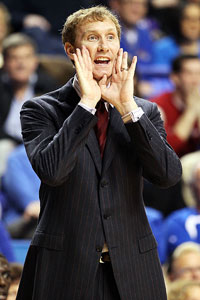 Andy Lyons/Getty ImagesJohn Pelphrey's Arkansas squad has won four straight to climb into first place in the SEC West.
Unrelated to the August incident, Fortson and Razorbacks starter Stefan Welsh also were suspended to start the season for violations of team rules. Walsh has played in 20 of the team's 23 games and averages 21.4 minutes a game (6.6 points). Fortson has been back for nine games, and the Hogs are 5-4 with him as their lead guard. He scored 35 points in a win over Mississippi State, 27 in a victory at Georgia and 24 in a win over Auburn.
The Hogs' current four-game win streak has "reaffirmed all along that I knew these were the hardest-working guys," Pelphrey said. "A lot of people were saying that they didn't have character. They were saying, 'What's going on at Arkansas?' I'm happy for them. They kept showing up for work."
Pelphrey had a rough go last season as the Hogs won just two SEC games after nonconference home wins over then-No. 4 Oklahoma and then-No. 7 Texas. And the offseason issues, suspension of Fortson and 8-11 start (1-3 in the SEC) after Kentucky blitzed the Hogs by 31 didn't help.
But the Hogs didn't wilt after that loss to Kentucky. They beat Mississippi State in their next game, sending a message that they could contend for the league title with the Bulldogs and Mississippi, which they beat in Oxford three days later.
Even though the rape charges were eventually dropped, there were other general issues.
"There were standards of being a Razorback that weren't met," Pelphrey said. "I have tremendous respect and honor being the head coach here. I couldn't be more happy for who I work for -- Chancellor [David] Gearhart and [athletic director] Jeff Long. I just really appreciate them."
Pelphrey said he was proud that he was the last coach longtime Arkansas athletic director Frank Broyles hired and that Long had told him he wished he had hired him, too.
"I know who we've recruited, and I know how we're going about it and what we place a value on," Pelphrey said. "I understand the value of going to school and being a student-athlete and mastering those. We've got a great foundation to build on what the Razorbacks have done in the past."
Pelphrey said he never wavered no matter what was said about his program.
"I felt bad for the University of Arkansas, and it turns my stomach with some of things that were being said about our young guys," Pelphrey said. "There will be some days that you have to deal with [off-the-court issues], but this shouldn't have been one of them."
Pelphrey said he knew that shots were being taken at the program. But at no point, he said, was there any sense that things were out of control with the program. The support of Gearhart and Long never was in question, and both senior administrators were involved in the program-building process, he said.
"I don't let that other stuff affect me," Pelphrey said. "I was very fortunate at a young age to play at the University of Kentucky. There are [more than 4] million [people] in the state of Kentucky, and not one of them thought I should be on scholarship."
Pelphrey cited a story from early in his Kentucky career when late Kentucky play-by-play announcer Cawood Ledford called him over during warm-ups to tell him that a caller from Paducah, Ky., wanted to know whether he was still on the team.
"That's not the most flattering comment made about you," Pelphrey said. "I was at a young age, having to understand that people will pick at you and say things. But once I became a starter and all-league, then everyone raises the bar. I'm OK with that. We're going to recruit the players that fit what we want to do."
Pelphrey wasn't the first choice for the job. Arkansas flirted with plenty of big-name coaches before it settled on the former Kentucky player, Florida assistant and, more recently, South Alabama head coach.
Pelphrey said he doesn't wake up on a daily basis waiting for affirmation from a blog or a Web site to get him going.
"Seeing a young man improve, that's what I enjoy; working for who I work for is what I enjoy; and seeing how hard our guys play and then winning, that's pretty special and unique," Pelphrey said.
Pelphrey said that Fortson has taken pressure off Michael Washington, Marshawn Powell and Rotnei Clarke because he makes everyone around him better, play faster and move. The Hogs are suddenly a tough out, and with two games against LSU, one at Alabama and one at Auburn and home games against South Carolina, Vandy and Ole Miss, it's hard not to see Arkansas sticking around near the top of the SEC West in the coming weeks.
But what is certain from this point forward is that Pelphrey is hopeful he won't have to defend the character of his players or program for the foreseeable future.