Spiders' schedule paying dividends
February, 11, 2010
02/11/10
12:34
PM ET
Editor's Note: To hear Chris Mooney talk about the Spiders on Andy Katz's latest ESPNU podcast, click here

Richmond coach Chris Mooney had just received the call that the contract with Florida for a game in Sunrise, Fla., had been signed.
It was July. Mooney was back from recruiting and called the players, who were still around for workouts, to a 9 p.m. meeting. He had his assistants print out the schedule with a breakdown of home, road and neutral-site games.
"We wanted them to take a look at the schedule as soon as we had it done, to make sure that they knew more than anything else how confident we were as coaches in what we can accomplish," Mooney said Wednesday night after yet another significant win for the Spiders, this time a 69-67 win at Rhode Island that pulled Richmond (19-6, 8-2) into a tie with Charlotte and Xavier for first place in the Atlantic 10.
[+] Enlarge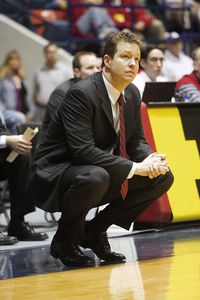 Geoff Burke/US PresswireChris Mooney has Richmond poised for its first NCAA tournament berth since 2004.
"I wanted to make sure they were prepared for the season," Mooney said. "The meeting lasted about 15 or 20 minutes. You could tell right then and there that they were very enthused."
For a program in search of relevance and an identity in the crowded footprint of ACC country, the Spiders had to do something to differentiate themselves this season.
If you think a coach in a league like the A-10 doesn't ponder how to work the NCAA tournament selection process to his advantage, you don't know how much the coaches think about scheduling.
Members of power-six conferences can count on securing a handful of home-and-home games, a neutral-site matchup and, in most cases, a made-for-TV game or a conference challenge game.
Richmond has no such luxury. The Spiders have to go it alone and create opportunities. And when they get them, they have to win. Mooney was no fool here. The Spiders were a veteran crew with the return of oft-injured center Dan Geriot and scoring guards and wings Kevin Anderson, David Gonzalvez, Justin Harper and Ryan Butler. If there was ever a time to make some noise in the A-10 and in the NCAA tournament, this was it.
Richmond got into the South Padre Island Invitational, playing Mississippi State and Missouri. The Spiders won both on a neutral court. The Bulldogs and Tigers are likely bubble teams, so the wins have value. Then came a road game at South Carolina (ultimately a loss), the game with Florida (a win) and a road game at Wake Forest (an overtime loss). There were other blips, such as losing to nearby William & Mary on the road and losing at VCU. Within the league, Richmond lost at Saint Louis and at home to Charlotte in what Mooney said was UR's worst game this season.
The Spiders, who have won five in a row and seven of their last eight, can tell the committee that they challenged themselves on the road and on neutral courts and that they have something to show for their effort.
The only game the Spiders will get back in 2010-11 is Wake Forest. Mooney will have to start the schedule from scratch as he searches for an exempt tournament, neutral sites and a home-and-home series with a power-six school.
In its attempt at a conference title, Richmond finishes with three road games (at St. Bonaventure on Saturday, at Xavier on Feb. 28 and at Charlotte on March 6) and three at home (Fordham on Feb. 17, George Washington on Feb. 20 and Dayton on March 4). Beating competitors Temple and URI in consecutive games certainly helps, and with three to go against the other rivals (Xavier, Dayton, Charlotte), the Spiders can play their way in or, if they lose all three, play their way out.
"For a mid-major in the A-10 to win, you have to have older guys," Mooney said. "You can't put a value on that."
Mooney played at Princeton and joined Joe Scott's staff at Air Force after Scott left Princeton. Mooney then replaced Scott for a season before he jumped at the UR job.
The Spiders have had quite a run of coaches of late but only a few NCAA tournament appearances. Jerry Wainwright took the Spiders to the 2004 tournament. John Beilein coached Richmond to the 1998 tourney. Those were the lone appearances for the program during the short tenure of each coach. The school still might be remembered most for being the first No. 15 to beat a No. 2 seed, when Dick Tarrant coached the Spiders to an upset of Syracuse in 1991.
Like most coaches in a new job, Mooney had to rebuild. The Spiders won 13 games in his first season (13-17, 6-10 A-10), then dipped to eight in his second year (8-22, 4-12) and climbed over .500 in the third (16-15, 9-7) before last season's 20-16, 9-7 mark.
This is the natural progression. Now the Spiders are healthy, play disciplined basketball, rarely beat themselves and have met the challenge that Mooney laid out in front of them in July. Now the chore is to finish.
On Wednesday night, Richmond shot 73.7 percent in the second half (14-of-19) to beat the Rams as Gonzalvez scored 19 points. Gonzalvez hit a 3-pointer to put the Spiders up 67-66 with 1:22 to go, and then Anderson made a layup with 23 seconds left to create distance.
Making key shots and holding up under the pressure of a difficult road game has been the norm for this squad this season. The Rams had the Spiders down 9-0 to start the game. But like the issues with travel -- the Spiders had to switch hotels from Newport to Kingston on the morning of the game Wednesday to ensure they could get to the game in the snowstorm -- Richmond doesn't seem to mind distractions.
"We're a veteran team that plays calm and composed and continues to play," Mooney said. "We make timely shots and make the big play defensively. What these wins in the A-10 have done is validate what we did earlier this season. We showed we had confidence in this team when we passed out those schedules."
And the players are proving that they deserved to play those games.
"Now the most important thing is that we're in first place with six games to go," Mooney said.
And barring a collapse, after toughing through the schedule set up for them, the Spiders will be dancing in the the NCAA tournament come March.