Kent feels the heat as Ducks flounder
February, 19, 2010
02/19/10
9:58
PM ET
Ernie Kent wants to save his job.
But it's hard to say if the seemingly nine lives Kent has had at Oregon during his 13 years have finally run out.
It's hard to defend what has transpired in Eugene this season. The Ducks are in last place in what is the Pac-10's worst season in years -- maybe ever.
As soon as he answered the phone Friday morning, fresh off another home loss -- the fourth in the Pac-10 and sixth overall this season -- Kent was almost pleading for another chance despite the Ducks sliding into an abyss for the second straight season.
But it's hard to ignore the rumors circulating among coaching circles and administrators in the Northwest. Kent is under siege. He knows it. He's not immune to anticipating that he could be out.
Kent said he deserves another chance to resurrect the Ducks, like he did in leading Oregon to two Elite Eight appearances in 2002 and '07.
But Oregon is floundering this season in a year in which the Pac-10 is facing the worst image crisis in its history, possibly on the verge of a historic one-bid to the NCAA tournament since the field expanded to its current form. Oregon entered Saturday's home game against Cal at 12-13 overall, 4-9 in the Pac-10. Next season, the antiquated but iconic Mac Court will be gone, and the Nike-influenced/sponsored Oregon will play in a state-of-the-art facility.
Kent wants to coach in the new digs. He feels he should be given the chance to coach in a facility his program helped create an interest in pursuing with its periodic success over the past decade.
[+] Enlarge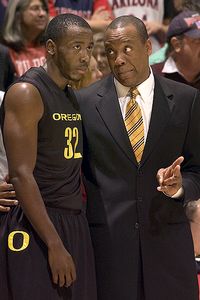 AP Photo/John Miller Over the past two seasons, the Ducks are just 6-25 in Pac-10 play.
Kent said neither former athletic director Pat Kilkenny nor current AD Mike Bellotti has told him he's out.
"I love Oregon. I love my school," said Kent, a UO alumnus. "Look where we've taken this program the last 13 years. Now comes the big-time support and a new building, and we can take this to another level. I'm as excited as heck. At the end of the day, I'll always be a Duck. I love my school."
When reached for comment late Friday, Bellotti said Kent and Kilkenny set up a list of parameters that Kent had to follow this season. Bellotti wasn't the athletic director yet but was privy to the conversation. Staff changes were made, and the Ducks had to be more competitive in the league.
"They had to improve based on last year," Bellotti said. "I'm still looking for that, in all honesty. I'm scrutinizing everything. I was hoping for positives, but haven't seen as many. But I haven't made a decision."
Kent said he is close to turning the program around again, even if the results aren't showing yet.
"Let us coach, let us work, let us get back to where we were," Kent said in his plea to get another chance. "We're not that far off. We went through other transitions."
Kent cited the reloading that took place after Luke Ridnour, Luke Jackson and Fred Jones carried the Ducks to the Elite Eight in 2002. Five years later, Oregon was back in a regional final, led by Aaron Brooks, Maarty Leunen and Malik Hairston.
Kent has an annual rollover contract. But he fully understands that his contract situation is a nonfactor in any decision.
"They can stop it whenever they want to," Kent said.
"I assess everything on a daily basis," Bellotti said. "I understand we could have a veteran team returning. I don't know if it's ever a good time to make a change."
Bellotti said he is factoring in Kent's overall contributions during his tenure as the winningest coach in Oregon basketball.
But he has to look at where the Ducks are now "and where we want to be. I have a top-10 list of things I think are important."
Kent has gone through staff changes to keep up with the pace in the Pac-10. He added Kenny Payne, who has yielded a number of highly touted recruits from the Midwest. Payne and the infamous William Wesley (aka "Worldwide Wes") are extremely close friends, and Wesley has admittedly helped Payne in recruiting.
Let's not be naive here. These types of relationships are not outside the norm in college basketball. Wesley has told me he is helping Payne because they are good friends and the pipeline of players from Wesley's home state of Michigan (think: Hairston and Tajuan Porter) is evident.
Last spring, Kent also hired basketball savant Mike Dunlap, who essentially co-coached Arizona to the Sweet 16 last season with Russ Pennell.
But the recruiting and the coaching can't mask the deficiencies with this team.
"I'm not going to bash my players. I'm not going to be negative with young people and criticize young men," Kent said. "But we are what we are. We don't shoot the ball well. My teams in the past have been very, very skilled. This team isn't like that. We need a couple more pieces."
Senior forward Joevan Catron is out for the season with a back injury. He played in four games and hasn't played since Nov. 21. Kent sat LeKendric Longmire for five games in the middle of Pac-10 play because he wasn't taking care of his academics. Porter missed a few games with an ankle injury, and Kent said he hasn't been the same since.
Kent said the Ducks have had to rely more on sophomore Malcolm Armstead and freshmen E.J. Singler and Jamil Wilson than projected.
So injuries and issues have hampered this squad. But it's still hard to excuse losing games at home, especially games like the one Thursday night to Stanford, another cellar-dweller. The Ducks even managed to lose to Montana at home this season.
"I'm not making excuses at all," Kent said. "But we've been down this road before. We have built this program up and we can build it back. I don't know what remains to be seen. I know we have work to do. But anybody who comes in this door will have the same work, but without the history here and the passion. We've done a good job and now we'll have a beautiful new arena, which will make it easier to sell."
Kent said the Ducks can still finish strong, and it is true that the league is so wide-open that all nine teams (USC has a self-imposed postseason ban) should be taken seriously as possible Pac-10 tournament title winners in Los Angeles next month. But at this point it's hard to believe the Ducks can win the conference tourney.
"

They had to improve based on last year. I'm still looking for that, in all honesty. I'm scrutinizing everything. I was hoping for positives, but haven't seen as many. But I haven't made a decision.

"

-- Oregon athletic director Mike Bellotti
The rumors that Gonzaga's Mark Few is next have been out there for two years. Few is close with Kilkenny. He is from Oregon. That's hardly a secret. But Few has made it clear he wants to stay at Gonzaga, where he has a national program that has tremendous tournament access every season by winning the WCC. Would Few listen if Phil Knight and Nike were to offer him a $2 million package? Of course he would. But I'm not convinced he would go, based on his comfort in Spokane.
If Oregon were to let Kent go, the school must at least have an idea that it could get Few or anyone close to his status in the Northwest. The job would draw national interest because of the new arena, the wide-open Pac-10 and Nike's influence.
Those close to the situation at Oregon have said the past rumors about and attempts to oust Kent were for the most part unfounded. But this one feels more real. Kent was given another year to see if he could turn it around after a disappointing season a year ago in which the Ducks finished 8-23 overall and 2-16 in the Pac-10 after earning an NCAA berth in 2008.
Kent has been in Eugene for 13 years. He's an alumnus, but maybe he's been there too long. He is a passionate person who can come across at times as a bit arrogant. He's fiery, and when he had the talent, the Ducks were a good watch. They have clearly missed on a few recruits and have lost the edge that made Mac Court a sweat box and a tough road stop every game. Maybe the Ducks need new blood to give them new energy in a freshly minted arena.
This quote from Kent almost makes it seem as if he knows the end could be coming.
"At the end of the day, when you look back on it, we will have left this program in great shape with a great reputation, with two Elite Eights and two NIT Final Fours," Kent said. "We have guys in the NBA, a solid academic APR. The program is not falling apart. We are just reloading."
The renewed interest in Corvallis at Oregon State under Craig Robinson isn't something Kent has been worried about, either. But losing three of four games to the Beavers since Robinson's arrival -- including a sweep this season -- doesn't exactly help Kent's cause in Eugene.
Bellotti had a different view of Kent when he was the school's football coach. He was well aware of the rumblings that he could be out in years past. But now Bellotti is in charge.
"I'm now the athletic director so I have a different perspective," Bellotti said. "I know there was a great deal of scrutiny last year."
This year, the opportunity was there for Oregon to move up in the Pac-10. But the Ducks have failed to do so.
"If it's a down year, and you know you have an improving team, then you should show that," Bellotti said. "I'm going to keep watching, looking for competitiveness and cohesiveness. I'm going to evaluate everything overall. That's probably the prudent way to approach it."