How will Purdue fare without Hummel?
February, 25, 2010
02/25/10
10:52
PM ET
Without
Robbie Hummel
, Purdue is clearly not the same team.
[+] Enlarge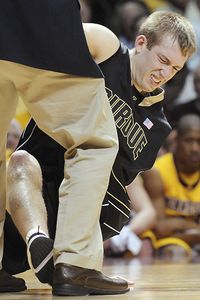 AP Photo/Jim MonePurdue will miss forward Robbie Hummel's 15.7 points and 6.9 rebounds per game.
We all agree on that statement.
How much will the loss of Hummel, who will miss the remainder of the season after suffering a torn ACL Wednesday night, change the Boilermakers? That's something the NCAA selection committee will examine in the coming weeks. If the Boilermakers keep winning without Hummel, then why wouldn't Purdue get judged on its overall body of work? What if Purdue coach Matt Painter does a fantastic job adjusting without Hummel, like he did in a road win at Minnesota after Hummel left the game in the first half? UCLA athletic director Dan Guerrero, who serves as the chair of the 2010 NCAA men's basketball tournament selection committee, said Thursday that when a player is out the committee has the latitude to see how that team performs without that player. Guerrero didn't want to get into the specifics of Purdue's case, but did acknowledge that there was an assumption among the public that Purdue is in contention for a No. 1 seed. Of course, that's subject to change depending on what happens from now until when the committee convenes. "What if that team were to win its conference, win its postseason tournament and was knocking off quality teams?" Guerrero said. "Why wouldn't you take that into consideration." In 2000, Cincinnati was on its way to a No. 1 seed. But the Bearcats lost Kenyon Martin, the country's best player, to a broken leg in a loss to Saint Louis in the Conference USA tournament. The committee gave Cincinnati a No. 2 seed and it lost to No. 7 seed Tulsa in the second round.
The problem in comparing Purdue 2010 with Cincinnati 2000 is that the selection committee didn't have a game to judge the Bearcats. How the Bearcats would fare without Martin was the subject of great discussion, according to NC State athletic director Lee Fowler, who was a member of the 2000 selection committee.
"We didn't get a chance to see how they'd play after [Martin] got hurt," Fowler said Thursday. "We were assuming it would affect that team. But we had a lot of discussion about it. We spent a whole day discussing it. Had there been games where they played without him we could have had a more realistic view. You knew they weren't the No. 1 team anymore. They didn't feel like No. 1 anymore. There was no way to tell how far they should drop [in the seed line] because we didn't see them play." Fowler said the 10-member committee will get a chance to see how Purdue will do without Hummel. He said he would be surprised if Hummel's absence didn't hurt the Boilermakers' seed, but at least the committee will get a chance to see its impact. West Virginia coach Bob Huggins, who was the head coach of the Bearcats in 2000, said he had an issue with the committee's declaration at the time that a team's full body of work was supposed to be the most important part of seeding and selection, and yet the Bearcats were dinged for losing a player to injury. But Huggins said he agreed that he "didn't know how good we were just like everyone else. We lost the game when Kenyon broke his leg. We never played another game with him." Huggins said the biggest difference between what Cincinnati had to deal with and what Purdue will face over the next three-plus weeks is style of play. Huggins, whose Mountaineers lost to Purdue on Jan. 1, said the Boilermakers run a motion offense and they won't have to change that system. But Huggins said the Bearcats ran everything through Martin and once he was out they had to change the way they played, leaning on guards Kenny Satterfield and Steve Logan. "It obviously affected us more," Huggins said in comparing what a Hummel absence will mean to Boilermakers. "They won't change what they do but we had to change what we did drastically." If Purdue were to win the Big Ten regular-season title and the conference tournament then rewarding the Boilermakers with a No. 1 seed would seem appropriate. If they slip up then there would be just cause to drop them down a peg or two. The best-case scenario for the committee is it has time to gauge the Boilermakers. The committee didn't have that luxury with Cincinnati in 2000.