Williams has Terps peaking at right time
March, 1, 2010
03/01/10
10:39
PM ET
Remember that absurd time two seasons ago when Gary Williams' status at Maryland was being questioned?
Or did it happen last season at some point? I can't remember. It all seems so bizarre.
Please. Do you really think anyone else would have coached Maryland any better than Williams?
Williams coached an average team to the NCAA tournament last season, beating Cal in the first round before losing in the second round to Memphis.
Maryland will host Duke on Wednesday night with a chance to earn at least a share of the ACC title in the final week of the regular season. The Terps are a game behind the Blue Devils and the only team in the ACC that has a shot of catching them. Virginia Tech, Clemson, Florida State and Wake Forest are all four games back.
[+] Enlarge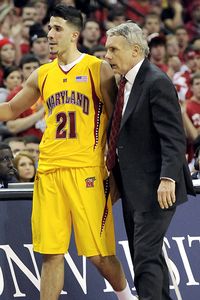 Mark Goldman/Icon SMIGreivis Vasquez and Gary Williams will get another shot at Duke on Wednesday night when the Terps host the Blue Devils.
"We've won two first-round games [in the past four years], but I know it's all relative once you win a national championship [as Maryland did in 2002]," Williams said Monday. "You're judged from there. Other schools, it's whether you've had a great year by getting to the NCAA tournament."
That's fair. But the reality at schools such as Duke and North Carolina is that it's more about how many games you'll win, whereas at Maryland and other ACC schools, it's more about how many you'll win in league play.
Let's not dismiss the fact that Williams has coached his share of NBA-bound players. But although he's had his share of NBA-ready players (think Steve Francis and Joe Smith), a number of them developed into pros while they were in college (think Juan Dixon and Steve Blake).
The Terps have slowly improved this season. Maryland lost to Cincinnati and Wisconsin at the Maui Invitational in November, couldn't catch Villanova in a 95-86 loss in Washington, D.C., in December and fell at home to William & Mary right before the new year when the Tribe were one of the hotter teams in the country.
But the Terps didn't wilt and since then have been a late-game team, save a loss on the final possession in overtime at Wake. Maryland didn't rebound well against Duke in Cameron but found a way to beat Georgia Tech on a buzzer-beater and came back to do the same against Virginia Tech, outlasting the Hokies in a second overtime to set up Wednesday's showdown with Duke.
The Terps didn't have Dino Gregory for the first eight games of the season, and that definitely hurt their interior depth. The evolution of Cliff Tucker (who hit the winning shot against Georgia Tech), the force of freshman Jordan Williams inside and the role playing of Landon Milbourne, Eric Hayes and Sean Mosley around star guard Greivis Vasquez have been consistently developing throughout the season.
"You have to prove how good you are at the end of the season," Williams said. "This is a good feeling. We've achieved what we have so far. We've put the same amount of pressure on each game as it comes. Stress is good. Complacency is bad. And we're getting better."
The Terps don't have to sweat Selection Sunday. They are in the tournament and have a real shot of winning the ACC title if they beat Duke. Wednesday also will be senior night for Vasquez, who statistically is becoming one of the best all-time ACC players and certainly one of the best in Maryland history. Vasquez, who scored 41 points in the Terps' win over Virginia Tech on Saturday, recently surpassed John Lucas, Adrian Branch and Albert King on Maryland's all-time scoring list. With 2,069 career points, he trails only Len Bias (2,149) and Dixon (2,269).
"He's been one of those players who has captured the attention of a lot of people, and he's gotten better every year," Williams said. "He got out of the draft this summer, and he improved his position and made us a better team this year." Vasquez was realistic in June 2009 and saw he was a borderline first-round pick. He didn't turn down millions to return to Maryland, although there was no guarantee he would get paid significantly later had he stayed an extra year.
Vasquez remains one of the more outspoken players in the country, but he has been able to put a cap on some of his emotions so they don't interfere with his play.
"Remember, these are 18- to 22-year-olds, and he comes from a country that is passionate about soccer and national sports," Williams said of the Venezuelan national. "He didn't grow up here. He comes from a different culture. How about coming from Venezuela, knowing very little English and graduating this spring? I don't think I could go to Venezuela, learn Spanish and play college basketball. He has handled it very well."
Maryland's ascent to the top of the ACC and challenging Duke has come as North Carolina has sunk toward the bottom this season.
Now we're back to Duke-Maryland for the ACC title as if it's 2001 and '02. The teams played four times in 2001, including the epic Jay Williams comeback when Duke was down 10 points in the final minute but forced overtime at Maryland.
"But then we went down and won on Shane Battier senior night at Cameron," Williams said. "All four games were great. Hopefully this will be a great game."
The Terps are undersized to some degree but have been able to compete on the glass.
"The players have worked, and as a coach you understand that you're judged by your record, but inside we know how hard they've worked in practice," Williams said. "I think one of the things that you realize as you get older in coaching is how to handle seasons and the expectations on your team. Sometimes we've won a lot of games, and the team could have done more. I'm always honest after the season and judge what I've done. You look at the record and the talent at each position. And your job is to maximize what the players can do."
That's what Williams has done throughout his coaching career. Get rid of Williams at Maryland? Seriously? Please, let's move on to something that makes sense because that never did. He'll go when he's ready to leave. And that time is hardly now, not with the program on the verge of possibly winning a share of the ACC.