Butler's run merits more attention
March, 10, 2010
03/10/10
5:05
PM ET
The story that has been buried this week is the 20-0 run by Butler against the Horizon League.
I don't care what league you're in, whether it's the Big East or the Big South, to win every game in the league and then face those same teams in a conference tournament and win again is one of the more impressive things a team can do prior to the NCAA tournament.
Butler did it when the Bulldogs completed the 20-0 mark with a Horizon League title win over Wright State. (The Bulldogs were given a bye to the semifinals.) I know the championship game was at Hinkle Fieldhouse -- Butler's home court -- but the Bulldogs earned that advantage.
To overlook what Butler did every single conference game, especially on the road, ignores how much pressure these players can be under on a daily basis. Every road game the Bulldogs play -- at Loyola, Ill., Illinois-Chicago, Wright State or Youngstown State -- becomes the biggest game on the other team's schedule. The players are more amped up for that game. The fans will turn out more to watch their team play Butler than any other team on their schedule. There is constant pressure on Butler to play at a high level and never have an off night.
Butler had a four-game road trip during the season and won all of those games, of course, too.
"We were playing in tough environments, huge crowds," Butler coach Brad Stevens said. "The last four years, we've been ranked going into our conference road games. Fair or unfair, teams in our conference, including us, don't get a chance to host ranked teams."
What Butler went through this season is akin to what Davidson had to do with Stephen Curry two seasons ago in the Southern Conference and, for the most part, what Gonzaga has had to do in the WCC the past decade. Gonzaga ran the table in the WCC three times in 2004, '06 and '09. This is the first time Butler has done it in the Horizon. Davidson completed the Southern Conference sweep in 2008 prior to its Elite Eight run.
"Everybody wants to storm the floor on you," said Gonzaga coach Mark Few. "You get the best effort from those teams. What it tells you to go through undefeated is what kind of team you have. It shows the kind of competitors you have. That's not a knock on the teams in the league but to go through a league undefeated shows how dialed in your guys are."
It's true. Countless times in power-six conferences teams will play down to the competition, and suddenly games that shouldn't be close are tight.
Butler had its share of close games, but still found a way to win. That shows that the Bulldogs weren't taking any team lightly.
Stevens said he can now fully appreciate what the Bulldogs accomplished. They never took games off. The Bulldogs learned a lot about themselves as a team in the nonconference schedule. Perhaps some of that early experience is what convinced the players they were bound for a special season.
Butler tested itself by going on the road for true road games at Northwestern, regionally against Evansville and Ball State, going to UAB, playing Georgetown in New York at the Jimmy V Classic, hosting Ohio State (whether Evan Turner played or not) and Xavier and going to the 76 Classic in Anaheim to draw Minnesota, UCLA and Clemson. You can nitpick that some of these teams underachieved, which is fair game, but the Bulldogs still made the effort to play a loaded schedule.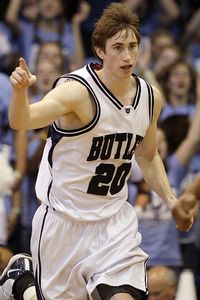 AP Photo/Michael ConroyGordon Hayward was Horizon League Player of the Year.
"There were moments we didn't play that great," Stevens said. "We were 8-4 heading into Christmas but we knew we had to get better."
Butler did.
Stevens said he discussed getting two more stops per game and another two buckets offensively. They went over every possession to maximize their ability to win.
The core group of Gordon Hayward, Shelvin Mack, Matt Howard, Willie Veasley, Ronald Nored, Zach Hahn, Avery Jukes and Shawn Vanzant stayed relatively injury free.
"We've gone through a long season, arduous and it never showed," Stevens said. "We just got stronger and stronger. This has been a great team to be around."
The Bulldogs don't show any signs of age. Veasley and Jukes are the only seniors. Howard, Vanzant and Hahn are juniors. Hayward, Mack and Vanzant are sophomores. That just means the Bulldogs aren't going away.
Butler hasn't lost since Dec. 22 at UAB.
"We've been in a lot of close games and found ways to pull them out," Stevens said. "I'd say at 75 percent of our games we've been at halftime in a five-or-less-point game. We've stayed together. We've found a way to win. We've played in close games."
A year ago, Cleveland State beat Butler at home then shocked Wake Forest in the first round of the NCAA tournament. Butler was bounced in the first round. This Butler team may get an advantageous seed in the three to five range.
"I've tried to appreciate what we've accomplished in the regular season," Stevens said. "Especially for a non-BCS school, this is a great accomplishment. We'll never lose sight of how hard it is."
Can Butler play at home in Indianapolis at the Final Four? Can Butler do what George Mason did in 2006? Can the Bulldogs do what Gonzaga or Davidson hasn't been able to do and get to the Final Four?
Stevens said the Bulldogs can beat anyone, but can be beaten by every team in the field, as well. That's the right attitude. The Bulldogs haven't looked at the opposing jerseys yet. How do I know? They didn't lose a conference game.