Calipari, Kentucky wait on underclassmen
April, 2, 2010
04/02/10
12:37
PM ET
INDIANAPOLIS -- No coach may have a more tumultuous roster shake-up this offseason than Kentucky's John Calipari, yet the Wildcats won't face a dramatic drop-off in talent.
[+] Enlarge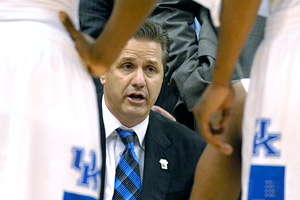 AP Photo/Kevin RivoliJohn Calipari may face a roster shake-up this offseason if many of his underclassmen declare for the NBA draft.
Calipari has already signed wing Stacey Poole and has a verbal agreement from Enes Kanter, another solid scorer. The Wildcats are hot on the trail of three of the top remaining unsigned players in Brandon Knight, Josh Selby and C.J. Leslie. It wouldn't be a surprise if Kentucky were to land all three and have another stellar class.
The reason this recruiting haul is so necessary is because Kentucky could lose five underclassmen to the NBA draft. "I've already met with every player and met with the five guys who should put their names in the draft," Kentucky coach John Calipari told ESPN.com Friday morning after Calipari and I introduced Kentucky's
John Wall
as the national freshman of the year at the United States Basketball Writers Association breakfast in downtown Indianapolis. Calipari said he told five of his players -- freshmen Wall,
DeMarcus Cousins
,
Eric Bledsoe
and
Daniel Orton
, and junior
Patrick Patterson
-- to put their names in the draft. All players have until April 25 to declare and, under a new NCAA rule, until May 8 to withdraw their name and still be eligible to return to college. The NBA hasn't changed its deadline for withdrawing -- 10 days prior to the draft in June. But with the new NCAA rule, players would have to provide documentation that they withdrew from the NBA draft in order to prove that they returned to college by the May 8 deadline. Calipari said he told three of those players -- Patterson, Orton and Bledsoe -- to keep their options open. "You don't know where this is going," Calipari said. "Eventually you're going to be a professional. It may not be this year or next year. I told them they have to keep doing their academic work so that if it doesn't play out they're still fine." Calipari said the shortened window to work out this season, which is down to 10 days, shouldn't be a problem. In past drafts, underclassmen have had a month to work out before making their decision. "They'll each have three or four teams that they can work out for and some of it might be that we tell teams to come to our campus to work them out if you really want to see them," Calipari said. "The scary thing is if the young man leaves his name in and is told he's a first-round pick and it's not a lock." Calipari said he's confident that three players -- Wall, Cousins and Patterson -- should feel secure in their position in the draft. He said, and this is common knowledge among NBA draft personnel, that Wall and Cousins are in the top three-to-five range max, while Patterson is in "15-range." Calipari said Bledsoe and Orton could go in the 15-to-25 range as well. "It all depends on a team in that range that wants you, not every team has to like you," Calipari said. "If we get them back we'll be better and if we don't we'll be fine." Kentucky is also losing seniors
Ramon Harris
,
Perry Stevenson
and
Mark Krebs
. Likely returning are
Darius Miller
,
Jon Hood
,
DeAndre Liggins
and
Josh Harrellson
. The one unknown could be
Darnell Dodson
. Calipari said he has heard the rumors that Dodson may transfer but he said he hasn't talked to him about that option. "I don't believe it," Calipari said. "I think he'll be fine. There are rumors because it's Kentucky. We're like Darth Vader at Kentucky. I just don't buy into them. We'll have a good team next year with talented young players and go from there." Calipari was still dealing with losing in the Elite Eight to West Virginia last Saturday in Syracuse. Kentucky wasn't predicted to be in the Final Four when Calipari got the job a year ago but as soon as the team was assembled and started to play in the fall, Indianapolis was a realistic, if not expected, destination for the team. "By the end of the year, we expected to be in the last game, our fans expected it," Calipari said. "That's why when you lose in this tournament it kills you. If it weren't one-and-done but a best-of-five then I can tell you which three teams would be in the Final Four. But it's a one-game deal and if you lose, you're done. You're disappointed. You look at what you could have done different and you move on."