Butler intent on keeping Stevens happy
April, 6, 2010
04/06/10
4:15
PM ET
INDIANAPOLIS -- Brad Stevens can't leave now. Oregon or any other program shouldn't bother calling Stevens, not now and not after this historic game. Stevens has work to do at Butler, like potentially winning a national title in 2011, assuming the core of this team, led by rising star
Gordon Hayward
, sticks together.
[+] Enlarge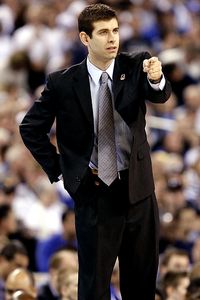 Bob Donnan/US PresswireBrad Stevens wants to stay at Butler and finish what he started.
"They'll probably win it next year," Duke coach Mike Krzyzewski said. "They're the best team we've played. No one played us any harder or any better than Butler. That's why this national championship … we were so fortunate to win. We had to play so hard to beat them." On Sunday, Krzyzewski said Stevens' performance as Butler's coach, in just three seasons (89-15 career record), was "lights out" and that the Bulldogs coach was ahead of Krzyzewski's career curve at this point in his career. It's hard to argue, and that's why Butler athletic director Barry Collier said Monday night he would do anything it took to make sure Stevens is happy at the school. It shouldn't take too much. Stevens loves Butler, what it's about, the potential and the fact it's so close to home. "The first thing we need to do is meet with Brad and whatever we need to do to make the program be better we will try to do," said Collier, a former Butler coach who returned to be the athletic director. "It might not be the easiest to execute, but we'll do everything we possibly can to make our program better than it is now." Butler can't pay millions, and Collier doesn't even know what the ceiling could be for Stevens' salary with the expectation that the national runner-up appearance might be a financial coup. "It has to," Collier said. But Stevens isn't about the money. He never has been in his brief career. He's well aware of how much just tweaking the other aspects of the program would be to maintaining a high level of success, and not just atop the Horizon but as a national player every year (like Gonzaga and Xavier have been able to be for the past decade). "To narrow it to just coach would be to miss Brad Stevens the person and the leader he is," Collier said. "There is that [the salary], but there is also the opportunity to make the program better. The facilities, the operating, the staffing and all those things that can really get better. That's our mantra." Butler chartered airline trips to New York for the Jimmy V Classic, to Cleveland State and to UW Milwaukee and UW Green Bay. It's not like the Bulldogs have to do much more than that considering the close proximity, by bus, to a number of league games. "We're not that far off," Collier said. But it's no secret that the Bulldogs have something special brewing. They always had historic Hinkle Fieldhouse, and now they've got a possible back-to-back Final Four team with the likely return of Hayward,
Matt Howard
,
Shelvin Mack
,
Ronald Nored
,
Shawn Vanzant
,
Zach Hahn
,
Andrew Smith
and a recruiting class that the Bulldogs are raving about, led by small forward
Khyle Marshall
. "It's a dynamic group, and he has a great handle on them," Collier said. Stevens is a bit of a savant, so much so that he was able to recite exactly how many possessions the Bulldogs had against Duke within 20 minutes after the game ended. "We played 145 possessions and lost by one," Stevens said. "That's how tough the margin of error was for us. It's so tough to get here. We won four games before this by three possessions or less." Stevens made it clear this is where he wants to be, coaching Butler teams just like this one. "I hope we have teams every year that compete like this one," said Stevens, whose Bulldogs hadn't lost since Dec. 22 at UAB. "We might not always get the results we want, but this one got a lot of people dreaming."