Ohio looks to build off G'town upset
April, 7, 2010
04/07/10
1:43
PM ET
Butler dominated the Final Four talk and was one shot away from arguably the most historic upset ever.
But one of the biggest upsets of this NCAA tournament remains No. 14 Ohio over No. 3 Georgetown, 97-83, in Providence in the first round.
[+] Enlarge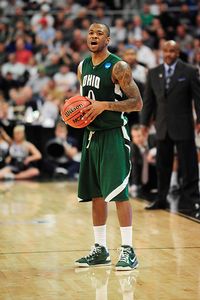 Joel Hawksley/Icon SMIOhio's Armon Bassett scored 32 against Georgetown.
The Bobcats then lost to Tennessee in the second round 83-68. Since then there were rumblings that leading scorer and former Indiana transfer Armon Bassett was gone, out of school and into the NBA draft. But like most chatter around the Final Four, it wasn't true.
"He's currently enrolled in class, we're gathering information and we're aware of the deadlines in the NBA draft process," said Ohio coach John Groce. "At this point he's in class and he's going every day. He'll make a decision and we'll do what's right for the kid. He knows that and trusts us at a high level. Right now it's too early to make the decision."
Bassett averaged 17.1 points a game for the Bobcats, went on a tear in the MAC tournament and led the Bobcats to the improbable automatic berth after being seeded ninth. He averaged 29 points a game in the four games of the tournament and then lit up the Hoyas for 32. He floundered against the Vols, following up a 9-of-17 game against G'town with a 2-of-10 mark for just seven points against Tennessee.
Regardless of whether Bassett returns, the win over Georgetown has forever changed school officials' perception of Groce. At the very least, he's convinced it has given credibility to the staff.
"It sends a higher level of belief in the vision that we have here to get it done," Groce said. "It helped our overall culture of how we do things, of how the players buy in. It helps with your administration, fans and alums. That's the biggest effect of the Georgetown win."
Groce did want to quell the talk that the Bobcats were the ninth-best team in the MAC. They were seeded ninth but clearly were playing some of the best basketball in the league after struggling through early January. The development of freshman D.J. Cooper was another thing that changed the Bobcats last season and gives them a big-time scoring lead guard for 2010-11.
"We deserved to be seeded ninth, but that was more because of tiebreakers," said Groce. Ohio finished 7-9 in the MAC, behind three third-place teams at 9-7 and three at 8-8. But the Bobcats actually ended up with the third most wins in the MAC (22-15) behind Kent State and Akron, which had 24.
As amazing an upset as Ohio over Georgetown seemed to be at the time and still can be counted as such, it might not occur in the future. A 14 might not get a chance to play a 3 in an expanded 96. At least the same exact teams probably wouldn't meet in the first round since the No. 3 Hoyas would have received a bye.
Groce said he can't give his full opinion on the subject until he hears how the automatic qualifiers will be given out. If conferences like the MAC do get an AQ for the regular-season and the conference tournament champions, assuming they are different, then he, like Duke coach Mike Krzyzewski, would be in favor of that model. Kent State was the MAC's most consistent team, won the regular-season title but lost the conference tournament.
"What will be valued more?" Groce said. "Will it be a team like Kent State that wins the regular season, beats a team like UAB, goes 13-3 in our conference or a bottom-third team in a BCS league?"
That's one of the main questions the NCAA board of directors and selection committee will have to decide before they consider signing off on expansion. They must determine how conferences will deliver bids to the NCAA.
Right now it's up to each conference to decide who receives the automatic berth. That's why the Ivy League gives it to the regular-season champ and does not have a tournament. The other 30 conferences give the AQ to the tournament champ.
If a conference gets only one automatic bid and it goes to the regular-season champ, then a team like Ohio might not have had a chance to play Georgetown. If the expansion goes down and Ohio was seeded 23 and not 14, then playing Georgetown wouldn't have occurred until the second game when the Hoyas would be rested and Ohio would have already had to play a game. But that's the unknown. The known for Ohio is the Bobcats beat Georgetown and are trying to maximize the benefits as much as possible with recruiting and scheduling in the coming weeks.
• Oregon clearly doesn't have a clue if it is just searching for the next hot name to fill its vacancy. It's so obvious that most of these schools don't have a plan when they fire their coach. You must have an idea of who you can get, and there are ways to do it, before you decide to get rid of your coach. Oregon wasn't going to nab any of the elite names in the game. If the Ducks did it would only be due to the financial package, which wouldn't probably be more than what these coaches were making at their previous stops.
• Is anyone really surprised that Lance Stephenson is leaving Cincinnati for the NBA? Never take an elite player's word at the end of the season when questioned about returning to school. There is too much time between the last game and the deadline for an agent to work a player and/or family and convince him to go now. The fear of the lockout is the overriding force in sending more players out into this draft.
• I do believe Duke's Kyle Singler and Georgetown's Greg Monroe are seriously considering returning. Singler had a sensational final six weeks, but hasn't had a pro focus in his previous three years and loves being at Duke. Monroe is a centered young man who listens to the Thompson family and his own. He's a rare player who isn't influenced by outside sources. He could still go and be in the lottery, but he's one player I wouldn't be shocked if he returned.
• New Boston College coach Steve Donahue will be successful at some point, possibly next season if the Eagles return every player. He has already added Penn assistant John Gallagher and is likely to add current Columbia head coach Joe Jones to his staff. But one thing the administration shouldn't pressure him to do -- fill the stands. Boston is a college town with a slew of universities but it's not a college sports town, and the fans at Conte Forum won't flock there on a consistent basis -- never have, never will. Miami and BC will consistently fight that issue within the ACC. The other ACC schools are much more tradition-rich college fan bases that will turn out, regardless of opponent.