Rice leaves Gonzaga to head Boise State
April, 12, 2010
04/12/10
5:58
PM ET
Leon Rice learned what Billy Grier did before him: Mark Few isn't leaving Gonzaga.
So despite the niceties of making promises -- either verbal or in writing -- about a succession plan to replace Few, Rice realized that he couldn't sit idle waiting for the day that Few might bite at a supposedly higher-profile gig.
[+] Enlarge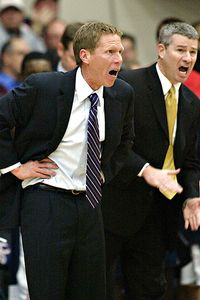 AP Photo/Dino VournasLeon Rice, right, arrives at Boise State after spending 11 seasons on Gonzaga's coaching staff.
Few could have been seriously considered at Indiana prior to Kelvin Sampson's hiring in 2006. He most certainly could have been hired at a Pac-10 school like Arizona if he had expressed serious interest in leaving Gonzaga.
Grier, Few's former assistant, realized three years ago Few wasn't going anywhere and took the San Diego job. In his first season, the Toreros beat Gonzaga to win the WCC tournament and upset Connecticut in the first round of the NCAA tournament.
Rice was next in line to get the Gonzaga job and if there ever was a time for Few to leave it was this season. Oregon was open. Few grew up in the Eugene area. The job was his as soon as Ernie Kent was fired. Once again, Few was courted but decided to stay put.
Rice wasn't looking to leave Gonzaga. But then he got word that Boise State was interested. On the East Coast, the chatter is always that Rutgers is the sleeping giant in the Big East. Once Fred Hill is officially out at Rutgers that same talk will start up with whoever lands the job.
On the West Coast, especially in the Northwest, Boise State is quietly earning that moniker. If in the next few years expansion causes a tectonic shift in conference alignments, Boise State will be one of the most coveted programs, thanks in large part to its success on the football field. That means the basketball program has to keep up and Rice is now charged with the task of increasing Boise State's profile to make the Broncos a more attractive option.
Boise State has made a meteoric rise from the Big Sky to the Big West to the WAC where the football team, playing on its famed home blue turf, has turned itself into a national contender. Former basketball coach Greg Graham, a former assistant at Oregon, led the Broncos to the NCAA tournament in 2008 and an NIT appearance in 2004 during his eight seasons at the school.
"A lot of people want to be Gonzaga, especially on the West Coast," Rice said. "What [Boise State has] done with the commitment to the football program has been at the highest level. It's one thing to talk about it and it's another to have a blue print, and they've done it in football and that impressed me."
Rice said he never had anything in writing from Gonzaga athletic director Mike Roth that he would succeed Few. But it was understood, just like the Zags have done in the past from the late Dan Fitzgerald to Dan Monson to Few.
"You're never ready to leave Gonzaga," Rice said. "But what [Boise State athletic director] Gene [Bleymaier] was offering was too good a fit to ever pass it by."
Rice, 46, has never been a head coach in Division I. He received a five-year deal with a salary of $400,000 a year. And, as one would expect, his first 10 days on the job have been a whirlwind.
The Zags finished their season Sunday, March 21, after falling in the second round of the NCAA tournament to Syracuse in Buffalo, N.Y. Rice flew to Boise, Idaho, Monday, interviewed Tuesday, went back to Spokane, Wash., on Wednesday and was offered the job Thursday at 3:30 p.m. By 6 p.m. he and his wife, Robin, and three sons, Brock, Max and Kade, were in the car driving to Boise, where they would check into their hotel at 3 a.m. for a Friday news conference.
What we sometimes miss about these decisions is what occurs at home. The Rices and Fews have been nearly kin throughout the past 11 seasons. Their children have been raised together and have spent time at each other's houses almost daily. Robin Rice and Marcy Few are like sisters. Both Mark Few and Leon Rice said the decision was difficult because of the emotional drain on both families. The children were in tears and sadness swept over the two families for days.
"That's why it was really important for my family to be with me at the press conference," Rice said. "I wanted them to see how much of a big-time environment it was. I wanted them to get juiced up about it. I wanted them to have that same excitement about it. They had never been to Boise."
Rice's 12-year-old son Brock is a huge Boise State football fan. Meeting coach Chris Petersen and quarterback Kellen Moore was an immediate thrill but more memorable, perhaps, was running sprints and calling signals on the blue turf.
After the initial introduction, however, Rice got right to work.
"You feel like you've got to do everything in one day," Rice said. "You feel overwhelmed."
Boise State finished 5-11 in the WAC, 15-17 overall but did win four of its last six games before falling to league champ Utah State in the conference tournament. As Rice arrived on campus, the Broncos were about to head off on spring break. Having the players gone for the first week was actually helpful for Rice. He had to hire a staff and did so immediately, plucking Dave Wojcik from Wake Forest (before he would have been fired with Dino Gaudio's staff a week later) San Francisco assistant Jeff Linder and Wyoming assistant Shaun Vandiver.
Rice met with the players individually as soon as they returned, telling them he would run a system similar to Gonzaga and listened to what their expectations were.
The Broncos have eight seniors on the roster next season, six of them scholarship players.
"That should tell you what the next 18 months are going to be like," Rice said of filling scholarships with what he hopes is a collection of high school seniors, four-year transfers and junior college players. "There will be a big opportunity to get guys to come in and play."
With a senior-dominated roster there will be immediate expectations. It's a move similar to what athletic directors have done at Boston College and St. John's this season and at Providence two seasons ago -- fire the head coach with a senior-dominated roster so the new coach has a chance to be successful in his first season.
"With this many seniors the goal is to get them to have a great senior year," Rice said.
And now the grind continues. Rice's family is back in Spokane, where Rice was Sunday night for a quick stop during April recruiting. He will commute to Spokane to see his family until his sons finish the school year before they all move to Boise later in the spring.
Boise State's hire of Rice didn't get the fanfare of Steve Lavin at St. John's or Steve Donahue at Boston College, but to those out west it is a hire that will be as intriguing to watch as any. Boise State is primed for a major move soon, and the basketball program must be in synch with an already booming football operation.
"Everything has been happening so fast," Rice said.
And it likely won't slow down for at least a year, if that quickly.