Arnold returns to Hawaii to revive program
April, 13, 2010
04/13/10
11:35
AM ET
New Hawaii coach Gib Arnold told retained assistant Eran Ganot to keep doing the schedule for next season.
"It's the last of my worries because I need a team to play in those games first,'' Arnold said.
While fellow WAC member Boise State hired Gonzaga assistant Leon Rice and hopes to become an attractive candidate for bigger conferences, Hawaii is desperately trying to rekindle its modest but competitive past.
No new coach among the carousel that is still spinning may have as difficult of a rebuilding job as Arnold.
The Warriors essentially will return one contributing player from last season's last-place team in Hiram Thompson, along with a deep reserve in Douglas Kurtz and two transfers who didn't play last season in Zane Johnson and Aleksander Milovic.
And it's Arnold's first Division I head coaching job.
Oh, and he must essentially be on the mainland and overseas to recruit as much as is allowed under NCAA rules.
"I'm burning it up nonstop until midnight with the USA kids and then until 4 a.m. with the international kids [on the phone],'' Arnold said. "And then I get a few hours sleep. We've got a long way to go.''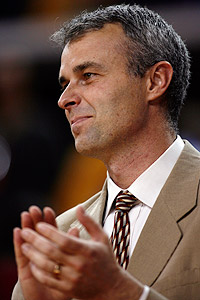 Shelly Castellano/Icon SMIGib Arnold is now in the same job his father accepted 25 years ago.
The 41-year-old Arnold has roots in Hawaii. His father, Frank, was the UH coach for two seasons in the 1980s, so Arnold finished high school in Honolulu, where he was an all-state guard at Punahou School. But there was a split when he was tabbed to succeed Bob Nash last month. The new administration led by athletic director Jim Donovan was clearly for Arnold. The old guard, including former coach Riley Wallace, was not. There was much more of a movement to go with Saint Mary's assistant Kyle Smith from that camp.
Wallace was cool to Arnold at the Final Four in Indianapolis and is waiting to see if the new coach will take care of a program that he managed extremely well from 1987-2007, with three NCAA tournament appearances and six NIT berths.
After taking over for Wallace, Nash strung together three straight losing seasons. A beloved member of the first-ever Hawaii NCAA team in 1972, Nash couldn't maintain the recruiting or the interest as the Warriors finished 3-13 in the WAC, 10-20 overall last season.
The explosion of exempted tournaments has hurt Hawaii's attractiveness in terms of nonconference scheduling, which in the past had been a boon for the Warriors in giving them rare home games against high-level teams to boost the power rating of the team. But the relatively new Diamond Head Classic should reinvigorate Hawaii's potential power rating. Next season's field includes Butler, Baylor, Florida State and Mississippi State, with the first two potentially being top-10 teams.
That's why getting Hawaii to be relevant again is critical, not just to the athletic department and fan interest but also to help teams that come West for these tournaments.
Arnold's first order was to nab Nebraska assistant and Brazilian Walter Roese, who also coached at BYU-Hawaii, BYU and San Diego. Arnold is close to finalizing a deal to add former Clemson assistant and Hampton coach Kevin Nickelberry to the staff as well.
"We're going to have to be global to do this thing,'' Arnold said. "And in the States, our recruiting base will be in LA.''
Roese is still overseas with a Brazilian commitment at the Albert Schweitzer games in Germany. Nickelberry had been coaching in Africa.
Arnold, who was not retained by USC coach Kevin O'Neill after one season on the bench -- something that was expected after he was a four-year holdover from Tim Floyd's staff -- got the call to take the job on March 19. He was on a plane at 6 a.m. for a news conference the next morning. He went from the airport to the presser, and because no one had the keys to the basketball office, he didn't get in until the following day.
"I walked into the office and it was that same couch that I would sleep on and do homework on when my dad was the coach,'' Arnold said. "It was weird seeing it again after 23 years.''
Two days later, he was back in Los Angeles recruiting. He didn't meet any of the players since they were on spring break, but did return to Honolulu to watch the national championship game last Monday in a conference room with his players.
"That was the first time I met these guys and first time they met me,'' Arnold said. "We did some workouts the next day, weight room stuff, but once the dead period was over last week I was back on the plane and in on home visits. I even did one at 11:30 at night to squeeze one in.''
It's not going to be easy. Five seniors are gone off the roster. There will be others who won't be back, such as suspended Dwain Williams (not official but no one expects him to return) or Jeremy Lay, who was also out at the end of the season. Ji Xiang informed Arnold he would graduate and play pro ball in his native China.
"I think I've got seven rebounds and 14 points returning,'' Arnold said of the averages.
His players haven't seen much of him and neither has his family. The house in Southern California is up for sale and the plan is to move sometime in the summer. Recruiting in LA has at least given him the chance to sleep at home when he's on the mainland. His family didn't come with him to Honolulu because the offer and decision to fly out was so fast, "we couldn't find a babysitter fast enough.''
For now, Arnold has to get a roster to play in the games Ganot is scheduling. He's already got his first commitment in 6-foot-7 forward Trevor Wiseman of Valencia, Calif., along with holdover commit Jordan Coleman from nearby Calabasas, Calif. Repairing the relationship with Wallace should come in time.
As for moving up in the WAC? Well, it's a goal -- but something that is more long-term than short-term.
• According to a source close to the situation, Kentucky expects Enes Kanter to sign with the Wildcats and ultimately be cleared to play next season.
The source said Kanter's academics were already cleared through the NCAA Eligibility Center. The NCAA's amateurism division will next look into whether or not Kanter received any money while he was playing in Europe. Kanter, who originally committed to Washington before turning to Big Blue, was the MVP of the Under-18 European Championships and had a stellar performance at the Nike Hoop Summit game over the weekend, scoring 34 points and grabbing 13 rebounds for the World Team. The 6-9 forward from Turkey would be an immediate hit for Kentucky.
A source told ESPN.com that Kentucky called Nike officials to see if Kanter was getting paid in some form and was told that he was not. The only gift UK is under the impression Kanter received was apparel, just as most players get.
Meanwhile, Kentucky is hoping to land unsigned guard Brandon Knight and possibly one or two more remaining elite players, according to a source with direct knowledge of the situation. Knight will make his decision known Wednesday on ESPNU.
The Wildcats can use all the help they can get, having lost four freshmen to the professional ranks: John Wall, DeMarcus Cousins, Eric Bledsoe and Daniel Orton. Junior Patrick Patterson is expected to join them as well. At the beginning of the season, only two of the five players were expected to be gone after this season (Wall and Patterson), with Cousins a possibility and Bledsoe and Orton almost assuredly returning for another season.
Freshman Darnell Dodson hasn't decided if he's going to transfer, stay at Kentucky or play overseas. A decision on Dodson is expected soon.
According to a source, Kentucky officials are also expected to keep assistant coach Rod Strickland after he was cited for a DUI, his fourth. Strickland will be disciplined but won't lose his job unless more information emerges from the incident that hasn't been released.