Hoiberg returns to put ISU back on track
April, 30, 2010
04/30/10
6:03
PM ET
Fred Hoiberg noticed Corey Brewer's shot was flat.
Being in a non-coaching position in the Minnesota Timberwolves' front office, Hoiberg was a bit reluctant to interject into the day-to-day training of one of the players.
[+] Enlarge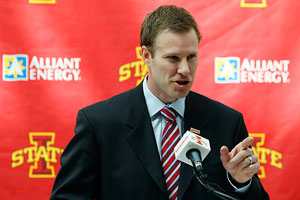 AP Photo/Charlie NeibergallFred Hoiberg returns to Iowa State after a distinguished playing career in Ames to try and turn the Cyclones' fortunes around.
He knew the protocol. So he approached head coach Kurt Rambis and asked if he could join the team on a road trip to Los Angeles, Sacramento and Utah in early December.
"I just wanted to work on his shot, his release point," Hoiberg said. "He had struggled coming back from an injury and was in such a hurry. He flies around and goes 100 miles an hour on defense and you can do that. But on offense you've got to slow down."
Whether Hoiberg's advice helped or not, Brewer made a 3-pointer in 33 straight games from Jan. 8 to March 17.
"It was fun to be on the floor working with Corey," Hoiberg said. "I think Corey needed someone to pump him up and give him some confidence."
Hoiberg wanted to get back on the court. An aneurysm near his heart required surgery and robbed Hoiberg of the chance to finish his NBA career on his terms. He retired from the league in 2006 and joined the Timberwolves' front office, 11 years after he played his last game at Iowa State.
"I was up in an office not coaching," Hoiberg said. "It's like the cardiologist and the surgeon. The surgeon gets to fix things. It was fun to be on the floor, teaching. I didn't do that."
But Hoiberg wasn't thinking about coaching the rest of the NBA regular season.
"I wasn't thinking about it a week ago," Hoiberg said. "I was thinking about our three first-round draft picks."
All of that changed last Sunday when Iowa State athletic director Jamie Pollard called Hoiberg, dubbed "The Mayor," in Ames. Embattled Iowa State coach Greg McDermott had been offered a 10-year deal to replace Dana Altman at Creighton, after Altman accepted the Oregon job. Pollard told Hoiberg that he expected McDermott to accept the deal.
Hoiberg made his pitch to Pollard prior to McDermott's hire four years ago. But Hoiberg wasn't ready. Pollard drove up to Chaska, Minn., after a lengthy phone conversation Sunday. They sat around Hoiberg's table, and Hoiberg discussed his vision to put Iowa State back on the national map.
Hoiberg played three seasons for Johnny Orr, one for Tim Floyd and he had seen how Hilton Coliseum rocks when the Cyclones have a team capable of competing at a high level. His first NBA coach at Indiana, Larry Brown, had told Hoiberg when he arrived with the Pacers that the toughest road arena he coached in while at Kansas was Hilton.
Thursday night, just two days after getting the Cyclones' job as the one and only candidate, Hoiberg called Brown.
"I'll lean on him quite a bit," Hoiberg said.
Hoiberg's vision is to put in a defensive system so the Cyclones can be competitive even if the shots aren't falling. But he still wants to ensure he's got shooters on this team, since he values the ability to make perimeter shots. His first phone call was to retain top assistant T.J. Otzelberger, who he immediately tabbed as an associate head coach. He didn't want Otzelberger to go with McDermott to Creighton.
"He has the relationship with the incoming recruits and has the relationships with the guys in the classes of 2011, 2012 and 2013," Hoiberg said.
Hoiberg got former player Jeff Grayer, Iowa State's career scoring leader, to stay on staff and he's looking for a former head coach to be on the staff, as well.
He knows the easy knock on him is his lack of head-coaching experience. When Houston tabbed Clyde Drexler to be its head coach in 1998, the play was seen as a chance to grab headlines with a former star player. Drexler lasted just two seasons.
But it's hard to compare Houston and Iowa State and it's probably hard to compare Drexler and Hoiberg. Hoiberg was never in a gifted position. He was not a natural and had to outshoot opponents. He wasn't handed a front-office position. He was out in the field, seen countless times at games scouting and during the NBA draft process working toward making selections.
"I understand the criticism," Hoiberg said. "I was born with a tremendous work ethic. I became an NBA player because of my work ethic, not my physical abilities. I'm going to take that work ethic to a new position."
Hoiberg returns to Iowa State as a popular choice at a time when there is a vacuum of success in Iowa for the state's two largest institutions. Iowa fired Todd Lickliter and replaced him with Siena's Fran McCaffery, an accomplished coach who won consecutive first-round NCAA tournament games in 2008 and 2009. But McCaffery is an outsider in the state. Hoiberg has the ability to garner more headlines for Iowa State because of his name recognition.
Of course, he has to win to make that a reality. The state has been carried by the Missouri Valley teams, with Drake having its run three seasons ago and Northern Iowa carrying the past two seasons. The Panthers were one of the great stories of March with their stunning upset of No. 1 Kansas. But if Iowa State can become a national player it would dwarf anything the Valley teams accomplish.
Getting talent to Ames hasn't been a problem, regardless of the coach. NBA players have come through under various coaches, but consistent success has vanished since early in Larry Eustachy's career. The Cyclones went to the NCAAs 11 times from 1985 to 2001.
Getting players is the key. Coaching them to be a cohesive unit comes next. Clearly, Hoiberg has a challenge ahead of him. But he has the NBA connections that will help. The goal of players who come to a Big 12 school or any at that level is to play in the league.
"The NBA community is a tight community and we're all on the road together," Hoiberg said. "I'm getting e-mails and text messages from guys about players. I'm going to lean on these guys."
Iowa State (15-17, 4-12 Big 12 last season) is facing a major face-lift. Craig Brackins is leaving for the NBA draft. Marquis Gilstrap lost an appeal to get another year of eligibility so he's gone, too. Chris Colvin and Justin Hamilton asked for their release and that will be honored. Hoiberg said the five-person recruiting class is so far still coming.
This is the Big 12 though, where there is little patience for rebuilding. Iowa State took a gamble on Hoiberg in terms of his lack of coaching experience, but not in terms of his work ethic or name recognition.
"I pay a lot of attention to the Big 12 because of all the prospects in the league," Hoiberg said. "I know if you don't get it going it's going to be tough. I know how demanding this conference is to play in."
But Iowa State has been near the top. It has a built-in, passionate fan base and a possible home run arena that can be a tough out for every road team.
"The biggest challenge to the job is that there aren't a lot of players in the state," said Chicago Bulls general manager Gar Forman, a former Iowa State assistant coach under Floyd when Hoiberg played for the Cyclones. "The biggest challenge for him is to go make recruiting contacts. He doesn't have a lot of experience in that but he has such a personality and presence that he'll do that easily. He'll have real success in selling players and parents as to why it's a great opportunity there."
Iowa State probably had to do something different and take a chance on Hoiberg. He wants the challenge. He said his health is good and had there been any long-term concerns he wouldn't have taken the gig. He said at some point he will need a valve replacement, but is hopeful that is a long way away.
"And if that happens I'll have to just work over the phone a bit before I can go on the road," Hoiberg said. "I would never have taken this job if there was a concern. My family is too important to me. I get checked every six months and my health is good. What I had was a congenital heart defect, not something caused by stress."
Hoiberg went to three NCAAs in four years as a player. He is determined to hit that ratio again, this time as Iowa State's head coach.
"I know that if you win in [Ames], there's nothing better," he said. "I've experienced it."