Boilermakers eagerly await pair of decisions
May, 4, 2010
05/04/10
1:51
PM ET
These are nerve-racking days for Matt Painter.
By Saturday night, the Purdue coach could have a team that will be one of the top three in the country, a favorite to win the Big Ten and a rare power-six team that has three senior stars. Or he could have a decent team that will be in the NCAA tournament with Robbie Hummel, returning from an ACL injury, as the one headline act.
But all Painter can do now is wait -- wait for the NBA draft decisions of junior center JaJuan Johnson, the team's leading rebounder, and junior guard E'Twaun Moore, the leading scorer.
[+] Enlarge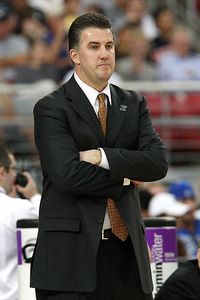 Ronald Martinez/Getty Images Matt Painter is surely salivated the thought of Johnson, Moore and a healthy Hummel making a run at a league and national title.
"If we get Hummel, Johnson and Moore all back and healthy we'll have one of the best nucleuses in college basketball,'' said Painter. "We play through those guys. We won't change much at all. We'll just be better at what we do and improve over the summer.''
College coaches like Painter can at least take some solace in the fact that the waiting period is only two weeks rather than two months under the new NCAA rule that forces underclassmen to decide by this Saturday at 5 p.m. if they're going to stay in the draft.
Johnson and Moore declared for the draft in April and are hopeful they will get a few workouts in during the remaining days this week before making a decision. But that's simply not the reality with the new rule. Moore likely will participate in a 12-person workout for the Portland Trail Blazers on Friday, but these sessions are few and far between during this small window.
"The feedback I'm getting is that NBA people aren't going to make the decision of who they're going to draft at this time,'' Painter said. "We're still five or six weeks from the draft.'' (We're actually seven weeks from the June 24 draft.)
Painter said Johnson and Moore have received feedback from the NBA's advisory committee, and that might help more in terms of their draft decision than any workout this week. Painter is being an advocate for both in hopes they'll make the right decision for their professional careers.
But he understands the threshold has changed. At one time, players left only to be in the lottery, and then it was the top 20, and then the top 25, and then the first round, and then it was the second round, and now the fear of a potential lockout and lowering rookie salaries in 2011 has caused a number of players to declare without much regard to where they'll likely be drafted.
So there are no guarantees that Johnson and Moore will be back.
To offset the potential loss of one or both, the Boilermakers oversigned their recruiting class by one player. He said the Big Ten has allowed that to occur with the premise that the "extra" player will go to prep school for a postgrad year, if need be. Painter said forward Donnie Hale of New Albany High (Ind.) is aware that he was the last to sign, and if both Johnson and Moore return, Hale will go to prep school.
If Moore stays in the draft, newcomers Terone Johnson and Anthony Johnson will play more, according to Painter. He said reserves Ryne Smith and John Hart would get more run, as well. The point won't be affected, with Lewis Jackson, Kelsey Barlow and D.J. Byrd sharing the position.
If Johnson stays in the draft, the Boilermakers would lose their primary shot-blocker and interior finisher. Replacing him would not be easy, and the onus would be on Hale, redshirt Sandi Marcius, Patrick Bade and newcomer Travis Carroll.
As for Hummel, his recovery from ACL surgery has been going well, according to Painter. He is meeting his goals on a biweekly basis and is on track to be back on the court for the Boilers, who still made the Sweet 16 after Hummel's injury but lost to eventual national champion Duke in Houston.
"Very few BCS teams have three first-team all-conference players returning, and we would have that with Hummel, Johnson and Moore,'' Painter said. "It's a good nucleus coming back. Hopefully we can advance further in the tournament.''
As for Purdue's schedule, the ACC/Big Ten Challenge organizers are waiting to see if Johnson and Moore stay before deciding where to place the Boilermakers in the event, although we do know they'll be playing a road game. Purdue will also go to West Virginia in a return game, host Alabama in a return game and play in the Chicago Invitational, with opponents to be determined.
The Boilers are also seeking to schedule a game in Indianapolis. If Johnson and Moore return, good luck finding an opponent for that one.