Hofstra moved quickly to replace Welsh
May, 6, 2010
05/06/10
11:01
AM ET
Mo Cassara sat in his bed Tuesday night, making up a list of coaches to call to see about getting a job.
For two days, Cassara had been working Hofstra athletic director Jack Hayes to see if his former boss Al Skinner would be a viable candidate to replace Tim Welsh, who had embarrassed himself, the staff and the university with a DWI last weekend within a month of getting the head coaching job.
Welsh resigned Monday. Cassara had no reason to believe he had a shot to be the head coach. He wasn't even officially hired yet after Welsh tabbed him from Skinner's fired staff at Boston College. The one coach from the Hofstra staff who was actively pursuing the head coaching job after Welsh's resignation was assistant Steve DeMeo, who worked with Welsh at Providence and left a head coaching job at Division II Newberry College (S.C.) with three years left on his contract to work for Welsh again.
Early Wednesday, Cassara was still in the dark on what his fate was at Hofstra, not to mention that of DeMeo and assistant Allen Griffin. He even lamented that Griffin was, perhaps, in the most tenuous situation because his wife was about to have a baby.
And then, suddenly, Cassara was asked to meet with Hayes and university president Stuart Rabinowitz, and -- just like that -- was offered the job. He obviously accepted. There was no news conference because the university didn't want to go through answering questions about Welsh or the embarrassment of having a second presser in as many months for a head coach, almost like having a formal wedding just a month after the first heralded event failed and ended in a quick divorce.
The decision to go with Cassara over DeMeo surprised even the two of them. DeMeo agreed to stay on as associate head coach. Griffin will remain on staff as well.
What Hofstra did was make a long-term commitment to Cassara (they wouldn't release the number of years, saying only it was a multiyear deal) in large part because Hayes said he believed Cassara was the best choice and that he didn't want to go through another coaching search.
"No one thought we would do this again,'' Hayes said of another coaching search. "We thought we had made and were comfortable that we made the right hire. We wanted to find a head coach and thought we had one [in Welsh]. But we weren't about to go through a third staff in the last six weeks.''
The reason for the initial search was because Tom Pecora left for Fordham after failing to get the Pride to the NCAA tournament in nine previous seasons. The Pride finished 19-15 last season, appeared in the CBI and will return CAA player of the year Charles Jenkins, a guard who averaged 20.6 ppg as a junior.
"

We wanted to find a head coach and thought we had one [in Welsh]. But we weren't about to go through a third staff in the last six weeks.

"

-- Hofstra AD Jack Hayes
While Hayes reiterated he didn't want to go through another search, he was quick to say he didn't settle for Cassara.
While acknowledging that Cassara wouldn't have been a viable head coaching candidate five weeks ago, Hayes said the circumstances had changed.
"I didn't feel the pressure,'' Hayes said. "I didn't want them to face a third coaching staff in a one- or two-month period. It was not a rush to judgment or a quick fix. Five weeks ago it was completely different.
"Four or five days ago none of us saw this,'' Hayes said of Welsh's DWI and subsequent resignation. "We weren't thinking whether we'd hire Mo as a head coach. The last two days Mo may not have been thinking it, but I was and so was President Rabinowitz.''
Hayes said he talked to "people" at Cassara's previous schools.
"This wasn't a rash decision,'' Hayes said. "We wanted to make it clear it wasn't an interim position.''
Hayes said he would have gone through another search if he "didn't think there was a quality person on the staff. The quality staff avoided us having to have a search. If there were no other options, then I would have reluctantly done that.''
Cassara, who was a head coach at Clark University before joining the BC staff, said over the last few weeks how excited he was to get on the road and recruit under Welsh, jumpstarting his path toward a head coaching position. He was working out the current Hofstra players and his familiarity with them while living in the dorms clearly helped his case in securing the job.
Hayes said how much he liked the staff the past five weeks and how comfortable he felt with them.
"The team had rallied around them,'' Hayes said. "I didn't think the timing was right to start from scratch with a third coaching staff.''
Hayes said that anybody who wasn't a head coach could be considered a gamble. And he's right ... to an extent.
[+] Enlarge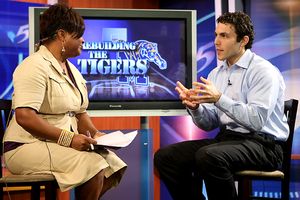 David C. MinkinLike Cassara this week, Memphis coach Josh Pastner was an assistant unexpectedly thrust into the head-coaching seat last spring.
Josh Pastner's hire at Memphis drew similar criticism because he was the stunning choice to replace John Calipari a year ago when Calipari left to go to Kentucky. But Pastner had been the top recruiter for Lute Olson in his final two seasons at Arizona and was the top assistant during an interim year under Kevin O'Neill. Pastner then learned for another year under Calipari at Memphis as the Tigers locked up another elite recruiting class.
His first season at Memphis turned out to be a success based on the low expectations. He led the Tigers to 24 wins and the NIT and prior to finishing the season had already secured one of the top-5 recruiting classes for the 2010-11 season.
Pastner said he wasn't thinking he had a shot to be the head coach at Memphis. He was planning on going with Calipari to Kentucky when athletic director R.C. Johnson suddenly called Pastner into his office. The difference here was that Pastner wasn't the first choice after Memphis had flirted with other candidates, including Leonard Hamilton of Florida State and Tim Floyd, then of USC.
"Your world changes,'' Pastner said. "You go from waking up that morning to a few hours later your accountability changes. You have no idea and then you're thrown into a new role.
"You can go back and forth about it. But when this happens [an assistant unexpectedly getting the head gig], it's like boom, you're in survival mode. You have no time to think about it. When you get an unexpected job like I did, like Mo, you're in complete survival mode.''
Pastner drew a comparison to new Oregon coach Dana Altman, who had time to consider whether to leave a comfortable gig at Creighton. Pastner said Altman could have turned down Oregon. He was a head coach. Pastner said he couldn't pass on the chance. Neither could Cassara.
"You can't turn it down,'' Pastner said. "You've got to take and learn on the fly.''