Calhoun (finally) signs new contract
May, 7, 2010
05/07/10
11:17
PM ET
STORRS, Conn. -- Jim Calhoun looked as good as he has in the past few years -- lean, refreshed and full of his usual drive.
Calhoun's medical problems, from his three bouts with cancer to an undisclosed condition (believed to be stress-related) that caused him to take a leave of absence this past season, don't seem to be affecting him at this juncture. On Friday, he announced himself physically and emotionally fit.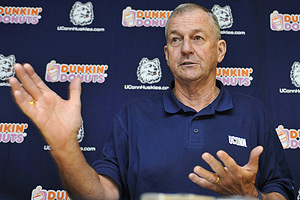 AP Photo/Jessica HillJim Calhoun's new contract will keep him at UConn until 2014.
Friday's announcement of a new five-year contract settled any questions about Calhoun's future. Apparently an agreement was never in question by either Calhoun or athletic director Jeff Hathaway. The first of the five years will be retroactive to last season, leaving Calhoun's contract set to expire June 30, 2014. His previous contract was set to expire June 30, 2010.
Hathaway wouldn't address the NCAA's investigation into the recruitment of former player Nate Miles. Calhoun said a report in The Wall Street Journal that the university had been notified of violations was incorrect, but he fully expects something to come from the investigation "because if they do a review for 14 or 15 months then that normally does occur."
While the results of the NCAA's investigation remain unknown, one thing Calhoun can tangibly tackle this spring is resurrecting the program to the elite level the Huskies were at just two seasons ago when they were in the Final Four. Calhoun was quick to point out that some have forgotten the Huskies' run to a national semifinal game and a No. 1 seed. The reason for that potential memory loss was the disruptive season that concluded two months ago. The Huskies missed the NCAA tournament after finishing a disappointing 7-11 in the Big East and 18-16 overall.
Calhoun said the effort his team put forth this season was around 65 percent of a typical Connecticut team. Leadership was lacking and the exiting seniors, especially Jerome Dyson and Stanley Robinson, never played up to their potential. What was frustrating for Calhoun was seeing a team that won at Villanova and Rutgers and then beat West Virginia (all after he returned from a seven-game absence) go on to lose four in a row.
"When we beat West Virginia [on Feb. 22], I thought we were going to go on a deep, deep run in the tournament," Calhoun said. "But it wasn't there. We have to do the smaller things that we didn't do. I can still see the open layups that we would normally block. We needed people to step up at the right time and it's my job to create that confidence."
Our teams have always been hungry and we didn't have it," said Calhoun. "I've reviewed more tape in this offseason [than ever]. There is a lot of self-examination going on."
Connecticut missed the 2010 tournament, as did fellow 2009 Final Four team and national champ North Carolina.
But Calhoun said the Tar Heels' issue was more obvious. "In my opinion, they didn't have a point guard."
Connecticut's situation was prompted by a lack of leadership, inconsistency and turnovers.
Whether or not all has been cured is still unclear. The Huskies' prospects next season within the Big East have been helped by defections to the NBA draft at West Virginia (Devin Ebanks), Louisville (Samardo Samuels), South Florida (Dominique Jones), Cincinnati (Lance Stephenson), Georgetown (Greg Monroe) and Syracuse (Wesley Johnson). Still it's hard to put the Huskies in the preseason top four or five in the Big East with such a young roster.
The Huskies lose Dyson, Robinson and Gavin Edwards. They return point guard Kemba Walker, who Calhoun said has been working on his shot as much as Ben Gordon did at a similar stage in his career. He's counting heavily on guards Jamal Coombs-McDaniel and Donnell Beverly to be the leaders on the perimeter. He expects major improvements inside from Alex Oriakhi, Ater Majok and Charles Okwandu.
The newcomers, guards Shabazz Napier, Jeremy Lamb and Roscoe Smith, and forwards Tyler Olander and Michael Bradley have him excited about his team's potential.
"We need strong leadership and Donnell Beverly and Kemba Walker will be here all summer and we've already assigned them to be captains," Calhoun said.
The schedule will be daunting with the Huskies in a loaded Maui Invitational in November that includes preseason top-25 contenders Michigan State, Kentucky, Washington and possibly Wichita State, as well as Oklahoma, Virginia and Chaminade. The Huskies also face nonconference games against Tennessee and at Texas in January once the Big East season begins.
It's possible there could be movement on the staff among the assistants (George Blaney, Andre LaFleur and Patrick Sellers) but only if an "NBA opportunity," occurs for one of them, according to Calhoun.
Hathaway was emphatic that he wants Calhoun to be a part of the conversation whenever his successor is discussed. Both Calhoun and Hathaway said the topic has been broached often in casual conversation. But neither is looking forward to that day. Hathaway said the model the Huskies have used is to send out Calhoun's assistants and see how they fare at other positions and judge them from afar rather than having one sit next to Calhoun as the head coach-designate (like Mike Hopkins under Jim Boeheim at Syracuse) or bringing one back for a year as an assistant before promoting him to head coach (like Matt Painter under Gene Keady at Purdue).
The emphasis Friday was that this is a new beginning for Calhoun, who turns 68 Monday. Neither Calhoun nor Hathaway signaled that this new deal will be the last one Calhoun will sign or that he would be head coach for only four more years. But there was a clear point to be made with the release in the contract that he can retire after the 2010-11 season and receive either a one-time payment of $1 million or a full-time position in the athletic department for a maximum of five years at an annual salary of $300,000.
That was one of the sticking points to finishing off the contract. What that signaled was that there was at least discussion of an end point.
But in the immediate future, the focus is entirely on the Huskies getting back to the NCAA tournament.
"We'll have a top-five schedule with a young team and we'll find out who we are," Calhoun said. "If I wasn't up to the fight 100 percent then I wouldn't be here. If I didn't feel 100 percent physically ready then I wouldn't be here. We've got something to prove that we're Connecticut and when you play us, you'll remember you're playing Connecticut."