Smith working toward defending title
May, 11, 2010
05/11/10
4:52
PM ET
JESSUP, Md. -- Duke guard Nolan Smith said he reached out to Chicago Bulls and former Florida Gators forward Joakim Noah to see how he handled the pressure to repeat as a national champion.
[+] Enlarge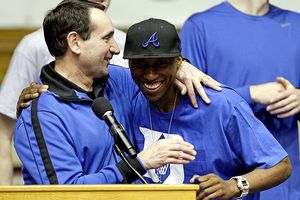 AP Photo/Gerry BroomeNolan Smith is already preparing for Duke's title defense next season.
The advice was clear: focus.
Four of Florida's starting five from its 2006 national title-winning team held off the guaranteed money that would come from being NBA draft picks to win another title. The Gators were the target from day one during the 2006-07 season and ended it with another national championship.
Duke has the same goal.
Smith and Kyle Singler easily could have chosen to enter the NBA draft after winning the NCAA tournament in April. Both would have been first-round picks. But they pushed that goal aside because they enjoy being in school and want to leave Duke with a legacy similar to the Blue Devils team that won consecutive titles in 1991 and 1992.
"Neither one of us felt the rush to get to the NBA," Smith said as he prepared for his second VertiMax training session with Alonzo Ruffin at the Accelerate Your Game facility outside of Washington, D.C., where Kentucky freshman DeMarcus Cousins was also working out. The exercises are designed to increase a player's explosion on the basketball court by improving his burst of speed and vertical leap. When Cousins was asked what would have happened if Kentucky had beaten West Virginia in the Elite Eight and faced Duke in the national semifinal, Cousins said about Smith, "He wouldn't be as happy as he is now."
Smith nearly vomited the first day he tried the program. On Monday, he learned his lesson and didn't eat as close to the workout.
Smith is here to ensure that, like those Gators, he is in the best shape of his life to mount another title run.
He announced he would return to Duke shortly after the Blue Devils' title game win over Butler. Singler took a bit more time before deciding to return to school. In the interim, Smith said he and Singler sat down together after meeting with Duke coach Mike Krzyzewski and decided that what they had at Duke and the possibility of another title run was too good to walk away from.
Gone are lead guard Jon Scheyer, defensive stopper Brian Zoubek (who became one of Duke's most important players in its run to the title) and role player Lance Thomas. But the Blue Devils bring in a star-studded set of newcomer guards in Kyrie Irving and Liberty transfer Seth Curry to rotate in next to Smith. Andre Dawkins will be the fourth guard in the mix.
Singler will have the Plumlee brothers next to him up front. Mason Plumlee should shine with more minutes and be productive in the post, and Miles Plumlee should be a solid contributor.
"This year's team will be definitely deeper at guard," Smith said. "Our bigs will be athletic and run the floor. We'll play at a faster pace. I'm looking forward to us putting up a lot of points."
Duke is used to getting every team's best shot regardless of how highly the Blue Devils are ranked or what occurred the previous season. But for this collection of players, the pressure will be even more intense.
"It will go up 10 notches," said Smith, who also will train in his native Maryland early in the summer. "The main thing for us will be to be together like we were last season. Kyle, me and Jon had the chemistry. We've got to have that again. We weren't worried about who was scoring points. I think we can show that we're hungry again."
The Blue Devils will be the preseason No. 1.
"The last couple of years, we were starting at 9 or 15 or whatever, but now we're ranked at the top," Smith said. "We'll have to be focused all year long. We can't lose it. Florida had four guys that could have gone to the draft, but they came back as the preseason No. 1. There's a lot of pressure. But we want to keep it that way."