Who do NBA personnel like in the lottery?
May, 14, 2010
05/14/10
1:39
PM ET
As expected, Kentucky's John Wall is the consensus, and unanimous, choice to be the No. 1 pick in June's NBA draft after an informal poll Friday of league decision-makers from 10 NBA teams.
What is even more surprising, though, is the similarity of the ballots from high-ranking NBA personnel in advance of Tuesday's announcement of the draft lottery order.
The consensus poll for the top five picks went like this:
1. John Wall, Fr., PG, Kentucky
2. Evan Turner, Jr., PG, Ohio State
3. Derrick Favors, Fr., F, Georgia Tech
4. DeMarcus Cousins, Fr., F, Kentucky
5. Wesley Johnson, Jr., SF, Syracuse
[+] Enlarge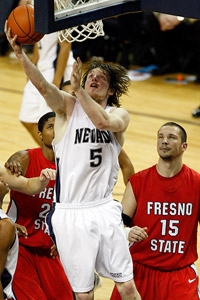 Ric Tapia/Icon SMINBA personnel are intrigued by Luke Babbitt's as a pro prospect.
Favors and Cousins had a few votes for No. 2, and once the order in which teams are selected to draft is announced, it should give a better indication of where those two big men might land, depending on the need of the teams selecting.
Every team contacted said the only scenario in which Wall wouldn't go No. 1 is if Utah were to win the top pick by virtue of owning the New York Knicks' selection. The Jazz have an All-Star and Olympian, Deron Williams, at the point. If Utah were to get the No. 1 pick, that would open the opportunity for Turner, Favors or Cousins to supplant Wall as the top pick.
The second five in the lottery are a bit more jumbled. Still, there is a majority preference, and it goes like this:
6. Cole Aldrich, Jr., C, Kansas
7. Al-Farouq Aminu, So., F, Wake Forest
8. Ed Davis, So., F, North Carolina
9. Greg Monroe, So., F, Georgetown
10. James Anderson, Jr., G, Oklahoma State
Not everyone is in love with this collection, and there is a possibility that a few of the players in these last four spots could sneak into the top 10. Team order and workouts will determine who could climb.
The last four consensus players are:
11. Gordon Hayward, So., F, Butler
12. Xavier Henry, Fr., F, Kansas
13. Ekpe Udoh, Jr., F, Baylor
14. Donatas Motiejunas, F, Lithuania
Udoh is the player from this group who could skyrocket. A number of NBA personnel said Udoh has the most upside of any player in the draft, and as he continues to work out and go through measurements and testing next week at the Chicago pre-draft camp, his stock could climb. But once again, draft order will be a major factor in the order of the mid-to-late lottery. Motiejunas is the only international player on any of the lottery ballots.
Here are the other players who received votes toward the bottom third of the lottery:
Patrick Patterson, Jr., F, Kentucky
Hassan Whiteside, Fr., C, Marshall
Daniel Orton, Fr., F, Kentucky
Eric Bledsoe, Fr., PG, Kentucky
Paul George, So., F, Fresno State
Luke Babbitt, So., F, Nevada
Larry Sanders, Jr., F, VCU
Terrico White, So., G, Ole Miss
The sleeper in this group is Babbitt. One team official said Babbitt might be one of the most skilled players in the draft and compared his skill set to that of former NBA All-Star Chris Mullin. Babbitt scored 33 points, grabbed eight boards and made 10 of 19 shots (plus 10 of 10 free throws) in a 40-minute performance (a loss to a supposedly more athletic New Mexico State team in the WAC tournament). Babbitt played 40 minutes in each of the final three games of the season and had high percentage shooting games until going 2-of-14 in an NIT loss at Rhode Island -- but he still managed to score 14 points by going 10-of-10 at the line.
If this assessment on Babbitt is correct and he is around in the middle-to-late first round, then some team might get a steal.
The draft order from picks 10 on down will get clearer after the Chicago draft camp, but maybe more so after two regional workouts that are sponsored by teams. These workouts are expected to draw a number of first- and second-round picks for the majority of teams to observe. Minnesota is hosting one May 24-27 and New Jersey is hosting the other June 9-11.