Jones commitment latest coup for Calipari
May, 20, 2010
05/20/10
4:33
PM ET
CHICAGO -- Remember that reported package deal of LeBron James and John Calipari to the NBA?
The one that dominated the basketball news cycle last week?
Well, clearly it has zero effect on Calipari's ability to recruit players to Kentucky. He has had the Midas touch in recruiting since he arrived in Lexington 13 months ago, putting together what will likely be the No. 1 class in the country for the second consecutive spring.
His connections haven't failed him, nor has his ability to convince high-level players that playing at Kentucky is the right choice. Calipari was adamant late Wednesday night that the Wildcats didn't land every top player they wanted, (Josh Selby is going to Kansas, after all), but they did get enough of the players they wanted to maintain their elite status.
[+] Enlarge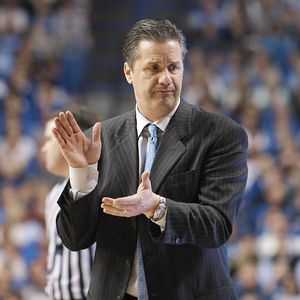 AP Photo/Ed ReinkeKentucky coach John Calipari has reloaded in Lexington with another top recruiting class.
As Scout.com first reported and Calipari and Lorenzo Romar later confirmed to ESPN.com, 6-foot-9 Terrence Jones, the No. 9 player in the ESPNU top 100 out of Jefferson High (Portland, Ore.), signed a scholarship agreement with Kentucky; he was the last elite recruit to commit.
Jones held a news conference a few weeks ago to say he was going to Washington. Then he decided to sign scholarship papers with UK (not a binding national letter of intent) on the final day of the month-long spring signing period. Calipari kept the line of communication open with Jones. That's the deal in high-stakes recruiting. If a player doesn't sign an NLI, then he's fair game. Every coach knows this to be true. Some feel confident still pursuing, others may not.
As for the rumors of Calipari heading to the NBA, he said late Wednesday night that Jones never brought it up.
"He knew I wasn't going anywhere,'' Calipari said.
According to ESPNU's rankings, Kentucky's 2010 class includes the second-best point guard in Brandon Knight (No. 4 overall), the third-best center in Enes Kanter (No. 25 overall), who originally committed to Washington as well, the sixth-best shooting guard in Doron Lamb (No. 29 overall) and the 16th-best shooting guard in Stacey Poole (No. 51 overall). The Wildcats also added former Florida forward Eloy Vargas out of Miami Dade Junior College and got a backup point in Jarrod Polson. Calipari admitted the Vargas commitment was huge in that it filled a massive void inside. Calipari said that he might add another player to this class.
Last spring, Kentucky signed John Wall, DeMarcus Cousins and Eric Bledsoe to go along with Billy Gillispie's recruit of Daniel Orton. All four of them helped lead the Wildcats to 35 wins, an SEC title and an Elite Eight appearance with returning junior Patrick Patterson. All five players are projected to go in the first round of next month's NBA draft after all of them declared for -- and stayed in -- the draft.
Calipari has reloaded again, and the Wildcats -- with the return of key players like Darius Miller, DeAndre Liggins, Josh Harrellson, Darnell Dodson and Jon Hood -- have enough talent now to be a contender in the SEC East and nationally in the Top 25. However, this isn't comparable to the 2009 class, which was loaded with NBA talent, and there isn't a returning big man to anchor the team like Patterson.
Knight isn't Wall. But he can be one of the better point guards in the country. Jones should flourish as Calipari will play more of his dribble-drive-motion offense rather than letting Wall run up and down or Cousins dominating the post in a half-court set. The Wildcats needed diversity in scoring and will have it now in Knight and Jones and especially if Kanter is eligible for the whole season after the NCAA reviews his amateur status. Kanter could be the difference on how far this team gets in March.
Should the NBA talk quiet down now for Calipari? Yes, unless there is a real offer from a team, which hasn't occurred, and there is no real indication it will at this juncture. Calipari said again late Wednesday night that he isn't going to the NBA.
There's no question that the perception that he needs friend/confident/networker William Wesley to get an NBA job isn't flattering. If Calipari wants back in the NBA in the near future, he's going to want it on his own merit, and not in a package deal with James or because he's being shopped by Wesley.
Wesley has denied shopping Calipari and James as a package. You can believe him or not. But the main question is would an NBA team seriously even consider it? I say no, nor would James pressure a team into hiring Calipari as its coach. He hasn't done that yet, and I can't see him doing it with a college coach who wasn't a success in the NBA and who would command major NBA dollars ($5 million a year at least).
Calipari knows LeBron, but the two are hardly tight. This is a relationship that only recently blossomed in the past year. James has played for Duke coach Mike Krzyzewski in the Olympics and won gold. He has never played for Calipari, and there's no indication that he would want to or enjoy the process. This would be a different story if one of Calipari's all-time favorite players to coach, Chicago's Derrick Rose, told Bulls management that he would only re-sign with the team if Calipari were the coach at a time when there was an opening. That story would have more weight because of how much Calipari loved coaching Rose.
The story won't completely die until James signs with a team and that squad has a coach. But as of now, there are no indications Calipari is leaving Kentucky.
• Washington coach Lorenzo Romar isn't whining over Jones' defection. He was professional, as always, in talking about it late Wednesday night. Romar can do that because he has the premier program in the Pac-10 at this point.
Washington, the projected favorite to win the conference after its Sweet 16 appearance, still has one of the best recruiting classes in the West. The Huskies signed the No. 5 small forward in Terrence Ross (No. 30 overall) Jones' teammate out of Jefferson High in Portland, Ore., the 44th-best small forward in Desmond Simmons out of Salesian High and an impact junior college player in 7-foot-1 center Aziz N'Diaye out of the College of Southern Idaho.
The Hukies return with guard Isaiah Thomas, Abdul Gaddy and Justin Holiday to form a core team that should be the easy pick to win the Pac-10.
The decommitment of Kanter was a bit unique since Romar said Kanter didn't have an SAT score at the time that he could show in his visit with the Huskies. He later visited Kentucky, decommitted from Washington and then signed with Kentucky.
Kentucky vs. Washington for the last elite player in the country is an interesting dynamic. The player, in this case, is from Portland. Washington had already secured his teammate Ross. But this wasn't Kentucky vs. UCLA. Washington is the player from the Pac-10 at this juncture for elite talent in the Northwest. Sure, Kevin Love came out of Oregon to attend UCLA. But Washington has won two Pac-10 titles (regular season in 2009 and tournament in 2010) and is now a force in the Northwest with Gonzaga. The Bulldogs took Gary Bell Jr. (Kentridge High in Kent, Wash.), the top shooter in 2011 from the Northwest, from UCLA. This isn't meant to be a takedown of the Bruins, but just a fact that the Northwest is being secured by Washington and Gonzaga, something that new Oregon coach Dana Altman will have to deal with as well.