It's not about draft hype for these guys
May, 27, 2010
05/27/10
9:03
PM ET
NBA draft hype usually surrounds the elite talent in the lottery or the underclassmen who dominate the chatter.
Lost amid the headline names are players who are scrapping their way into the first round in the NBA's sanctioned Chicago pre-draft camp last week and in Minnesota this week -- the first of two group combines prior to the draft.
[+] Enlarge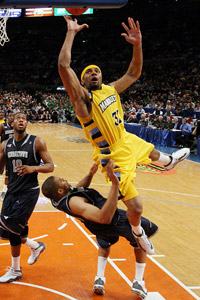 Jim McIsaac/Getty ImagesMarquette's Lazar Hayward isn't a household name, but he's proving himself with a strong work ethic.
Every year there are players, some seniors, and certainly juniors, who earn their draft position by proving to NBA personnel that they can play in the league, regardless of being pigeonholed into a position.
I'll give you three players who, through various sources, are proving that it's not all about the hype:
Lazar Hayward, Sr., F, Marquette: Wes Matthews became a major player for the Utah Jazz this past season, yet he wasn't drafted. Hayward and Matthews don't play the same position, but they came from the same school. And it matters. The work ethic out of Marquette is getting a positive vibe from NBA personnel in Chicago and those who were in Minnesota.
"He was one of the three best basketball players who participated in the workout,'' said one general manager who attended the Minnesota workouts. "He knows how to play. He's not sexy. But he knows who he is. If you put him on a playoff team that is picking in the 20s, you could plug him in the rotation.''
Hayward increased his minutes and scoring throughout his four years at Marquette, while playing for Tom Crean and Buzz Williams. He's a 6-foot-6 forward who has a nose for the ball and can crash the offensive glass. Will he sneak into the first round? His best shot might be for a team that has multiple picks, like Oklahoma City or Minnesota. But he's doing everything right to impress upon the decision makers that he'll be worthy of a first-round selection.
Hayward is proof that a player can earn his way into the NBA through development over a four-year career and without being a household name. "If you talk to coaches in the Big East, they'll tell you that he does everything for your team, playing the two, the three or the four,'' said the general manager. "He makes good decisions, boxes out and sets screens. He's perfect to play alongside big-time guys on the floor.''
Greivis Vasquez, Sr., F, Maryland: Vasquez was the ACC player of the year, so he was hardly a non-factor during the conference season. But he has been poorly tossed to the back of the line because he's a senior, and he wasn't billed as the quickest or the hotest name among point guards. He's behind John Wall, Evan Turner (yes, he has to have the ball in his hands to be effective, so put him in with the point guards), Avery Bradley and Eric Bledsoe.
But the numbers don't lie (19.6 points a game, 6.3 assists). The basketball IQ hasn't diminished, and his passion to play and to work is high among potential picks. "He's calmed down personality-wise and was terrific in the interviews,'' said one general manager. "How is he not the third-best point guard in the first round?''
You can easily make the case that if you take Vasquez behind Wall and Turner, you're getting an experienced, reliable playmaker. Bledsoe hasn't played the position for a full season by himself; he was the understudy to Wall at Kentucky in his only season there. Meanwhile, Bradley was never Texas coach Rick Barnes' choice at the position because he experimented with Varez Ward, Dogus Balbay, J'Covan Brown, Jai Lucas and Justin Mason.
Vasquez actually played the position. He's not as athletic as Darren Collison, the former UCLA standout. A year ago Collison was pushed as a possible second-round pick, but he was selected late first and ended up being a valuable player for New Orleans after Chris Paul was injured. Vasquez could end up serving a similar role to a potential playoff team looking for another experienced point.
Dominique Jones, Jr., G, South Florida: The common comment at the Chicago pre-draft camp was that Jones knew how to score big-time against Big East opponents.
So, too, did Luke Harangody of Notre Dame. But there are shortcomings with Harangody that teams will have to get over (athleticism, defensive liability, not long). With Jones, though, the upside is high with his body of work and his physical presence, earning him plenty of praise.
"Anyone good enough to get in the lane will play,'' said one general manager. "His jumper needs a lot of work, but what he can do against second-unit guys in the NBA is score. He can help teams that need a scorer off the bench. He really defends and is a better passer than people think. His interview was off-the-charts good.''
Jones averaged 21.4 points a game for the Bulls in the Big East.
There will be other three-to four-year players who didn't get much hype and will turn out to be solid additions, such as VCU's Larry Sanders. But what this proves, yet again, is that the formula to make the league isn't always about the one-and-done.