Izzo continues to build his legend at MSU
June, 1, 2010
06/01/10
6:46
PM ET
Tom Izzo isn't going to the NBA now. He has another championship to win.
Even though he heavily considered the idea when the Atlanta Hawks reached out in 2000, the Michigan State coach said he's not entertaining the thought these days.
This is 2010 and Izzo has become iconic in East Lansing with back-to-back Final Fours and six in the past dozen seasons.
Only one of those six trips (2000) resulted in a title, however. So Izzo won't say he'll never go to the NBA but does claim the thought won't cross his mind until he wins a second national championship.
[+] Enlarge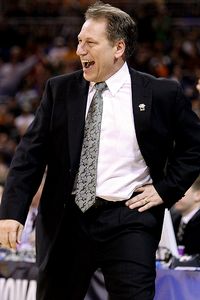 Elsa/Getty ImagesSince 1999, Tom Izzo's Michigan State program has made six trips to the Final Four.
So that takes Izzo out of the Cleveland Cavaliers' coaching rumor mill, even though he is much more of a viable option for the Cavs than Kentucky's John Calipari, based on his success in college and connections to ownership. But Izzo has never been prominently mentioned during the search and for good reason. He's not interested. The chatter about him going to Oregon was also a complete farce. Izzo wasn't jumpstarting a program in Eugene when he's an institution in East Lansing.
And he has another shot at a title, assuming a few issues get settled over the summer. The Spartans are ranked third in my preseason top 25 and are among the three consensus favorites to win it all (along with Duke and Purdue).
"If we get everybody healthy, it may be harder to win the league than to get to the Final Four,'' Izzo said of the expected depth in the Big Ten with national title contenders Purdue and Ohio State competing with MSU and likely NCAA teams Illinois, Wisconsin, Minnesota and Northwestern.
"[But] we've got a chance,'' Izzo said of winning the national title. "We're one of 10 teams that has a legit chance.''
Here's why:
• Kalin Lucas is back as the team's starting point guard after he ruptured his Achilles in an NCAA second-round win over Maryland on March 21. Lucas, who will be a senior, is arguably one of the top guards in the country.
Izzo said Lucas had his protective boot removed last week, is no longer using crutches, "looks good" and is ahead of schedule.
The plan for Lucas is to spend the next three to four weeks strengthening his leg, and if everything goes according to plan, he can start playing pickup ball in July or August in preparation for the season. Lucas has emerged as one of the top leaders in the game, a player who can make plays, get into the lane and settle his squad during duress.
• Durrell Summers should be the next star for the Spartans, if he doesn't have that label already. Summers, a 6-foot-4 guard, seemed like he had more freedom in the postseason, scoring 26 in that win over Maryland and 21 in the Elite Eight victory over Tennessee.
"He's a real talented guy and with him and Lucas together we can get it rolling,'' Izzo said of his senior backcourt.
• Delvon Roe has battled knee injuries throughout his career, but Izzo is hopeful he'll finally see the player he recruited as a junior before his first major knee injury his senior year of high school. Roe has the potential to be a double-figure scorer and a player who could rebound close to eight or nine a game. Instead, injuries have kept him hovering around five or six points and five boards a game over the past two seasons.
Roe had meniscus surgery after the season. Izzo said had the surgery occurred during the season he would have been back playing two weeks later. But Roe didn't say anything and played through the pain.
"And he wasn't the same player,'' Izzo said.
The one significant loss from last season's team is Raymar Morgan. If Roe returns to his norm and Draymond Green continues to develop into a primary scoring/rebounding option inside, the Spartans will have the pop needed in the post. Green is also the team's personality, offering up levity moments as well as ensuring the team remains focused in the locker room.
The question mark entering the summer is Chris Allen. The rising senior guard has had clashes with Izzo and it's not clear if the two are on the same page.
"Nothing has happened yet,'' Izzo said. "He's on a short leash. He has some growing up to do. There were times I didn't know if he wanted to be here.''
If Allen is back, the Spartans will have a formidable, experienced, senior-laden perimeter to match Purdue's senior-dominated team.
Izzo also has plenty of talent coming in the form of ESPNU's No. 10 recruiting class. The new Spartans will include No. 9 power forward Adreian Payne out of Jefferson Township High (Ohio), No. 4 shooting guard Keith Appling (Pershing High, Mich.) and top-20 players at their respective positions in shooting guard Russell Byrd (Blackhawk Christian School, Ind.) and center Alex Gauna (Eaton Rapids High, Mich.).
The nonconference schedule is nearly set with another typical tough slate. The Spartans' ACC-Big Ten Challenge game is on the road against national champ and almost-certain preseason No. 1 Duke. They are in the Maui Invitational with Washington, Kentucky, Connecticut and Wichita State among others. And they will play Syracuse in New York at the Jimmy V Classic in New York, along with hosting Texas and South Carolina.
"That's as good a nonconference as we've had,'' Izzo said.
The conference schedule is already known as well. According to Izzo, the Spartans will play Purdue, Illinois, Minnesota and Wisconsin twice, but Ohio State just once (on the road) in the unbalanced Big Ten schedule.
"What worries me is that the nonconference schedule is tough and with Lucas coming back it might take him a while,'' Izzo said.
"But we've got a chance.''