Ollie makes sense, but nothing official yet
June, 2, 2010
06/02/10
1:54
PM ET
Connecticut needs a fresh face from the past, one that brings instant credibility to the staff, has connections to the NBA and would be a huge hit for high school players looking for someone to relate to as they make their choices.
UConn alumnus Kevin Ollie would be perfect for the Huskies at a time when the program is on unstable ground as it mounts its response to a notice of allegations dealing with recruiting violations and a failure-to-monitor charge at Hall of Fame coach Jim Calhoun. The alleged violations led to the forced resignation of assistant Patrick Sellers and Beau Archibald, the director of basketball operations, after they were accused in the notice of lying to the NCAA and UConn during the investigation.
But, despite reports, Ollie is hardly a lock for Sellers' position. Technically he hasn't been offered the job and can't be for another eight to 10 days as the university goes through its normal human relations posting of a state position. But more importantly, Ollie hasn't decided if he wants to retire from the NBA.
"I haven't sent in the papers to the NBA,'' Ollie said Wednesday as he made his way to the UConn campus in Storrs for a daily workout.
On Tuesday night, the New Haven Register reported that Ollie would be the next assistant coach for the Huskies. "They jumped the gun. It's definitely in the back of my mind. But I have to look at all my options and see what's best for Kevin Ollie. I have to be fully committed to coaching in college or the pros. It would be something awesome to do, to be under a Hall of Fame coach. But there are also NBA coaching jobs that could open up too. I have to keep my options open.''
[+] Enlarge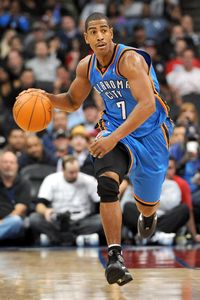 Kirby Lee/US PresswireKevin Ollie has played for 11 teams in 12 NBA seasons.
Last season, the 37-year-old Ollie played in only 25 games for the Oklahoma City Thunder. He was a mentor to a young team but injuries meant the Thunder had to get another guard and picked up former first-round pick Eric Maynor in a midseason deal with Utah.
Ollie has played in the league for 12 years with 11 teams in 12 cities (Seattle and Oklahoma City). He signed with Oklahoma City on July 10, 10 days into the free-agency period. He once had a five-year deal with Cleveland, but there have been years when he hasn't known his destination until August.
The Thunder brought him in to be an influence on younger players. No one has said he won't be back, but no decisions will be made until next month at the earliest.
"I can still play and compete for minutes,'' Ollie said.
But that's the dilemma. Recruiting starts the first week of July. Connecticut will desperately need someone on the road with assistant Andre LaFleur and Calhoun to evaluate the classes of 2011 and beyond. Associate head coach George Blaney could play that role, but he hasn't been used in that capacity lately.
Ollie would be a home run because of the respect he has earned in the NBA. But the timing could be off. If he still wants to play, he would have to make a decision on UConn -- assuming the offer comes -- before a team makes a decision on whether to sign him.
"I may have to make a career move now,'' Ollie said. "I can't wait if I want to play again. If I decide to go with Coach with UConn if they offered, or to an NBA team as a coach, then that's what I'll be committed to. If I make that decision, I can't look back. It would be a disservice to my family. I've got two children and a wife. I can't let my emotions in there. I've got to think about it. I haven't signed a contract with anyone because no contract has been presented.''
• Draft night trade talks will start to heat up when general managers convene in Treviso, Italy, for the international camp later this week. The New Jersey Nets' three-day combine next week involving late first- to second-round picks will also garner up some conversations.
Some teams are already poking around to see what's available. According to sources, teams have called Oklahoma City to see if there is a market for James Harden. Harden had a solid rookie season and it's unlikely the Thunder would release him unless they felt there was a player they had to have in the top five. Sacramento could be a willing participant if the Kings don't get Syracuse's Wesley Johnson at No. 5. And no one would be surprised if Minnesota would be willing to move down from No. 4 because the Timberwolves have multiple picks.
• One of the better workouts will occur Sunday in Salt Lake City when Nevada's Luke Babbitt and Butler's Gordon Hayward go head-to-head. Both are being billed as possible lottery picks and either could start garnering interest beginning at No. 8 slot with the Los Angeles Clippers. Toronto worked out Hayward this week and was impressed with his shooting skill and overall basketball IQ. The Utah workout will also have Al-Farouq Aminu (Wake Forest), Xavier Henry (Kansas), Damion James (Texas) and Ryan Thompson (Rider).
• Kentucky freshman DeMarcus Cousins will work out for Philadelphia on June 18, two days after he works out for New Jersey. The Sixers have the second pick and the Nets have the third. There is interest in Cousins at No. 7 (Pistons), No. 8 (Clippers) and No. 13 (Rockets), but those teams would almost certainly have to move up to get Cousins.
• I'll be surprised if the Sixers don't go with Ohio State's Evan Turner over Cousins and Georgia Tech's Derrick Favors to pair Turner and Jrue Holiday as their backcourt under new coach Doug Collins. Turner is the safe pick for Collins.
• The two players who are hard to place right now are North Carolina's Ed Davis and Kentucky's Daniel Orton. A number of NBA personnel said Davis hasn't done anything to warrant confidence in his game. He was hurt toward the latter part of last season (wrist) and was a backup to Tyler Hansbrough as a freshman and more of a complementary player to Deon Thompson before he got hurt this past season. Davis would have been the featured interior player next season had he returned. Still, Davis' potential will be tantalizing to many teams.
Orton was the third post player at UK behind Cousins and Patrick Patterson last season. He has a history of knee issues and averaged only 13.2 minutes a game (3.4 points and 3.3 rebounds). It would be hard for a team that has only one pick in the first round to trot out Orton as its selection with those numbers.
It's true that teams draft on potential, especially foreign players, but it was no secret that Orton wasn't able to crack the starting lineup at Kentucky. Orton would be a better sell for a team that has multiple picks in the first round, and there are a few. He could be this year's DeAndre Jordan, the former Texas A&M center who had first-round talent but because of limited playing time ended up in the second round.
• The SEC should change its tournament format to a true 1-12 seeding, rather than giving the West and East Divisions equal value. The scheduling is unbalanced, but the better teams shouldn't be penalized for playing on a tougher side. Commissioner Mike Slive said at this week's SEC meetings that the conference is discussing the possibility of doing away with divisions for basketball. On Wednesday afternoon, LSU coach Trent Johnson tweeted that the league coaches voted on it and it ended in a 6-6 tie.
The Big 12 actually discussed going back to its old format of seeding the tournament based on the scheduling divisions they use (North and South like in football). In the first three years of the league, the seeding was done in this manner. Since then, the Big 12 has gone 1 through 12 in its seeding for the tournament, which is the way the standings look on a daily basis, even though the league schedules as if it is in divisions.
Big East athletic directors are waiting for the conference staff to do some additional research (missed class time, ticket policies, etc.) before deciding on whether to take away the double-byes in the conference tournament. The athletic directors will then have a conference call to see if they're going to keep the status quo or recommend a change to the presidents. The coaches voted to do away with the double-bye format, which would mean the only bye would be a day off for the top four seeds on Wednesday after playing the bottom four seeds in Tuesday's opening round.
• Gonzaga will continue its cross-country tour of neutral-site games during the upcoming season. On Dec. 18, Gonzaga will play Baylor at American Airlines Center in Dallas as part of a doubleheader (Texas A&M and Arkansas will play in the other game).
• The Chicago Invitational (Nov. 26-27 at the Sears Center Arena in Hoffman Estates, Ill.) has a chance to pit Purdue and Richmond against each other in what could be a quality RPI game for the Boilermakers. The rest of the field, announced Wednesday, includes Southern Illinois, Wright State, Austin Peay, Oakland, Southern and Charleston Southern.