Izzo weighing pros and cons of joining Cavs
June, 10, 2010
06/10/10
11:04
AM ET
Former Michigan State coach Jud Heathcote was blunt about the choice his mentee Tom Izzo faces concerning the open Cleveland Cavaliers job.
"If LeBron stays, it's a good job. If LeBron leaves, it's not a good job,'' Heathcote said from his home in Spokane, Wash.
Izzo conferred with Milwaukee Bucks coach Scott Skiles earlier in the week and relayed that conversation to Heathcote.
[+] Enlarge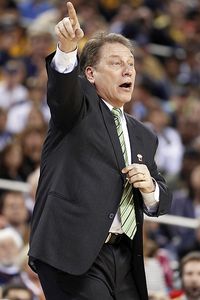 Bob Donnan/US PresswireIs Tom Izzo pointing toward the NBA? The Spartans -- and Cavs -- are waiting to find out.
"Scott told him that if you've got a good team, coaching in the NBA is fun. If you have a bad team, it's not,'' Heathcote said. "You play so many games. The losses pile up. Tom knows that. In all honesty, Tom has a burning desire in his body to win another national championship. He's got a chance. He has a good club coming back.''
Izzo said that exact comment -- that he wouldn't look at the NBA until he wins another national championship at Michigan State -- to ESPN.com two weeks ago. But offers change, and so does the pressure. If the offer from the Cavs is $6 million a year, $3 million more than what he is making now, then it is worth seriously investigating.
According to a number of sources close to Izzo and the Michigan State program, there is a growing feeling that he may take this job after flirting -- sometimes seriously, sometimes not -- with Atlanta, Toronto, Detroit and, apparently most recently, Chicago in the past decade. At least one confidant of Izzo who is coaching in the NBA conveyed through another source Thursday that Izzo is close to taking the job. "Three weeks ago that wasn't the case, but it has changed,'' said the source.
Heathcote told Izzo to make the decision on his own, not to allow the pressure of anyone else to force his hand. "Tom would like to have the time to analyze things without the pressure of the media and boosters and the fans, but that's not going to happen,'' he said. "It's already a hot item on the news, and it's hot with the ticket holders.''
One college coach who has coached in the NBA but didn't want to use his name said he can easily see the draw for Izzo. He said Izzo can coach in the NBA for two to three years, make a ton of money, and then be the most marketable coach returning to school.
That's exactly what happened to Rick Pitino when he returned, a second time, from the NBA. He was hotly pursued by UNLV and ultimately landed at Louisville.
There are other examples. Lon Kruger was a hot name on the bounce back from the NBA and he ended up at UNLV. Leonard Hamilton (Florida State) and John Calipari (Memphis) did the same, although Calipari was an NBA assistant first before he to the Tigers job.
The decision by Mike Montgomery was different in that he wasn't making more than $1 million when he left his comfortable life at Stanford. When he went for the money with the Golden State Warriors, it made financial sense at that point in his life. He returned to Cal after a year off spent in broadcasting.
"The money isn't going to change if LeBron is there or not,'' Heathcote said. "But the job does change. No one is going to know what LeBron is going to do until July.''
That's the big question for Izzo and Cavs owner Dan Gilbert: What's the rush? Cleveland doesn't have a pick in the NBA draft later this month. The Cavs can wait to hire a coach after seeing what happens with James. ESPN analyst and former New Orleans coach Byron Scott can take the job, and he's a serious threat to do so if offered, without having to wait on James. He wouldn't be giving up nearly as much as Izzo.
Izzo is looking to see what James will do, according to sources. But at least one member of James' inner circle told ESPN.com that he doesn't believe Izzo has spoken to James as of Wednesday. Even if he did, said the source, James wouldn't have a decision at this time on whether he was re-signing with Cleveland.
Izzo's decision is akin to what Florida's Billy Donovan went through after winning his second consecutive national title. Donovan accepted the Orlando Magic job, but only a few days later he realized he had made a mistake. He then got out of the Magic deal, went back to Florida and had to deal with a five-year ban from a coaching gig in the NBA.
Donovan didn't want to project Izzo's mindset. But he did convey this: Izzo has to figure out how much longer he wants to coach. Izzo is 55, and if he thinks this is his one shot at the NBA, then he may consider the job, regardless of who is on the roster. But Donovan said then -- and now -- that his decision wasn't about the pay raise and few believe Izzo will make a decision based on money.
It's about the quality of life and whether or not Izzo wants to take his wife and two school-aged children into an NBA life in Cleveland rather than one in East Lansing, where he is king and can control his schedule.
If Izzo does end up going to Cleveland, he would become one of the hardest college coaches to replace in recent memory. Arizona was declining when Lute Olson retired. Izzo has been to six Final Fours, won a national championship and has been a dominant presence in the Big Ten. He's also the most beloved coach in the state and in the Big Ten and is revered by his peers around the country.
There are candidates out there from the Michigan State tree, like Dayton's Brian Gregory, Utah's Jim Boylen, Tulsa's Doug Wojcik, South Florida's Stan Heath, MSU associate head coach Mark Montgomery, and of course Indiana's Tom Crean, who would have been the choice out of Marquette, but he's probably less palatable from within the league at Indiana. Skiles even makes sense if he wanted to leave the NBA and return to his alma mater.
But Izzo would cast a major shadow over a successor, as that coach would constantly be compared to him in every way … not just on the court, where success should occur next season because of the return of Kalin Lucas, Durrell Summers, Draymond Green and Delvon Roe, plus a top recruiting class.
"There are a few guys out in the field that are Spartans,'' Heathcote said. "Maybe you look at Crean, maybe you look at Boylen. I don't know what they do. I'm not going to take that job again.''
Heathcote was saying that in jest, of course. It was hard to project Izzo following Heathcote with such success. The same could be true of a possible Izzo replacement.
But Izzo constantly talked about how much he wanted Michigan State to be put on a pedestal as one of the great programs in the country, and he felt like it wasn't there yet. The Spartans were arguably the nation's most consistently great team of this past decade. He put the Spartans among the elite. If he leaves, it will be hard for his successor to maintain that success, let alone duplicate it.