Sadler eyes recruiting success in Big Ten
June, 14, 2010
06/14/10
9:09
AM ET
Nebraska coach Doc Sadler gathered his staff on Friday night, shortly after the announcement that the Cornhuskers were moving from the Big 12 to the Big Ten, and immediately changed his July recruiting itinerary.
He cut out trips to the South and made sure he was headed to the Midwest, and the upper Midwest, as many times as possible in the first 10 days of the July recruiting period.
[+] Enlarge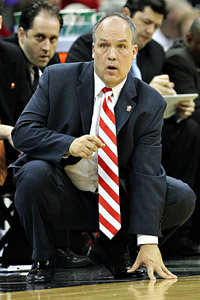 Jamie Squire/Getty ImagesNebraska coach Doc Sadler needs to sell the Huskers program to Midwest recruits.
"I'm only going to spend one or two days outside of the Big Ten states now," Sadler said. "When you're at Nebraska before, all the population is down in Oklahoma and Texas in the [Big 12] league [so] that you had to be involved with kids from that area. I would go to Iowa, Minnesota and Illinois but those kids want to be in the Big Ten. I'm now closer to that than before."
Nebraska will join the Big Ten as its 12th member for the 2011-12 season, meaning Sadler's July evaluation recruiting period gives him the first chance to sell the Huskers as a Big Ten program.
Going into Big Ten country for recruits is not foreign for Nebraska. As Sadler said, he has attempted that before and so too did previous Nebraska coaches Barry Collier and Danny Nee.
One source with direct knowledge of Nebraska recruiting said that the Huskers will still have a difficult time penetrating the Big Ten markets. But at least they "won't disappear into the Big 12" with the players from Big Ten states.
"The move will be a success if the Huskers can recruit and continue to recruit," said the source.
Sadler is well aware of that fact. Last season, Nebraska's roster was from all over the map, including two players who were from outside the continental United States. Only three players were from Big Ten states (none of the three players signed for Fall 2010 are from Big Ten states). Nebraska finished last in the Big 12 at 2-14 last season and 15-18 overall, the worst record in Sadler's four seasons. He had shown improvement in the previous three seasons, winning six, seven and eight Big 12 games. Sadler has four seasons remaining on his contract, so he'll have three left when the Huskers officially join the Big Ten.
"This is going to be a great fit for us," Sadler said. "But nothing supersedes winning. That's the key. We've got to go in there and win. Right now, if you put us in the Big Ten or the Big 12, we have a lot of work to do. We had momentum my first three-and-a-half years, and after a couple of injuries, we took a step back. We've got to get the momentum back before we go to the new league."
The last team to join the Big Ten was Penn State in 1992. The Nittany Lions are still trying to find their niche. Penn State is on its third coach since joining the league, which isn't actually that bad over an 18-year stretch. But the Nittany Lions have made only two NCAA tournament appearances and have been above .500 in the Big Ten just twice. Penn State did make six NIT appearances, including winning an NIT title in 2009.
Wisconsin coach Bo Ryan said rivalries in the Big Ten have been cyclical, but it's still hard to find a rival for Penn State. That will be a bit of an issue for Nebraska when it enters the league.
"

This is going to be a great fit for us. But nothing supersedes winning. That's the key. We've got to go in there and win.

"

-- Nebraska coach Doc Sadler
Ryan added that the Huskers will have to establish a home-court presence, put people in the stands and then be competitive on the road. He said that's what Wisconsin had to do to change the perception so that the Badgers were seen as a real player in the Big Ten.
"I think the people in Lincoln will recognize the importance of Ohio State, Michigan State and Illinois coming in," Ryan said. "How we ended up being conference champs was taking care of business at home and then on the road. In order to be considered, you have to start knocking somebody out, play real close games and winning two out of three of them."
Sadler said he views the Big Ten as more of a defensive league and has tried to model his program after Michigan State. He said his defensive approach mirrors former Wisconsin and Washington State coach Dick Bennett, and he has regularly tried to call Tony Bennett, the former Washington State and current Virginia coach, to discuss defensive issues.
"I want us to be like Michigan State's toughness with defense, to give it all you've got," Sadler said.
The unknown is whether Nebraska remains the only addition to the Big Ten.
Ryan said the basketball coaches discussed scheduling at their annual spring meetings in May if expansion occurred. The Big Ten moved to an 18-game schedule in 2007-08, but if the league stays at 12 for 2011-12, it might go back to a 16-game schedule.
Ryan said talk of playing 10 games against teams in a division and then six against the other division (three home and three road) was the most likely scenario.
Even if the Big Ten doesn't use divisions for men's basketball like it probably will for football, the schedule could mirror those divisions. The Big 12, which will enter its final year under its current makeup this fall, currently schedules that way in men's basketball.