Can Boyle make CU basketball relevant?
June, 18, 2010
06/18/10
6:08
PM ET
Colorado had to show an interest in basketball.
If the Buffaloes didn't, all the talk about wanting to be competitive was moot. Sure, they could pop up every few years and make some noise in the Big 12. But to be a serious player, to be taken seriously, they had to do something tangible.
A year ago, Jeff Bzdelik seriously considered becoming an assistant coach with the NBA's Minnesota Timberwolves. And he didn't hesitate to jump when Wake Forest athletic director Ron Wellman called. It was a no-thought decision. Wake Forest has always shown a commitment to college basketball. Colorado hasn't. You can't compare being the head coach at Wake Forest and Colorado.
Are the Buffs finally giving the appearance that they care enough to do something about it? Bzdelik pushed from the day he arrived to improve the facilities, and it's starting to happen -- although he won't be in Boulder to see his hard work pay off.
Tad Boyle, who was the coach at nearby Northern Colorado, was the Buffaloes' choice over Bzdelik's top assistant, former associate head coach Steve McClain (who went on to join Tom Crean's staff at Indiana).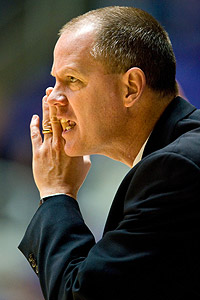 Douglas C. Pizac/US PresswireAfter leading Northern Colorado to 25 wins last season, Tad Boyle has moved south to Boulder.
The Buffaloes pale in comparison to the rest of the Big 12 in facilities, but Boyle will benefit greatly from a new indoor basketball/volleyball practice facility next to the Coors Events Center, set to be completed in April 2011.
In a year (or possibly two), CU will be in the Pac-10, a conference still playing catch-up in the facilities chase. Once Colorado has its own, it will move into the middle of the pack, behind Oregon, Arizona, Arizona State, USC (and UCLA is upgrading in a year), but at least not at the bottom.
"All I have to do is look out my window and see that they've broken ground and know that it's going to happen," said Boyle this week. "Jeff talked about how much they needed it for two or three years. But it's happening. Jeff was a big part of this commitment. But they stepped up."
"Buildings don't make programs; it's what's inside," said Texas A&M coach Mark Turgeon, who hired Boyle to be his assistant after the two played together at Kansas under Larry Brown in the early '80s. Turgeon and Boyle were together at Oregon under Jerry Green, and then Boyle split off to Tennessee under Green before reconnecting with Turgeon as his assistant at Jacksonville State and ultimately at Wichita State before venturing off on his own at Northern Colorado.
"At some point, Colorado had to step up, and Jeff worked hard to get it going," Turgeon said. "Colorado realized that it had to do something to have a chance. They had to show interest in basketball, to sell it to recruits, to the administration to put money into the program."
But as Turgeon said, what's inside matters. And Bzdelik left Boyle two players that give him a chance to be more than just competitive in what could be CU's last year in the Big 12. Colorado is coming off a 6-10 Big 12 season (15-16 overall), ahead of Oklahoma, Texas Tech, Iowa State and Nebraska. The return of rising senior guard Cory Higgins (18.9 ppg) and sophomore guard Alec Burks (17.1 ppg) means the Buffs will be able to score.
"We've got a good nucleus," Boyle said. "I think the only way we establish credibility here early is how quickly it happens. I know you need a breakthrough year."
The opportunity exists. He did turn Division I and Big Sky newcomer Northern Colorado -- 4-24 and last in the RPI in his first season -- into a postseason team (CIT) in his fourth and final season as the Bears finished second to Weber State at 12-4 (25-8 overall) last season. He was the Big Sky Coach of the Year, and if you were up late on ESPN's Tip-Off Marathon night you would have seen Boyle lead the Bears to a win at Hawaii to jump-start the season. The Bears lost to Oklahoma by one point in Norman and won at TCU during a breakthrough season.
"Can he make the jump?" said Turgeon, who worked hard to help Boyle get the job. "Yes. He played at this level. He's helped major programs. He's the full package. He's an excellent coach, a great recruiter. And before he got into coaching, he was handling people's money [Boyle is a former Boulder-based stockbroker], so he'll be a good fundraiser. He did that at Northern Colorado, and he'll do the same at Colorado."
The jump from the Big Sky to the Big 12/Pac-10 shouldn't be a shock anymore. Ben Howland broke the stereotype of needing a middle step when he went from Northern Arizona to Pitt.
"I know he'll do the coaching part," Turgeon said of Boyle. "He's the perfect fit for the job. Look at how successful Bo Ryan was at the Division III level before he got to Wisconsin [from UW-Platteville before a stop at D-I Wisconsin-Milwaukee].
"Yes, you normally have a middle step, but timing is everything," said the 47-year-old Boyle. "It was a perfect fit, whether we're in the Big 12 or the Pac-10."
The Buffaloes needed to jump-start their program after years of floundering toward the bottom of the Big 12, for the most part. Colorado is a better fit academically in the Pac-10 and men's basketball has a new chance to start the program over and build on its own history without preconceived impressions. And if there were ever a time to enter the Pac-10, it's now, as the league tries to climb out of a down cycle.
Boyle said he might not recruit the Texas area as much anymore, shifting the emphasis to fertile California, although it will be even more competitive there with Utah joining the fray as well.
And Boyle, a Colorado native, is no fool. He hired Rodney Billups for his staff. Billups is the brother of Chauncey Billups, currently with the Denver Nuggets and the easily the most famous CU basketball alumnus in the NBA.
"I know this is a heckuva challenge," Boyle said. "But I know what we did at Northern Colorado was pretty special. We won 25 games. We were dead last in the RPI when we got there. That speaks volumes. I know we can do this.
"The only way you establish credibility is on the court, and how quickly that happens I don't know. I want it to happen sooner than later. There's a great nucleus here, and Coach Bzdelik left good players in the program. We just have to add the pieces."