Questions still surround Bradley, Warren
June, 22, 2010
06/22/10
12:06
PM ET
The calls from NBA teams have come into Texas coach Rick Barnes and Oklahoma coach Jeff Capel asking for answers.
And the response has been clear.
There was nothing secret about why Avery Bradley didn't play the point for the Longhorns. And no, according to Capel, Willie Warren wasn't uncoachable.
Yet, as Thursday's NBA draft approaches, these two players are still sort of a mystery. A year ago, Warren was a lock for the lottery if he decided to come out and was considered a preseason contender for national player of the year. Meanwhile, Bradley was ranked No. 1 in his class in the ESPNU 100 and was expected to be one of the top freshmen in the country. That didn't happen, either.
Still, Bradley could land anywhere from No. 10 on down in the first round, while Warren certainly has the talent to be in the middle-to-late first round (but could easily be a second-round pick).
[+] Enlarge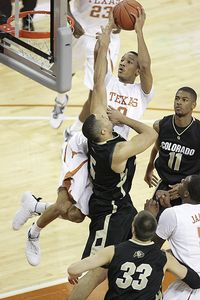 Brett Davis/US PresswireAvery Bradley had an up-and-down freshman season for a disappointing Texas team.
Barnes tried a slew of point guards in what ended up being a disappointing season for the Longhorns. But he never used Bradley at the position.
He started out with the plan of having Varez Ward and Dogus Balbay on the perimeter. But Ward tore his quad in November and was done for the season, and Balbay was the point guard until he tore his ACL in February. Balbay's offensive limitations limited him at times, and Barnes used J'Covan Brown, Justin Mason and Jai Lucas once he was eligible in December after transferring from Florida.
Bradley was the team's second-leading scorer (11.6 ppg), but he contributed only 2.1 assists per game. After rising to No. 1 in the nation in January, the Longhorns limped into the NCAA tournament and exited quickly with a first-round loss to Wake Forest.
"Avery was on the court a lot,'' Barnes said. "When Avery got a rebound, he was welcomed to go with it.''
Barnes' quip was direct, implying that plenty of players who aren't "true" point guards bring up the ball in the NBA, like Dwayne Wade and Lamar Odom.
"There aren't that many pure point guards,'' Barnes said. "It's a different game up there. Avery is still a kid. Dogus plays the point. Avery is a player.''
Remember, the same questions were circling around Russell Westbrook when he came out of UCLA. He made the transition as a combo guard. And that's the hope for Bradley after one season in college.
The Pacers desperately need a point at No. 10, but Bradley may not fit their need. The Grizzlies want to come out of the draft with a point, but they aren't convinced Bradley is the answer.
After Kentucky's John Wall and Ohio State's Evan Turner, who is a new kind of point guard as a lead guard who performs best when he has the ball in his hands to create, the next "true" point guard might be Maryland's Greivis Vasquez. But he's unlikely to go ahead of Bradley or Kentucky's Eric Bledsoe because the other two have more upside as guards.
Had Bradley returned to Texas, he wouldn't have been the point next season either. That position will be handed to incoming freshman Cory Joseph, a 6-3 guard from Pickering, Ontario. Landing Joseph away from Minnesota, Connecticut, Villanova and UNLV was a major coup for Texas, which continues to recruit across the country and now across the continent. Joseph, who played last season at Findlay Prep in suburban Las Vegas, will have the ball in his hands quite a bit.
Balbay will often be on the court right next to Joseph. Barnes said Balbay, who was hurt against Texas Tech on Feb. 20, has made a remarkable recovery from the ACL injury.
"He's a freak,'' Barnes said. "He tore his ACL and he could play right now. I've never seen a guy bounce back like that in my life. He will be the best defensive player in the country.''
Barnes said Ward hasn't been cleared yet to play but likely will by the fall.
As for Warren, Capel said there was a misconception about their relationship.
Warren, who led the Sooners in scoring at 16.3 points in 21 games (after averaging 14.6 in 36 games as a freshman), had a "frustrating season,'' Capel said. Warren had an ankle injury and battled mononucleosis as well as back spasms. Oklahoma slumped badly, finishing 13-18 overall and 4-12 in the Big 12 after the Blake Griffin-led Sooners recorded a 30-6 record (13-3 Big 12) and an Elite Eight appearance the year before.
"There was a big misperception,'' said Capel, who is coaching a junior national team in San Antonio this week. "I wasn't happy all the time with his body language. I had to explain it to him, but it was never personal.''
Capel has been asked by several NBA teams what he thought of Warren. What does he think of him now that he's no longer a Sooner? Can he be coached?
"To say there was drama with he and I, there was nothing further from the truth,'' Capel said. "He can definitely play. I don't think the one season he had last year is indicative of who he is as a player. The same people who were buzzing about him after his freshman year shouldn't think that all of a sudden he got worse as a basketball player. He had an injury-riddled year.''
Capel said the best thing for Warren would be getting drafted by a playoff team toward the end of the first round -- one that would allow him to be around some seasoned and successful veterans.
"He can learn how to be a pro,'' Capel said. "He was humbled last year. It made him work harder. He understood that he has to be in the best possible position and shape to compete at the highest level.''