Miller set to make his mark in Arizona
July, 6, 2010
07/06/10
3:22
PM ET
Sean Miller arrived in Indianapolis on Tuesday for the start of the first of two 10-day July evaluation periods -- and with the hope that he has finally settled in at Arizona.
The stability that former athletic director Jim Livengood desperately sought in hiring Miller away from Xavier is finally in place. Livengood is off to UNLV as athletic director, while Miller stayed put to plant roots in a program that desperately needs them.
The Wildcats can evaluate and recruit with a long-term vision, something that seemed to be a reach two years prior to Miller's arrival, when there was constant confusion around the program.
[+] Enlarge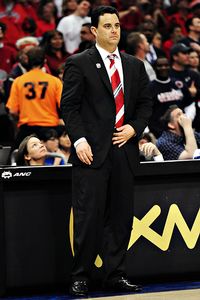 Gary A. Vasquez/US PresswireArizona coach Sean Miller knows the pressure is on him to win consistently in Tucson.
Hall of Fame coach Lute Olson was battling health problems, and it was ultimately revealed that he had a stroke. There was an interim season under Kevin O'Neill with NBA-bound stars Jerryd Bayless, Chase Budinger and Jordan Hill as well as point guard Nic Wise. O'Neill was at one point named the successor at a news conference, only to be essentially divorced from the situation when it appeared Olson was coming back. The move probably was best for all parties as O'Neill spent a year in Memphis with the Grizzlies and then landed the head coaching gig at rival USC.
Russ Pennell and Mike Dunlap, hired during the offseason, replaced Olson and led the Wildcats to the NCAA tournament (just like O'Neill did during an interim season) for the 25th straight year in 2008-09.
But after a lengthy courtship of other higher-profile head coaches around the country, Arizona was on the verge of an Indiana-like implosion that would have meant years of rebuilding.
Miller's arrival, coupled with a spring recruiting class that was as fortunate as any in recent memory, staved off a possibly disastrous situation. "When I walked into the locker room last April [2009] we had seven scholarship players returning,'' Miller said by phone from Indianapolis. "Three of them are no longer there.''
Miller recruited Kevin Parrom and Kyryl Natyazhko while at Xavier and got them to come to UA. He was fortunate to land Solomon Hill, who at one time had committed to Arizona but like Derrick Williams and Lamont Jones was going to go to USC before Tim Floyd resigned.
Williams led the Wildcats in scoring (15.7 ppg) and has the best chance to be an NBA player off the current roster. Hill, Jones and Parrom rounded out the top seven in scoring behind Wise and two of the other returnees Miller had in Kyle Fogg and Jamelle Horne. Had Wise not won two games at the buzzer -- against Lipscomb and NC State -- the Wildcats (16-15) wouldn't have been above .500.
Just like missing the NCAAs for the first time in a quarter-century, that would have been hard to accept in Tucson. But the reality is Miller had to patch this program together upon arrival. The Wildcats did get a new practice facility prior to him coming and a weight room is on the way, but getting the Arizona brand back to being nationally credible is his charge.
The timing is perfect in the Pac-10. Washington is the only lock to be a consistent winner after a Sweet 16 appearance last season and a reloaded roster returning for another run in 2010-11.
The rest of the league is wide-open, from second on down. It's so unpredictable that last-place Washington State could easily finish second to the Huskies with two of the top talents in the league (Klay Thompson and DeAngelo Casto) and last season's best Pac-10 freshman not named Derrick Williams in guard Reggie Moore.
"

It was never about the [NCAA tournament] streak. It wasn't about keeping it going. It was about getting the program back to a competitive level, competing for a Pac-10 championship. From where we were a year ago, we're closer to moving in that direction.

"

-- Arizona coach Sean Miller
Miller knows that the pressure is on him at Arizona. He had the same heat at Xavier. He might not have felt it because he won. "You had to perform at a high level at Xavier, and the expectation was to win the conference and sell out the arena,'' said Miller, who coached the Musketeers to the Sweet 16 in 2009 and Elite Eight in 2008 before leaving for Tucson.
"That's what made Xavier so great -- the high expectations and the following,'' Miller said. "Everyone understood there was an awkward transition time at Arizona. There's a steep climb, and hopefully that's over. It was a climb that we started last April.''
Miller had to play catchup last July. He was recruiting more on the West Coast than he ever had at Xavier. There were also new areas for him to assimilate.
The Wildcats were behind but still managed to land three players Miller said will contribute next season in guard Jordin Mayes out of Westchester High in the Los Angeles area, guard Daniel Bejarano out of North High in Arizona and a JC small forward out of St. Louis in Jesse Perry.
Arizona already has one commitment for 2011 with 6-foot-8 forward Sidiki Johnson, who is from the Bronx, N.Y., but is going to Oak Hill Academy.
Getting Johnson early has allowed Miller to actually plan two years out. He's recruiting seven to eight players for two spots. The best players over the two-year period are apparently in the Class of 2012, and Miller has the luxury of now plotting out two classes. The Wildcats don't have to sign a full allotment for 2011 if they feel they can land their targets in 2012.
"We're spending a lot of time with the high school juniors, recruiting that class,'' Miller said. "It feels right, the way it should be in recruiting, beginning with this group from Day 1. We're heading into this month looking for five players in 2011 and 2012 in whatever combination works.''
Miller left the Xavier program on a high as the Musketeers reached the Sweet 16 under his former assistant Chris Mack. Miller said he watched with pride as the players kept winning, but never looked back at his decision to uproot his industrial beltway family to the West. "I'm at a new place, and the reality is that we were at the beginning stages,'' Miller said. "We're cementing a same culture, of how important defense is. It's not in place yet.
"Tucson is a beautiful place to live,'' Miller said. "But there was an adjustment. You can't beat on Jan. 8 walking outside, and it's 70 degrees. It's almost hard to comprehend. The quality of life here is amazing. We had been in the same neighborhood for a long time, the same city that we love, so there was an adjustment [for the family]. But that's a great compliment to Xavier and the Cincinnati community.''
Miller knows the patience level will wear thin if the Wildcats don't win. But there is no reason to believe he won't pile up victories now that he's settled.
He said he never worried about being the coach who stopped the NCAA tournament streak. It easily could have been stopped under O'Neill or Pennell/Dunlap as the Wildcats squeezed into the field in the last grouping in each of the previous two years.
"It was never about the streak,'' Miller said. "It wasn't about keeping it going. It was about getting the program back to a competitive level, competing for a Pac-10 championship. From where we were a year ago, we're closer to moving in that direction.
"A year ago, it was a sick feeling in July because we were so behind on all fronts. This July, I'm more settled in and watched most, if not all, of the players we're recruiting throughout the high school season.''
Finally settled, this July he intends on making his mark.