Donovan off to Germany to see Beal
July, 7, 2010
07/07/10
10:32
PM ET
Florida coach Billy Donovan leaves Thursday for Germany to watch Class of 2011 commit
Brad Beal
play for the United States under-17 national team.
No doubt he also will be watching wing Adonis Thomas (Memphis) and forward Johnny O'Bryant (Cleveland, Miss.), two other prized players Florida is recruiting off the junior national team.
And why wouldn't he? Lost amid the fanfare of Kentucky's re-emergence as a destination for NBA-bound talent since John Calipari's arrival is the resurgence of Donovan's recruiting prowess.
The Gators, the only team in the SEC with all five starters returning, should be back as a national player this season. The arrival of do-everything forward Patric Young, fresh off his stint on the USA's gold-medal winning U18 national team in San Antonio last week, certainly will help. And scoring guard Mike Rosario, a big-time transfer from Rutgers, will have to sit out this season but will be available to help in practice.
[+] Enlarge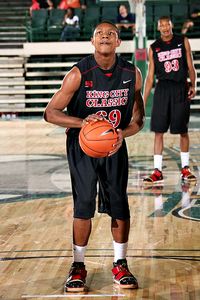 Kelly KlineBilly Donovan once snared David Lee out of St. Louis. Now it's Bradley Beal (above) for Gators.
Beal led the Americans with 20 points in their 112-75 win over Serbia on Wednesday in Hamburg. The 6-3 guard from St. Louis has been the USA's leading scorer at 17.0 points a game in the team's 5-0 start.
Two weeks ago, before leaving for Germany, Beal said by phone from San Antonio that Florida "was looking good so far. As of right now, I'm still going to Florida."
If the commitment sticks, the Gators will have locked up the No. 6 player in 2011's ESPNU 100, and they are still one of the three finalists for the No. 2 player, Young's USA teammate Austin Rivers. Rivers at one point committed to Florida, but has since reopened his recruiting to include the past two national champs, Duke and North Carolina. But the son of Boston Celtics coach Doc Rivers is still very much in play for the Gators.
So there is some momentum again for this program. UF followed its back-to-back national titles with back-to-back NIT appearances, and the abrupt departures of Marreese Speights and Nick Calathes in successive seasons siphoned some of the momentum out of the program.
But the mo' appears to be back with the Gators squeaking into the NCAAs this past March as a 10-seed, then losing to BYU in a thrilling first-round NCAA tournament game. Kentucky got the headlines during the season and again in the spring recruiting period, but Florida is poised to be the SEC's team to beat in 2010-11 and will challenge the Wildcats and Tennessee, along with Vandy and upstart Georgia, for SEC East supremacy the next two or three years.
"If Chandler Parsons' 75-foot shot at NC State doesn't go in or we're one of the four teams that misses the NCAA tournament and we've been out for three years in a row, then maybe we're having a different conversation," said Donovan, who was in Indianapolis for the adidas camp before making his way to Cleveland to watch the King City Classic on Thursday before flying to Newark and then to Munich to meet assistant Rob Lanier at the U17 championships.
"If we didn't get into the tournament, there would be a different feeling right now. But we did, and I told our team that we've got to maximize that. But our goals have to be bigger than that. It's easy for everyone to feel good with five starters back since no one else does in the SEC, but we can't fall into the trap about the outside perception. We're not as good as people think or not as bad."
The buzz about restocking the program is real. Florida returns starters in guards Erving Walker and Kenny Boynton and forwards Parsons, Alex Tyus and Vernon Macklin, plus reserve Erik Murphy, giving the Gators a solid six. Add in freshman small forward Casey Prather and 6-9 Young -- who, according to Team USA coaches Paul Hewitt and Jeff Capel, was a hardworking, effective defender, rebounder and hustle player -- and the Gators have a team that should win the SEC.
"We've got a chance to be really good going forward," said Donovan, who will stay in Germany through the weekend for the conclusion of the tournament. "What we're getting with Patric is a player with an excellent motor. He's got a high energy level and plenty of humility."
Donovan said that Young told him upon arriving back in Gainesville that, as much as he loved playing USA Basketball, he hasn't proved anything at Florida yet.
"He wants to earn everyone's respect," Donovan said. "This is a different challenge, and he's setting the right mentality."
While in Germany, Donovan will be joining plenty of high-level coaches, including Kentucky's Calipari and Tennessee's Bruce Pearl. Donovan has gone overseas once before to watch a committed player, when Brett Nelson was playing in the Albert Schweitzer Games in Germany. There is a different atmosphere overseas in recruiting. The coaches aren't going from one gym to another, from one city to another during an evaluation period. They are locked in on their committed player or someone they are trying to persuade to come to their school. There is much more of an intimate setting.
"And you can see how your guys stack up against international competition," Donovan said. "You can watch a much wider range of players at events like that, more so than going from one AAU event to another."
If going to Germany firms up the commitment from Beal and eventually helps Florida land O'Bryant or Thomas, then the program's resurgence might last several years. By the time Beal or any of the others arrives in Gainesville, the Gators should again be vying for the top spot in the SEC East, a precursor for a deep NCAA run.