USA Select Team rewards upperclassmen
July, 8, 2010
07/08/10
9:38
PM ET
Credit Duke coach Mike Krzyzewski for giving college upperclassmen more opportunities to not only get seen, but to improve for a quick sojourn in Las Vegas later this month.
The USA Basketball experience at the national team level has become an NBA deal.
But according to Syracuse coach Jim Boeheim, an assistant on the national team since 2006, Coach K pushed to solely fill the USA Select Team that will compete against the national team with collegiate upperclassmen.
"Hopefully we didn't miss anybody," Boeheim said. "The only reason this is happening is because Mike made sure of it. It's a great thing to get the college guys exposure and a chance to play like this."
Boeheim met with the junior national team committee last month to come up with a roster, combing through some of the nation's elite upperclassmen. Incoming freshmen like Harrison Barnes (North Carolina), Jared Sullinger (Ohio State) and Kyrie Irving (Duke) have already been on a USA team (Irving just won gold in San Antonio at the U18 tournament last month) or will likely get the opportunity shortly when they're in the NBA.
But giving these upperclassmen a chance to compete for the United States and improve their all-around games this summer was a must. Potential star seniors like Purdue's Robbie Hummel (knee surgery), Michigan State's Kalin Lucas (Achilles) and Northwestern's Kevin Coble (foot) were all still rehabbing and not ready to be invited to the event.
Boeheim said they tried to include all of the top players heading into next season, but there were some omissions like Washington's Isaiah Thomas, Ole Miss' Chris Warren, Michigan State's Durrell Summers, Colorado's Alec Burks and Virginia Tech's Malcolm Delaney. They all have legitimate gripes for not being on the roster.
Washington coach Lorenzo Romar, who, along with Villanova's Jay Wright, will be a co-head coach during the July 19-24 training camp in Las Vegas, was a bit miffed at Thomas being left off the roster. Still, Romar, who was back from Germany on Thursday after watching the U17 team compete at the world championships, is looking forward to the opportunity to coach an all-star collegiate team for a week.
Despite some omissions, the roster is still a who's who of potential stars for this season:
Lavoy Allen, Temple: Should compete for A-10 Player of the Year honors with Richmond's Kevin Anderson.
William Buford, Ohio State: Should be the go-to shooter for the Buckeyes as they learn to play without Evan Turner.
LaceDarius Dunn, Baylor: Will have to go solo without Tweety Carter in the backcourt, but has Perry Jones instead of Ekpe Udoh to help form an elite outside-inside combination.
Jimmer Fredette, BYU: Fredette is having a terrific summer so far and his game is improving daily. His shooting will get him drafted and if he can prove in Vegas that he can defend, it will help his stock even more.
[+] Enlarge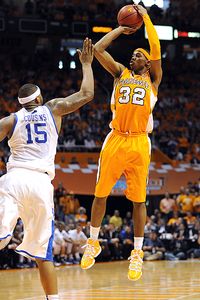 Don McPeak/US PresswireOnce a McDonald's All-American, will Hopson make "the leap" to stardom this season?
Scotty Hopson, Tennessee: Hopson could really step out and show NBA personnel that he can be a deft shooter for the Vols during the season.
Scoop Jardine, Syracuse: This is an interesting selection, but with Boeheim as the chair of the committee it makes sense to give Jardine a shot. He should be one of the better point guards in the Big East.
JaJuan Johnson, Purdue: Johnson decided against declaring for the NBA draft and should be one of the top shot-blockers this season as he tries to lead the Boilermakers to the national title.
Jon Leuer, Wisconsin: Leuer's profile continues to rise. He'll be the go-to player for the Badgers, a Big Ten Player of the Year candidate and an NBA draft pick next year.
Shelvin Mack, Butler: He could and should be one of the top guards in the country. Mack has a pro body and will only increase his scoring load without Gordon Hayward. This is another golden chance to prove to the NBA how good of a pick he will be in a year.
Marcus Morris, Kansas: KU coach Bill Self said Morris is a star in waiting. Morris will get his shot at proving that to everyone in Las Vegas.
Jacob Pullen, Kansas State: Pullen is a shooter and will need to be on the ball even more without Denis Clemente. This should provide good preparation for him.
John Shurna, Northwestern: Shurna got plenty of pop for making the gold-medal-winning U19 team last summer. He continues to grow into top talent in the Big Ten.
Kyle Singler, Duke: Singler enters the season as one of the favorites for national player of the year honors. He made a sound, intelligent choice to remain in school as he rounds his game out even more.
Chris Singleton, Florida State: Singleton is a very solid defender, and if he's a real leader he could be the reason the Seminoles stay relevant this season.
Nolan Smith, Duke: Smith might be the best late-clock shooter on this team and in all of college. If he plays well here, he'll certainly improve his draft profile. He's one of the reasons Duke could win the title again.
Trey Thompkins, Georgia: The Bulldogs are my sleeper pick this season and a lot of it is because of Thompkins. He blossomed for the U.S. last summer and is getting another shot to prove how much he has developed.
Mike Tisdale, Illinois: Tisdale cut late last summer by USA Basketball. He gets another shot to prove he belongs in this group. He's long and lanky as well as a good shooter, but he'll have to prove that he can board and defend against strength.
Kemba Walker, Connecticut: The Huskies will be his team next season. He can fly up court, but has to learn to play under control in order to be an NBA-level player.
Chris Wright, Dayton: Wright flew under the radar a bit and this could give him plenty of opportunities to raise his profile if he can play well during this week.
Tyler Zeller, North Carolina: The Tar Heels will be led by Barnes and John Henson, but Zeller still has NBA skills with his fundamentals, size and reach. But during this week, he needs to prove that he is durable.
You'll notice that no Pitt players like point guard Ashton Gibbs or big man Gary McGhee are on the roster. That's because the Panthers will be in Ireland on a summer trip.
It is unknown as to how many scrimmages this select team will have against the national team, which is prepping to go to the World Championships in Turkey next month.
"This is a great opportunity for these guys to go out and play and get a little bit of structure," Romar said by phone from Cleveland's King City Classic. "They'll be playing against great players."