Heat's moves have Hurricanes pumped
July, 9, 2010
07/09/10
8:03
AM ET
Out in Cleveland on Thursday night, University o Miami coach Frank Haith was wearing his Hurricanes' gear proudly, as though he had just landed the No. 1 recruiting class in the country.
Why? Well, why not? How much LeBron James' decision to play alongside Dwyane Wade and Chris Bosh in Miami affects the city's college program is uncertain, but it surely can't hurt.
"By him making this decision to come here, well, it's just an awesome thing," said Haith, who was in Cleveland with a number of other Division I coaches for the King City Classic. "The Heat is a young organization that has won a championship. But there was so much talk from people saying South Florida wasn't a basketball town and shouldn't be an option for LeBron.
[+] Enlarge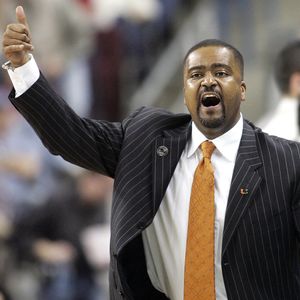 AP Photo/Sue OgrockiMiami head coach Frank Haith gives the Heat offseason moves an enthusiastic thumbs up.
"What this does is bring focus on basketball to South Florida," said Haith, who has led UM to one NCAA tournament and three NIT appearances during his tenure. "In recruiting, obviously you can't tell kids that they're going to play with LeBron James. But the fact that he's here, the kids recognize the names and it will help our recruiting. It's a positive for us and our program."
Haith said he received a number of text messages from his current players, expressing their excitement about the decision. He said rising-junior point guard Malcolm Grant is a huge Wade fan and chose to wear No. 3 when he transferred from Villanova.
Haith said there will be benefits for the Hurricanes with Wade, James and Bosh in town. He said when the Heat won the title in 2006, Shaquille O'Neal would occasionally make appearances on campus. He also said Wade has come to home games and wouldn't be surprised if Bosh and James were at an occasional UM game.
Haith said the Canes have used the Heat practice facility in the past and played a game at the American Airlines Arena. He said he hopes to do that again.
The Heat will be favorites in the East with Orlando, Boston and possibly Chicago also in the mix to help prevent a Lakers' three-peat.
The Hurricanes? Well, they aren't expected to knock off Duke from the ACC championship perch. But Miami could be one of the most improved teams in the country next season. The Canes finished last in the ACC at 4-12, but were 20-13 overall and finished strong with ACC tournament wins over Wake Forest and Virginia Tech before a three-point loss to Duke, the eventual ACC and national champ.
Duke, North Carolina and Virginia Tech are likely the top three contenders in the league, but Miami could certainly join teams like NC State on a tier just below that trio. The top three scorers in that ACC semifinal loss to Duke -- Durand Scott (21), Grant (17) and Reggie Johnson (14) -- are all back.
The only significant loss off last season's team is Dwayne Collins, the last pick in the NBA draft. While the 6-foot-8 senior forward led the Canes in scoring (12 ppg), injuries kept him out of the final four games of the season and the Canes were still able to knock off Wake Forest and Virginia Tech, the latter of which probably kept the Hokies out of the NCAA tournament.
As for this season, Miami has a tougher-than-usual nonconference slate, including a road game at Memphis and home games against West Virginia and Ole Miss. The Hurricanes also draw likely preseason No. 1 Duke twice.
But for at least one summer night, there was no looking ahead to potential landmines in the schedule. It was simply a time to soak up a potential historic day for basketball in the region.
"This is all positive," Haith said of the Heat's free agent coup. "This is great for our program."