WVU builds on Final Four success
July, 14, 2010
07/14/10
6:49
PM ET
HAMDEN, Conn. -- Michigan State's Final Four appearance might have been yet another reason for coach Tom Izzo to stay put.
Butler's appearance in the national title game helped catapult Gordon Hayward into the NBA draft lottery and turned coach Brad Stevens into one of the most sought-after coaches in the country -- and ultimately earned him a sweeter deal at Butler -- while forever changing Butler's national profile.
For West Virginia, an appearance in the Final Four cemented Bob Huggins' place as a beloved figure at his alma mater and reinforced the Mountaineers' status as a regular Big East contender.
Huggins loves talking about the Mountaineers' run to the Final Four and what it meant to the people of West Virginia. Huggins has embraced the cultural fabric of the West Virginia community -- he often refers to the effect of what WVU's success means for "the people." He reminded media members during the NCAA tournament that the Mountaineers' games were being fed into the mines, and he desperately wanted to take a national title trophy back to the state and down into those mines.
Huggins doesn't have the clout of politicians like Gov. Joe Manchin, who has been the face of the state during recent mining tragedies. But Huggins may be as much a populist figure in the state without having to go through an election to tap public sentiment.
What became clear during the Mountaineers' Final Four run last season was that the physical mentality of the team on the defensive end and the overall talent coming into the program had them position for sustained NCAA tournament success. An appearance in the tourney in 2011 would be WVU's fourth straight, the longest streak in Mountaineers history since 1956-60.
Gone is Da'Sean Butler, WVU's savior throughout the season who suffered an ACL injury during the national semifinal loss to Duke. Butler would have likely been a late first-round pick had he not been injured. He went in the second round at No. 42 to Miami.
Sophomore Devin Ebanks also departed, though his erratic offensive game led him to slip into the second round, just behind Butler, at No. 43 to the Los Angeles Lakers. Fifth-leading scorer Wellington Smith is also gone after exhausting his eligibility.
[+] Enlarge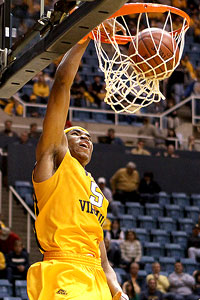 AP Photo/David SmithKevin Jones will have to assume more of a scoring load for West Virginia in Da'Sean Butler's absence.
But don't fret for this club. Huggins has another star in line -- rising junior forward Kevin Jones. Jones was often the second or third option for the Mountaineers, but the 6-8 forward was a threat every time he was on the court, scoring 18 points in WVU's Sweet 16 win over Washington.
Huggins said that Butler, when he was a sophomore, had no issues being the third option behind Joe Alexander and Alex Ruoff, waiting patiently to emerge as the star as a junior and senior.
"Kevin becomes the first option in this league until someone else proves they can do it better," Huggins said. "With his versatility, he can stretch the defense. He can make 3s. He can score well with his back to the basket. He's getting stronger, and he's even harder to move off the block. He does a good job of creating space and can hook it with either hand."
Jones will be the star on a team that expects to be in the mix behind Pitt but in contention with Villanova, Syracuse and Georgetown for a top-5 finish in the Big East.
Huggins said that for the first time in his brief tenure, he can put two ball handlers on the court at the same time. He has a healthy Joe Mazzulla, who has battled shoulder injuries the past two years, and Darryl Bryant to be co-point guards on the court. Bryant suffered a broken foot during the NCAA tournament and didn't play after the second-round win over Missouri. Bryant talked about playing in the Final Four game against Duke but never got off the bench. Huggins said he was just cleared to play within the last two weeks.
Also expected to be major contributors at guard are Dalton Pepper, a rising sophomore, and Casey Mitchell, a junior-college transfer whom Huggins battled with at times last season in trying to get him to understand how he wanted him to play defense.
"Casey didn't know how to play, and he's become a lot more coachable," Huggins said. "You can do that when you sit over there [on the bench]. I never thought he was bad; he just thought he knew more than he knew."
Expect incoming guard Noah Cottrill to be a major fixture in the mix on the perimeter as well. Cottrill was rated as the 14th-best point guard by ESPNU.
"We're going to be more versatile by putting Joe and Truck [Bryant] out there, and with Noah we'll be more versatile," said Huggins, who could put three ball handlers on the court at the same time. "I think we're going to be pretty good."
Huggins said he's convinced that Turkish big man Deniz Kilicli, who sat out the first 20 games of the season for violating an amateurism rule, will be a major factor as the likely starting center. Kilicli is in Europe this summer playing with his junior national team.
The Mountaineers also should get contributions from incoming center David Nyarsuk; possibly Darrious Curry; and 6-10 stretch 4 Kevin Noreen, a onetime Boston College signee from Minnesota.
Huggins didn't need a Final Four appearance to get top recruits. He said the Mountaineers were a finalist for Tobias Harris (Tennessee), Doron Lamb (Kentucky) and Adreian Payne (Michigan State) at various times before, during and after the season.
"We get two of the three and we're pretty good," Huggins said. "But we didn't get any of them. But we're still involved in more guys maybe now than ever."
Even the one tangible aspect of a program on the rise started before the Final Four run. The Mountaineers are getting a new basketball practice facility. This has been a project that started in some form two years ago with the building beginning last season. It's expected to be completed sometime in 2011 for the Mountaineers to use next summer.
"Now we're modernizing the Coliseum, too," Huggins said. "People here have been wonderful. I think they understand from a facility standpoint that they hadn't done anything with basketball. They did a lot with other sports. They had a facility for wrestling, soccer, a football practice field. We were the only ones that didn't have anything."
The built-in respect for the program's status stretches beyond Morgantown. West Virginia is a now a get for national tournaments -- the Mountaineers will be one of the premier teams along with North Carolina (Vanderbilt and Minnesota are the others) in the Puerto Rico Tip-Off in November. West Virginia will travel to Miami and host Purdue in the nonconference portion of its schedule, and it received one of the first-tier Big East schedules.
West Virginia will play rival Pitt twice -- which is the norm -- in a year when the Panthers are the pick to win the league. The Mountaineers also have difficult road stops against Louisville, Georgetown, Marquette, Syracuse and Villanova, with the only return in that bunch being Louisville.
"I don't understand it," Huggins said. "With everybody that we lost, that's pretty high in the first tier."
That's because the respect has come to Morgantown with an expectation that Huggins' team will challenge for a top-5 finish in the Big East. Huggins knows that to be true, whether he wants to admit it publicly or not. And he would gladly take the adulation because it means he has the program stabilized and strong.