Aztecs add Gonzaga to nonconference sked
July, 22, 2010
07/22/10
4:47
PM ET
If San Diego State is on the bubble next February or in line for a high seed after a possible Mountain West regular-season title, the NCAA tournament selection committee should look at how the Aztecs took chances other teams wouldn't dare in compiling their nonconference schedule during the spring and summer.
The Aztecs, No. 24 in my offseason top 25 and one of the favorites in the MWC, are doing something out of necessity that most contenders in a top-eight conference wouldn't consider.
San Diego State coach Steve Fisher is struggling to fill his nonconference schedule with only three home games filled and four more openings overall. So when the Aztecs were told by the organizers that they weren't in an exempted event in Las Vegas that they had projected last March, Fisher scrambled and got into the CBE Classic. He said he was determined to play "somebody good" if he could get into a tournament, even if it meant going on the road.
"This is the worst I've ever had scheduling games,'' Fisher said. "I'm having an impossible time.''
And that's why Fisher didn't hesitate to take a one-way trip, without a return, to play at Gonzaga in the CBE Classic on Nov. 16.
[+] Enlarge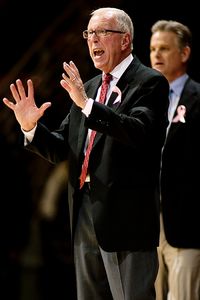 Derrick Tuskan/Icon SMISteve Fisher has loaded the Aztecs' nonconference schedule with tough opponents.
The format of the CBE is to protect the host schools and send them to Kansas City for the championship rounds on Nov. 22-23. Princeton-based Gazelle Group, which organizes the event as well as the Coaches vs. Cancer Classic, has taken this approach since being burned twice -- when Saint Mary's upset Cal and reached New York and when Gardner-Webb shocked Kentucky to get to Madison Square Garden. It doesn't matter if the host loses both home games, that team is still moving on to the neutral site while the other 12 teams in the event meet at two regional sites to play the other three games for a four-game exempt event.
The norm is to send lower-profile teams for fodder in these events. San Diego State doesn't fit the model.
Fisher said he has been trying to get Gonzaga coach Mark Few to play a home-and-home series but to no avail. The Bulldogs believed they were originally penciled in to play James Madison but drew the significant upgrade with San Diego State, yet another high RPI game for Gonzaga. Their schedule lineup already includes Xavier (home), Baylor (Dallas), Illinois (Seattle), Wake Forest (Winston-Salem), Oklahoma State (home), Notre Dame (South Bend), Memphis (Spokane Arena), at Washington State and either Duke, Kansas State or Marquette, depending on which of the two Gonzaga meets in Kansas City in the CBE.
The Aztecs will then go to Miami (Ohio) for a true road game and play two other teams from the event. Fisher said he was told it would be IUPUI and Green Bay.
To get into the CBE Classic, Fisher had to defer a road game at Arizona on Nov. 16. He said he told Arizona coach Sean Miller that he would play any other date, but he said Miller opted to postpone hosting the game until 2011.
"I told Sean to pick any date he wants but he got Marvin Menzies [the head coach at New Mexico State] to take our place,'' Fisher said. "We were supposed to play Marvin in a home-and-home, but he said he got Arizona coming back to his place in a year so how could he turn that down? So we lost two games in the process of losing the Vegas event. We lost games against Arizona and New Mexico State.''
Fisher said the series he had with Arizona State wasn't renewed. He asked ASU coach Herb Sendek to renew it, but he declined. Fisher also has tried to renew series with Fresno State (WAC) and Pacific and UC Santa Barbara (Big West), teams the Aztecs played last season, but to no avail.
The rest of San Diego State's nonconference schedule is hardly soft. The Aztecs host Wichita State in a MWC-MVC series that was set up by the two conferences. The Shockers are the favorites to win the Valley. The Aztecs also host two difficult WCC teams -- crosstown rival San Diego and perennial Gonzaga runner-up Saint Mary's. The Gaels are coming off a Sweet 16 appearance last season.
The Aztecs go to Long Beach State, one of the better teams in the Big West, and visit Cal, which is in a rebuilding mode after losing guards Patrick Christopher and Jerome Randle, but it is still one of the more consistent Pac-10 teams. Fisher said he's hoping to buy three games and would take another road game against a quality opponent for the fourth -- and final -- nonconference game.
San Diego State will start the season with five straight road games -- at Long Beach State, at Gonzaga, and then three more in Oxford, Ohio.
Paying guaranteed games isn't easy for the Aztecs. Fisher said they can pay $65,000 "while Texas-El Paso can pay $95,000."
"The reason we're having so much trouble is that whether the perception is real or not, people think we're going to be good,'' Fisher said. "When the dust settles. it will be the most difficult schedule we've had here. And that's with me going into my 12th season.''
"

We think we're going to be pretty good. [Kawhi] Leonard had a phenomenal freshman year. And I know he had the big hype here as the player of the year in the state. But I don't think nationally he's as known.

"

-- San Diego State coach Steve Fisher
But this may very well be his best team.
The Aztecs were a surprise last season, winning 25 games, finishing in third in the MWC with an 11-5 record and stunning the league by winning the conference tournament to earn the automatic berth. SDSU got in with a semifinal victory over league champ New Mexico (its second of the season) and a title-game win over UNLV on its home court. The Aztecs then pushed Tennessee down to the final possessions in a three-point loss in an NCAA tournament first-round game in Providence, R.I. It was Fisher's third NCAA tournament appearance at SDSU; that's half of the Aztecs' appearances all time.
San Diego State returns four double-figure scorers from a year ago in forwards Kawhi Leonard, Billy White and Malcolm Thomas and guard D.J. Gay. Leonard, who was a hair short of averaging a double-double at 12.7 points and 9.9 rebounds a game, is one of the best-kept secrets nationally -- even though he's a known commodity in the MWC. Toss in fifth-leading scorer, guard Chase Tapley, and the Aztecs have their top five back. Fisher said freshman Jamaal Franklin and Washington State transfer Xavier Thames give the Aztecs even more depth at guard.
"We think we're going to be pretty good,'' Fisher said. "Leonard had a phenomenal freshman year. And I know he had the big hype here as the player of the year in the state. But I don't think nationally he's as known.''
The Gonzaga road game could prove crucial to the Aztecs' résumé next March. The selection committee rewards teams that choose difficult schedules. Playing five straight road games to start the season, going to a MAC school in a true road game, playing a total of four true road games (Gonzaga, Cal, Long Beach State and Miami, Ohio), and likely one more, to go along with two neutral (IUPUI and Green Bay) games as well as at least two strong home games in Wichita State and Saint Mary's should win the Aztecs points with the committee. Whether that is for seeding as MWC champs or for a spot in the field as an at-large will depend on how well the Aztecs handle what has become a challenging nonconference schedule.