Marist, James Madison battle it out in court
July, 23, 2010
07/23/10
11:36
AM ET
The fallout from coach Matt Brady and his current employer James Madison losing a civil suit against his former employer, Marist College, over a breach of his contract will likely have at least one consequence: A clause in a coach's contract with his university that forbids the coach from talking to recruits he spoke with while working for the previous school likely will never been seen again.
New York State Supreme Court Justice Charles D. Wood ruled in favor of Marist earlier this week and ruled that a clause in Brady's four-year deal signed in 2007 was indeed enforceable when Brady began discussions with James Madison in 2008. Wood cited paragraph 14 in Brady's contract that stated rather uniquely:
"In the event that the Employee terminates his employment with the College to accept another basketball coaching position, the coach agrees to turn over all program records and files and agrees to end any further contact with program recruits. In addition, the College will not permit any currently enrolled men's basketball student-athlete to transfer to the institution at which the coach will be employed. Coach also agrees that he will not offer a scholarship to a current Marist basketball player or to a prospective player being recruited to play at Marist."
Brady's attorney, Columbus-based Joseph Murray, who also represented former Ohio State coach Jim O'Brien when he won a suit against the Buckeyes for terminating him without pay before an NCAA investigation occurred, doesn't see this case having any lasting effect.
"The ruling against James Madison is based upon a procedural issue and has nothing to do with the enforceability of the relevant provisions in Matt Brady's contract," Murray said. "The decision has no precedential effect at this point and time."
Still, it is the unique clause which is forcing those that negotiate contracts to pause. Not one had ever heard of such a clause -- and it's important to note that Brady negotiated the contract on his own, without a lawyer (he only later hired Murray).
"I would never accept that," said coaching agent Gary O'Hagan of IMG, who represents a number of high-profile college basketball, college football and NFL coaches. "I'm not sure how you could regulate free speech like that."
[+] Enlarge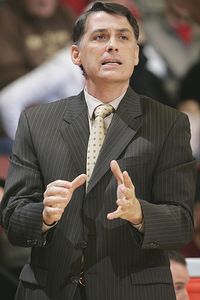 AP Photo/Marcio Jose SanchezMatt Brady is at the center of a lawsuit that's being closely watched in the college community.
"If I ever had a coach sign a contract with that clause, I would make him sign a letter with me fully understanding what you signed," said Ropes and Gray's Dennis Coleman, a Providence and Boston-based agent who represents a number of college basketball coaches. "That kind of provision in a contract is a non-starter. I wouldn't accept it. I would not advise my client to agree to that."
Memphis athletic director R.C. Johnson, who negotiated John Calipari's contracts while he was at the school, had no problem with Calipari continuing to recruit players at Kentucky who he had courted while at Memphis -- players like John Wall, DeMarcus Cousins and Darnell Dodson. There was no stipulation in Calipari's contract that he was forbidden to talk to recruits.
"I wouldn't do that," Johnson said. "For the school, that's a great contract, but I deal a lot with [agent] Jimmy Sexton and there's no way he'd sign off on something like that."
Yet, that's hardly how Marist College saw the inclusion of such a clause.
"That's in the contract," Marist College attorney Paul Sullivan said. "Like every term, no one forced the coach. All terms were negotiated. Why would you have a contract? Why would you give someone a four-year deal? Why not just have a handshake and walk away? Negotiated terms have consequences for both sides."
Sullivan said that there is an expense in recruiting that Marist wants to get back.
"Marist College isn't restricting any student-athletes," Sullivan said. "None of this action is about the student-athletes, but rather the conduct of the coach and the university. That's the issue here."
Marist came up with a list of 19 players that Brady once recruited for Marist that the school believed he shouldn't have been able to pursue at James Madison. But four players recruited by Brady while at Marist ended up following him to James Madison in Virginia. Julius Wells actually signed with the Red Foxes, was released from his national letter of intent and has been the Dukes' second-leading scorer the past two years. He averaged 16.3 points and 5.1 rebounds per game last season.
Andrey Semenov, Trevon Flores and Alvin Moore are the other three. Flores was a role player off the bench last season, while injuries have hurt Moore and Semenov's effectiveness the past two years.
Sullivan said Marist, led by Director of Athletics Tim Murray and President Dennis Murray, tried to "resolve the matter" to negotiate a separation. But James Madison, according to Marist, ignored the request. Murray didn't return a message and neither did JMU athletic director Jeff Bourne. JMU had tried to dismiss the case to no avail.
Justice Wood has ordered attorneys for James Madison and the Commonwealth of Virginia to appear before his court on Monday for damages. Brady's side is curious to see what kinds of damages are placed on JMU, considering Marist didn't recruit any of the aforementioned departed players and released Wells from his letter of intent.
Brady declined to comment on the case, saying that he still may need to speak in court. But there is a deeper background to this story. Brady did pursue a renegotiated contract at Marist after he led the Red Foxes to 25 wins and an NIT appearance in 2007, his third season with the school. He wanted to be in the top three in the MAAC in salary, but according to a source, he had trouble negotiating with Murray to dramatically increase his salary.
The contract also was stuffed, according to the source, with termination clauses and APR clauses and a buyout clause. Brady, according to the source, was so fed up with the negotiations and essentially had no relationship left with Murray that he signed the contract to get a $70,000 raise up to $200,000. But the new deal included paragraph 14.
Paragraph 14 starts out with these sentences: "Employee may not enter into discussions with another college, university or professional basketball organization regarding a coaching position unless he receives prior written permission of the Marist College Athletic Director. Furthermore, Employee may not accept another basketball coaching position unless it is mutually agreeable to the College and the Employee.''
This part of paragraph 14 is the reason Marist is seeking damages from JMU for "tortious interference" in a contract, as ruled by Justice Wood. This is where the potential trend of schools suing other schools could supposedly occur.
Not according to those in the business of negotiating contracts, though. While it is true that schools have pursued buyout provisions (i.e. West Virginia seeking them from John Beilein and Rich Rodriguez when both coaches went to Michigan), there is an unofficial rule that schools understand they will pursue coaches with existing contracts. If one school loses its coach who is under contract, then that school may go and grab another head coach under contract.
"I go into these things as fair as possible," Memphis AD Johnson said. "You want both sides to be happy, not both sides to be bitter. John gave us nine good years. I always appreciate that. If you have a hot coach like he was with us, then sometimes you bite the bullet and you do the best you can for your university and your school. I wouldn't go to this point."
Sullivan said the impact of this case remains to be seen. Clearly, if JMU incurs damages for hiring Brady, that decision will almost certainly be appealed.
The only certainties now are these: Brady and Murray didn't have much of a relationship; had it been much more than cordial, then his departure might not have headed down a legal path. Marist has struggled since Brady's departure, with Chuck Martin going 10-23 in his first season and 1-29 last season. JMU went 21-15 in Brady's first season and 13-20 last season; and with this suit hanging over his head and becoming a nuisance for JMU, Brady may feel more pressure to win sooner rather than later.