Ivy's Lions are the right fit for Smith
July, 26, 2010
07/26/10
11:39
AM ET
LAKE BUENA VISTA, Fla. -- Saint Mary's assistant coach Kyle Smith realized what Leon Rice and Billy Grier found out for themselves when they were promised to succeed Mark Few at Gonzaga: Don't hold your breath.
Grier anticipated at some point that Few would leave Gonzaga and be plucked by a power-six conference. But he never showed signs of really leaving so Grier had to find his own path and left for San Diego, a fellow West Coast Conference member. Rice was next in line for the Gonzaga throne but came to the conclusion in March that it might be time to go off on his own. He's now at Boise State.
[+] Enlarge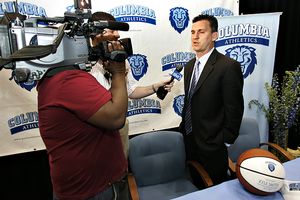 Courtesy of Columbia athletics Kyle Smith arrives at Columbia after serving as Randy Bennett's assistant at Saint Mary's.
Last season, Smith figured Randy Bennett would be on the move after the Gaels made a run to the Sweet 16. The timing would have been perfect. The Gaels made the NCAA tournament in two of the past three seasons, including last season after Patty Mills and Diamon Simpson had departed. But Omar Samhan's dominating presence in the middle and the collection of sharp-shooters led the Gaels to a historic run in the NCAAs.
Still, Bennett was probably would only leave for the right job. And while Oregon would have been the fit, the Ducks didn't make a play so he stayed where he had been comfortable, not wanting to bolt for just any job. That meant if Smith was ever going to bust on his own, he had to leave when the Gaels were hot.
But Smith was picky, too. He wasn't jumping to just any job, either.
"Not a lot made sense,'' Smith said.
Why? Well, Smith, 41, had a unique perspective on college athletics. He said he wanted to be where academics were first. Smith grew up in Houston but dreamed of playing in the Ivy League or at an Ivy League-like school. Rice wasn't an option so he turned to the Northeast and landed at Division III Hamilton College in upstate New York, connecting then with Hamilton grad Bill Coen, the current Northeastern coach and former Boston College assistant, whom he said helped recruit him to Hamilton.
Smith had tried to carve his assistant path in a similar fashion, but it wasn't as easy. He went from Hamilton to San Diego to work under Hank Egan, shifted to Air Force to work under former Princeton coach Joe Scott and was hoping that move would lend him to being a Patriot League or Ivy League head coach. But in 2001 he had the opportunity to stay West and work for Bennett at Saint Mary's.
He took the job and helped Bennett rebuild the Gaels into a pest in the WCC and -- ultimately -- an NCAA tournament team.
"I thought I was going to stay a West Coast guy,'' Smith said of one day being the head coach at Saint Mary's. He said he knew he wasn't going to get the Stanford job, the most coveted job in the West of a major academic-first athletic institution. "Johnny Dawkins left a great job at Duke to get the Stanford job; I wasn't going to get it."
Smith went off his projected path by pursuing Hawaii last spring, a quality job in the Western Athletic Conference but not what he said he preferred (a smaller, academic-first school). Let's not be na´ve here. Had he landed Hawaii, he would have gladly taken the job to be the head coach of a state university in a league that has access to multiple NCAA bids with a conference tournament. That's not the case in the Ivy, which has no tourney and has never had more than one NCAA bid. But Smith didn't get the gig. The job went to USC assistant Gib Arnold.
The Columbia job opportunity opened when head coach Joe Jones decided to take an assistant coaching job at Boston College under former Cornell coach Steve Donahue. No one was going to fire Jones. He had taken over a program that went 2-25 under Armond Hill and made it more than respectable by having double-digit wins in each of his seven seasons and going 7-7 in the Ivy League in three-straight seasons, including last season's 5-9 record.
Smith saw the potential. Columbia doesn't have the built-in history of Princeton and Penn. It also doesn't have the untapped name of Harvard that Tommy Amaker is resurrecting. And it doesn't have the recent unheard of Ivy success of Cornell with the Big Red's Sweet 16 run last March.
But Columbia does have New York City as a selling point and a slew of alumni that still live and work in the city.
Jones said that he loved his job and really wavered on leaving Columbia. With small children, it was a tough call but one he felt he had to make as his family decided on where to raise their kids.
"Joe was close to turning it around,'' Smith said. "He knew this job was really unique.''
Smith got the gig with plenty of firepower working for him from Hamilton, including Coen, Pitt coach Jamie Dixon and others. And what he found out is how much interest locally there is in the program being successful.
Columbia has been to the NCAA tournament three times, but its last visit and Ivy League title came in 1968.
"I realized that those '68 alums really care,'' Smith said. "There are a lot of alums that do. A lot haven't left the city. I thought no one cared whether we won the league or not and assumed it was like Saint Mary's where it was in bad shape and there wasn't a lot of support. But I was wrong. I could spend all my time, every day, doing two things: handling alums and recruiting.''
Smith said Jones did a good job of maintaining relationships.
Smith left Orlando on Sunday night to head back to New York City to start camp. He was set to return by Tuesday morning to continue to recruit.
He isn't under some allusion that he can capture New York City. But there is a vacuum for the sport in the city. St. John's hired Steve Lavin to fill that void and to take control of the media market for colleges. But the Red Storm still have to win. Columbia will never be No. 1 in college basketball in the city, but if the Lions were an Ivy League champ, then there is no question the city would rally around one of its own. Cornell, from upstate Ithaca, was able to capture the interest of plenty with its remarkable run to the Sweet 16, let alone its Ivy League titles the past three seasons.
Harvard is trying to mimic the model. Princeton and Penn are attempting to make its own comeback stories. Smith wants Columbia in on the ride as well.
"Make the NCAAs? Win the Ivy League? I can't imagine it. It would be so big,'' Smith said.
For a Houston kid who dreamed of playing in the Ivy League but never got the chance, coaching in the league has fulfilled him more than he ever imagined it could.