Family affair for Zeigler, McCallum Jr.
July, 27, 2010
07/27/10
5:08
PM ET
ORLANDO, Fla. -- The Detroit-Central Michigan game Dec. 18 in Mount Pleasant, Mich., will likely get lost amid higher-profile made-for-TV games.
But it will be quite an affair for the Zeigler and McCallum families.
Sons have chosen to play for their fathers countless times. But rarely has there been a pair of sons who could have played at the highest level -- both were heavily recruited by UCLA -- but chose to play for their fathers at lower-profile schools.
[+] Enlarge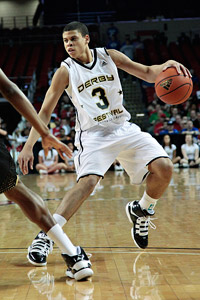 AJ Mast/Icon SMIRay McCallum Jr. was rated as the Class of 2010's No. 17 overall prospect by ESPNU's Scouts, Inc.
Like their sons, fathers Ray McCallum (the head coach of Detroit) and Ernie Zeigler (the head coach at Central Michigan) are good friends who see quite a bit of each other on the recruiting, evaluation circuit in July.
They were together Monday at ESPN's Wide World of Sports Complex and the discussion turned to how their sons -- Trey Zeigler and Ray McCallum Jr. -- decided to play at Central Michigan and Detroit, respectively.
Zeigler, a 6-foot-5 guard out of Mt. Pleasant High in Michigan, ranked as the eighth-best shooting guard and the No. 33 player overall by ESPNU's Scouts, Inc. McCallum Jr., a 6-1 point guard, was rated as the fifth-best point guard and No. 17 overall in the Class of 2010.
"Early on, I was hoping it was going to work out the way it did,'' McCallum Sr. said. "The kids spent so much time together.''
Both fathers said their sons wanted to go through the recruiting process. Zeigler coached at UCLA under Ben Howland so there was a natural pull for Trey. McCallum was recruited by the Bruins as well, quite simply because he's one of the better guards in the class.
How the fathers handled the recruitment process was unique though. As hard as it is to believe, neither parent said they pushed their sons -- or even put on the fullcourt recruiting press -- until it got down to the final days. The discussion at home, they said, wasn't about their respective schools. They were dads first -- not the head coaches who could have program-changing players.
Ray and Trey played together in the summer of 2009 on Team Detroit, an AAU team. They considered going to UCLA together. They texted back and forth and were at a tournament in Louisville before the late-signing day April 14.
Ernie Zeigler said he got back from Louisville on the Monday before signing day and asked his son to come over to his office. "I told him to meet me in the office at 9 a.m.,'' Ernie said. "I was about to do my last spiel but then he cut me off and said, 'Dad, I'm staying here.'''
McCallum's talk with his son was a bit more intimate. Well, at least it was at home. The two talked in the basement of their home that Sunday morning after the trip to Louisville.
[+] Enlarge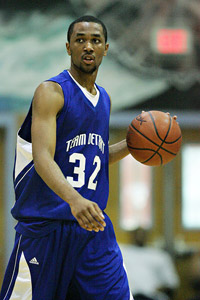 Liam Foley/Icon SMIGuard Trey Zeigler gives Central Michigan a chance to move up in the MAC standings.
"I gave him my final push,'' said Ray Sr., who has been an assistant at Oklahoma, Indiana and Wisconsin as well as head coach at Ball State and Houston. "He just listened. He didn't say anything. He was just playing video games.''
McCallum said he didn't know what his son was going to do on the morning of the announcement April 14. The players were set to make announcements on ESPNU at 4 p.m.
"I was getting a haircut when Ray called me at 2 p.m. and said 'Dad, go by the equipment room and go get a UD jersey.' That was just two hours before,'' Ray Sr. said. "He never actually came out and said, 'I'm coming to UD.'''
McCallum said Ray called Howland. Ernie said he had Trey call Howland, and he called as well since the two are friends and had worked together previously.
Neither coach has coached their sons in a traditional game or practice outside of father-son practicing in the gym.
But now comes the tricky part. The sons will likely feel pressure to deliver their respective teams to the top of their conferences.
Detroit finished 9-9 in the Horizon League and 20-14 overall last season. But the Horizon League is defined by Butler. The Titans do return leading scoring guard Chase Simon and big man Eli Holman.
"Butler's not going away and everyone knows that,'' Ray Sr. said. "That's the challenge for us. Butler has great recognition for our conference and what I told Ray during the year is that Butler was beating the high majors like UCLA and Ohio State, and they're in our league.''
Zeigler said the Chippewas are still in their building process. Central Michigan finished 9-7 in the MAC last season and 15-15 overall. Moving to the top of the MAC and challenging Kent State and Akron should be an easier climb than Detroit's attempt at unseating Butler in the Horizon.
"Trey and the incoming class give us a chance,'' Zeigler said. "When you look at the success of Northern Iowa, Davidson and Butler of late, you know the opportunity is there to seize.''
Whether or not these sons can take their fathers to the NCAA tournament instead of what appeared to be a sure thing at UCLA will be the question to answer. They took a chance on their dads, and the rare experience of playing at home, to help their fathers be successful. And it's clear how much the fathers appreciate the chance.