Visibility is a big part of Barbee's plan
July, 28, 2010
07/28/10
4:21
PM ET
Editor's note: Auburn guard Frank Williams had successful surgery on his left knee Tuesday in Birmingham, the school announced Thursday. No date given for his return. Williams was the team's top returning scorer at 12.7 points a game.
ORLANDO, Fla. -- Auburn was visible this week at the AAU Super Showcase.
How that translates into elite-level recruits or developmental players who will help the Tigers to potentially become an SEC West contender remains to be seen.
It was just one snapshot from a few days toward the end of the July evaluation period.
[+] Enlarge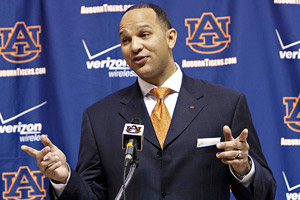 AP Photo/Dave MartinTony Barbee guided UTEP to the Conference USA regular-season title last season.
But having new head coach Tony Barbee and a rotation of his assistants -- Randall Dickey, Tony Madlock and Milt Wagner -- at ESPN's Wide World of Sports Complex was a must.
Yet being in view for potential recruits is a minor blip compared to what Barbee has to accomplish at his new gig. He has to make sure he's as accessible as possible in the state for anyone who calls for his presence. Auburn basketball has an image problem in the SEC -- and especially nationally.
"Being visible is a big part of what I have to do,'' said Barbee. "I've done speaking at every VFW club [locally] and speaking around the state and in the city. The only reason I've said no is that I can't be in two places at once. Victories go a long way but visibility does too. A lot of people are saying they haven't seen the Auburn program around.''
The Tigers were competitive under Jeff Lebo last season, winning six SEC games (and 15 overall). Two seasons ago, Auburn won 24 games and reached the third round of the NIT, and with a 10-6 record in the SEC, the Tigers were in the conversation for an NCAA tourney berth.
But it was still hard to get any traction. Lebo was fired, ultimately landing at East Carolina after four losing seasons in six years at Auburn.
He made every attempt to turn Auburn into a winner. He witnessed the development of a massive new arena, set to open in the fall. He may have been able to land his alma mater, North Carolina, in a potential opener for the building. But alas, his departure meant that game would never happen.
Enter Barbee. He guided UTEP to the Conference USA regular-season title in 2009-10, helped turn Derrick Caracter into an NBA player, was able to get bounce-back transfers and had a tremendous find in Arnett Moultrie, which all equated to turning the Miners into the best team in the conference.
But the model for building a winner at UTEP isn't the same as trying to make Auburn relevant again in the SEC. Barbee would gladly take a transfer like Caracter again and would have probably been pleased if Moultrie wanted to follow him, but instead Moultrie chose SEC West rival Mississippi State. So Barbee has to grind this summer to fill the roster with potential transcending players for the future.
With four of the five starters gone from last season's team, the Tigers are gutted and left to lean heavily on Frankie Sullivan. That won't strike too much fear in the rest of the SEC West, let alone a loaded SEC East that could have five of six teams in the NCAA tournament.
New buildings can draw curious fans into the arena. But it won't win games.
"It may bring them in, but what keeps them in is what we put on the floor, and at least effort-wise, we will be [worth watching],'' Barbee said. "How good we will be? I don't know. We lost 90 percent of our scoring and rebounding. Frank Sullivan is a tremendous player, but he can't do it by himself.''
Barbee is trying to preach patience and perspective. He has to, because Auburn is looking at a major rebuilding effort.
The Tigers need players and have six newcomers coming this season. The schedule was light, too, with Barbee saying he needed seven games. He's still looking to fill a few of those slots, including an opener. Auburn has Florida State at home as its marquee game, but don't expect Barbee to load up the schedule with his team likely to struggle.
Barbee said depth is an issue on the perimeter, as is experience, with the majority of the roster being freshmen and sophomores.
"We've got to increase the talent level,'' Barbee said.
Barbee was considered a strong candidate for the vacant DePaul job but said he didn't chase after that position as hard. "They were bad rumors,'' said Barbee of him being a top candidate at DePaul. "It was a place I looked, but Auburn came to the plate faster.''
Barbee has a chore ahead. His former UMass coach, mentor and good friend, Kentucky's John Calipari, was a close adviser during the job search. Of course, trying to stay out of the cellar in the SEC West (ahead of LSU, Arkansas and Alabama, while chasing Ole Miss and Mississippi State) is more realistic than hanging with the top of the SEC East in the near future.
But don't tell that to Barbee. He wanted to catch Calipari in the C-USA standings before he left for Kentucky -- when Calipari was the head coach at Memphis and Barbee was at UTEP. Barbee's Miners moved ahead of Memphis last season, but had Calipari stayed with the Tigers, with a roster that would have been as loaded as Kentucky's, that might not have happened.
"Our relationship is the same it was in Conference USA,'' Barbee said. "I've said this before -- he's my mentor and friend and always will be my coach to me. But he kicked my butt in Conference USA. We were going right after him and we'll do the same thing at Auburn. He knows how competitive I am. I'm going after his jugular, and he'll do the same for me. It won't affect our relationship.''
But that's a nonissue for Barbee now. He's got a goal to catch Kentucky and a bar to set. He's looking to motivate his team and program, and he wants to sell that to fans when he makes himself visible in the state.
After all, he, along with Alabama's Anthony Grant, are competing for the attention of hoop fans in a football-crazed state.