Tim Floyd: 'Life does move on'
July, 29, 2010
07/29/10
1:01
PM ET
ORLANDO, Fla. -- New UTEP coach Tim Floyd continues to profess that he did nothing wrong at USC and was used as a "scapegoat" by outgoing athletic director Mike Garrett before Floyd abruptly resigned in June 2009.
"It's a shame that USC went through penalties when our coaching staff had no violations,'' said Floyd as he was recruiting at the AAU Super Showcase at ESPN's Wide World of Sports Complex. "When I left, I said it wasn't admission of guilt. I felt like I was being made the scapegoat by my boss when I told him that I had done nothing wrong and our staff had done nothing wrong.''
[+] Enlarge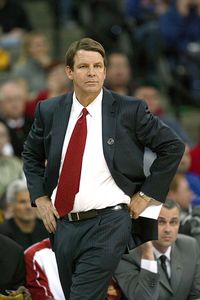 Jamie Squire/Getty ImagesFloyd enjoyed success at USC, but his tenure ended in resignation.
The NCAA didn't attach any violations to Floyd when it released its findings and sanctions June 10. The NCAA report's most damaging statement toward Floyd was that he sat in on a meeting with runner Rodney Guillory, who was pushing USC to recruit O.J. Mayo, and that the SC staff continued to recruit Mayo through Guillory even though they had "Googled" to find out that Guillory was identified as a "runner" for a sports agent in a case involving another NCAA member institution.
Since Floyd resigned, there has been quite an upheaval at USC.
Mayo's name is mud, with all visuals and records from his one season in Los Angeles removed or vacated. The Trojans lost an entire recruiting class, which subsequently helped Arizona rebuild last season under first-year coach Sean Miller.
The Trojans were playing like a Pac-10 title contender at one point last season, but then self-imposed a postseason ban. USC also lost two scholarships over two seasons and had to give back $206,020 for playing in the 2008 NCAA tournament.
But the worst is over for the former staff. Assistant Bob Cantu survived to stay on Kevin O'Neill's staff. Former assistant Gib Arnold is now the head coach at Hawaii. And a year later, Floyd is back at UTEP, coaching the Miners at the Don Haskins Center, named after the late coach who was Floyd's mentor and close friend. On Floyd's staff is Phil Johnson, his former assistant with the Trojans and Chicago Bulls.
Gone from USC is Garrett, who was recently replaced by Pat Haden. While the cleansing begins at USC, Floyd is the one who is still standing -- and is actually in a better position, at a school he has a clear fondness for since it gave him his start.
"I loved USC, I loved what we were building and I loved the way we were building it,'' Floyd said, "but life does move on and we'll move on as well.
"I'm disappointed for the school [USC] because I love the school, but what we've seen in the last 10 days has been an issue that has been brewing for a long, long time,'' added Floyd, referring to all the high-profile college football programs dealing with the agent issue. "Football guys get their hands around this better than basketball guys do and I expect them to make some dramatic, dramatic changes in the way agents approach players on college campuses. I think we'll see a revision as a result of all this.''
Floyd said he has taken "75 to 80" calls from coaches on how he dealt with agents on campus. He said he's hearing their stories.
One thing Floyd may want to tell coaches is that too many people had access to the USC locker room. It was not rare, as I saw for myself during a game in the Mayo era, to see "people with connections" to players milling about in the lounge outside the locker room.
Floyd, who also coached the New Orleans Hornets, isn't na´ve about how pervasive the agent/runner issue is in basketball.
"It's been a bigger problem [in basketball],'' Floyd said. "It's more inbred in our sport than any other sport. It's something that the NCAA is trying to get their arms around right now. Part of what happened at USC is a failure to maybe legislate either federally or through the NCAA to have stronger rules. The burden is back on the school and the universities are finding out how hard it is to police and how hard it is to control it. Hopefully it will all work out and I trust that it will. But I do think it's an issue.''
Being at UTEP has been a relief for Floyd. The school hired him before it knew whether or not Floyd would be named in the USC findings. But it may not have mattered. He is beloved in El Paso and was one of Haskins' closest confidantes.
"I just feel so proud to be back,'' Floyd said. "It's just such a huge, huge part of my life. I never took a job without asking Coach Haskins first and consulting him. There were a lot of jobs I didn't take as a result of consulting him. His thoughts on the business without a doubt were the biggest influence on my career and I talked [to Haskins] four times a week until his death. I was with him the day that he died. It means everything to me [to be coaching at UTEP]. I know it's a tremendous motivation.''
Floyd replaced Tony Barbee, who left for Auburn after leading the Miners to the Conference USA regular-season title and an NCAA tournament berth. But Derrick Caracter declared for the NBA draft (second round to the Lakers) and Arnett Moultrie transferred to Mississippi State, leaving a monster hole in the middle.
"There was a chance [of Moultrie returning], but I didn't feel it was a good fit,'' Floyd said. "He's talented, but it wasn't going to work out over the long haul.''
The Miners will need one of their three new bigs -- 6-foot-8 Rashanti Harris, 6-9 John Bohannon or 6-6 Michael Haynes -- to come through. Barbee left Floyd one of the top backcourts in C-USA. The Miners bring back guards Randy Culpepper, Julyan Stone and Christian Polk.
"We've got a returning base of perimeter players that will probably mean we'll play four perimeter players like we did at USC,'' Floyd said.
When Floyd was with the Trojans, he sat in his office and told me that USC was his last job. He coached there for four seasons, going to the NCAA tournament three times, including a Sweet 16 appearance.
"At 56, when you've been around the block like I have, you have to find your motivations from different things and it's not quite what they were when you were 32,'' said Floyd of being motivated to coach a program made famous by his mentor. "I said at USC that I planned on it being my last job, but sometimes things don't always work out. I would like this one to be my last job but you can't predict life. I've sure enjoyed the ride, it's been great. I know this one feels very comfortable and very familiar, and it's great to be back.''