A content Izzo reflects and looks forward
July, 30, 2010
07/30/10
1:19
PM ET
ORLANDO, Fla. -- Michigan State's Tom Izzo had to make his decision about coaching the Cleveland Cavaliers long before LeBron James made his overhyped "Decision" about whether to return to the franchise.
And that's why talking to James -- which he never did -- may not have mattered one bit.
Izzo knew he wasn't going to get a straight answer on the subject and wasn't about to ask -- even if he had the chance.
Talking at length about his decision to stay at Michigan State and turn down a-once-in-a-lifetime financial offer from Michigan State alumnus and Cavs owner Dan Gilbert, Izzo was candid about what he would have needed to find out from James.
"I thought he would go back,'' said Izzo while recruiting at the AAU Super Showcase earlier this week at ESPN's Wide World of Sports Complex. Izzo also sat down for an interview on ESPNU that will be shown in its entirety in August.
"I never did talk to him, but I was never going to ask him if he was coming back. If I talked to him, I would have asked him: Could you handle a college coach? It wouldn't have been are you coming back or not. I wouldn't have been that stupid to do something like that to him because that wouldn't have been fair to him.
"I just would have wanted to get a feel. You have to be on the same page with your best player, whether that's high school, college or pro.'
Izzo said he did plenty of research while contemplating the job offer. He said he knows Gilbert but not that well. They've met only a few times.
"For me, I made the decision not strictly on whether [James] was staying or going," Izzo said. "I had no educated clue on what he was going to do. It was just an assumption."
The potential of coaching James and the financial package were alluring.
"Let's face it, the chance to coach the greatest player in the world right now is appealing," Izzo said. "It was a good package. All of those were factors. A lot of the former players [at Michigan State] like Magic, Scott Skiles and Steve Smith helped out a lot. In the end, I think I'm maybe more meant for college. We've done good things and we've got a good team coming back. I have an obligation to Michigan State. They gave me an opportunity [to replace legendary Jud Heathcote as an assistant to head coach]."
But the final weekend of mulling over the agonizing decision was not a fun one. Izzo was swarmed by media from Michigan and Cleveland and throughout the nation wondering what he would do and when he would decide. He took the weekend to make a decision before his basketball camp began. He made his announcement June 16.
When he was riding up the elevator to the news conference with Kalin Lucas, Durrell Summers and Draymond Green, he asked player if they would have done the same. He said all three said they would have gone to the NBA. Having to deal with the constant nagging of his decision made Izzo appreciate what recruits go through in deciding on a school and college players on whether or not to declare and stay in the NBA draft.
[+] Enlarge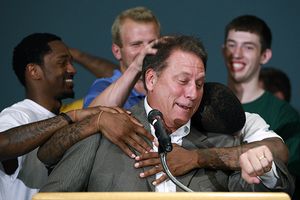 AP Photo/Al GoldisIn the end, Tom Izzo simply couldn't leave MSU.
"I think I learned a lot and it will make me a better coach in terms of dealing with my own players,"' Izzo said. "You have to make tough decisions that affect your entire life and family."
Izzo is president of the National Association of Basketball Coaches and one of the issues bothering him is how much is thrown on a coach's plate these days. The academic responsibilities, the graduation rates, the coaching, the recruiting, the fundraising. All have been tossed on the coach and a failure in any category can be cause for dismissal for some depending on their contracts. In the NBA, the responsibility is one thing -- coaching.
"Having some down time was something that was I definitely looking into," Izzo said.
Yet the allure of Michigan State is what pulled Izzo back. He has coached the Spartans to six Final Fours and one national championship -- and has a team that will be able to compete for another in 2010-11.
The least likely yet the most disappointing Final Four appearance came in April. Izzo said that having Lucas and Chris Allen get injured during the tournament and not having Delvon Roe able to practice (despite playing) made the run to Indianapolis even more surprising. But with Kansas and Kentucky eliminated, it wasn't the most intimidating Final Four field. The title was there for the taking.
"We were a dysfunctional team in a way," Izzo said. "We were hobbling in and I thought it was unlikely to get [to the Final Four], yet I thought it was our best chance to win a national championship. It wasn't the [2009] field with three No. 1 seeds. Duke was Duke, but it wasn't like the other years. West Virginia was down a starter (Darryl Bryant) and Butler was a good team. But I didn't think it was as strong a field as the one before. I thought we had a chance."
With that said, MSU could have easily lost to New Mexico State, Maryland, Northern Iowa or Tennessee in four close games before the 52-50 loss to Butler in the Final Four.
"I'm disappointed that we didn't play well," Izzo said. "But give Butler credit."
As for this season, Izzo said Lucas is still a few weeks away from getting on the court after the Achilles injury. Ultimately he'll miss six months during a crucial time when he could have been improving his game. But Izzo said for Lucas to do what Mateen Cleaves did and win a national title in his second shot (he didn't play in the Final Four last season), he needs to become an even better leader.
"He has to be that guy that drags people with him, that's how you win championships," Izzo said. "Draymond Green does a good job, but it has to be the quarterback."
Raymar Morgan finished his eligibility and the Spartans will miss his defensive versatility, but Roe is finally healthy after dealing with knee injuries the past three seasons and Izzo is convinced Summers is going to be a star guard. The Spartans have rotating bigs in Garrick Sherman and Derrick Nix, but the expectation is that incoming freshman Adreian Payne (who Izzo said has been out with a shoulder injury all summer) will be the new fixture inside.
Assuming Allen returns, depth on the perimeter should be fine with Korie Lucious and newcomers Keith Appling and Russell Byrd joining Summers and Lucas. Allen is being watched closely by Izzo. He's in summer school but according to Izzo has had "some classroom and off-court issues that I'm not happy with.'' When last season was over, Izzo wasn't sure he was going to bring him back but said Allen has "done a lot better."
As for the schedule, it is so loaded -- the Maui Invitational with Kentucky, Washington, Wichita State and Connecticut highlighting; at Duke in the ACC/Big Ten Challenge; against Syracuse at the Jimmy V Classic in New York; Texas and South Carolina at home -- that Izzo pushed a return game to Gonzaga to the 2011-12 season.
"We're one of the teams, one of 12 to 15 teams, that can win [the national title],'' Izzo said. "The goal this year is to get back and win one. We've got enough talent to make a run."