Frank Martin has raised the bar at K-State
August, 3, 2010
08/03/10
10:24
AM ET
ORLANDO, Fla. -- The ascent of Frank Martin has been fascinating to observe. Many questioned the hire, and nearly everyone agreed that the only way this "recruiter" could quiet the critics was to win.
Well, he has. And he will continue to do so this season -- and in the coming years, it would appear.
[+] Enlarge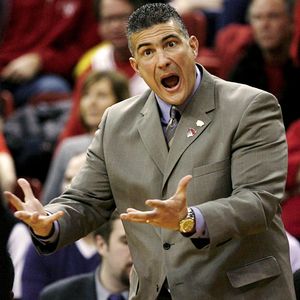 Bruce Thorson/US PresswireMartin has won 72 games in three seasons at KSU.
Martin has always had a presence on the road recruiting. But now he can back it up with results on a yearly basis.
The Wildcats were 29-8 last season (11-5 in the Big 12) and went further than Kansas in the NCAA tournament, losing to Butler in the Elite Eight in Salt Lake City.
Since taking over for Bob Huggins in Manhattan, Martin has coached the Wildcats to the postseason in each of his three seasons -- two NCAAs and an NIT appearance in a year in which the Wildcats were still above .500 in the league (9-7). This season, they're one of the favorites to win the Big 12 with Baylor, Kansas and Texas.
The recruiting pipeline to Washington, D.C., continues to be strong with associate head coach Dalonte Hill (a former coach with the summer league team DC Assault), but so is Martin's connection to his hometown of Miami after getting a reported commitment from 7-footer Adrian Diaz, according to the Kansas City Star. Freddy Asprilla, who played at Florida International before Isiah Thomas' arrival and was at Miami Dade Junior College, is signed for this season.
The reality is this: Kansas State is showing no signs of disappearing from the national scene under Martin. If anything, the Wildcats are getting stronger as a major force, despite not being in a major media market, getting overshadowed by Kansas and essentially being forgotten during all the expansion talk in the spring.
"I was anxious; I can't say that I wasn't," said Martin of KSU possibly being left out had the Big 12 disbanded. "We had no voice as far as men's basketball, and nobody cared what I thought and nothing I could say or do would change the opinion or minds of people."
But Kansas State stayed put, and so did every other school except Nebraska and Colorado, which will only make the Big 12 stronger in hoops as a 10-team league. After years of mediocrity, the Wildcats are again a part of that equation.
How has Martin been able to stay above the initial criticism and continue to build a winner?
He overwhelmingly credits Huggins for setting him up at Kansas State with the administration and his staff -- Hill, Matt Figger, Brad Underwood, Andy Assaley and strength coach Scott Greenawalt -- for staying together and not bailing on him or the school the past three seasons.
"Huggs told everybody that it's Frank's turn," said Martin during an interview that will air later this month on an edition of "Katz's Corner" on ESPNU. "He told everyone that I'll be OK and he encouraged everyone to stay together."
Martin said Huggins allowed him to cultivate his role as a true coach, not just a recruiter. He engaged in practices, spoke his mind and got to know the administration.
But what has made Martin much more of a household name in the next wave of college coaches is his in-game demeanor. He's a highlight dream, with his fiery behavior, encouraging, yelling and stomping on the floor. That behavior has become so well-known that while filling out his NCAA tournament bracket last March, President Obama remarked of Martin: "He's a scary dude."
But when you get Martin away from the game or practice, he might be as even-keeled a person as you'll find. His speech is a bit monotone, but he's not intimidating at all.
"I'm easygoing," said Martin, who got his degree from Florida International and lives with his wife, Anya, and three children. "I love my kids and love being a husband and a father. When my children act like my players, then they see the other side of me [laughing]. Unfortunately for me, our business is held with meetings 40 minutes long and put out there for the world to see. I don't try to hide my emotions.
[+] Enlarge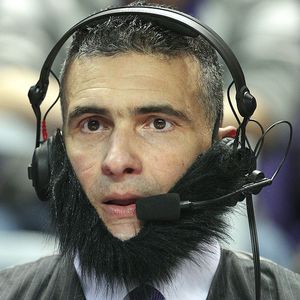 AP Photo/Charlie RiedelMartin -- sporting a Jacob Pullen beard after a win over No. 1 Texas -- isn't always yelling and scowling.
"I've got a great group of kids and I take pride in being part of an intense emotional environment and they love it," Martin said. "Coaches love it. But the best thing for me was getting married and having kids. When I was single, I would take a bad game tape and watch it 100 times. I couldn't let go of the negative. Now as soon as I walk off that court and see those little kids and wife and they say when I get home that 'Daddy's home,' it allows me to put that bad day behind me."
And for Kansas State fans, that's just fine. There is a certain stigma attached to this program, as the Wildcats and their following are desperate to matter as much as does rival Kansas. That's not likely to happen in the short or long term, since KU is more of a national program with its NCAA tournament success, multiple national titles and national following.
Even though the Wildcats return more next season with all-American guard Jacob Pullen and role players Curtis Kelly, Jamar Samuels, Rodney McGruder and Wally Judge, Kansas will be hard to nudge out of the way. The Jayhawks lost three of their top four scorers in Sherron Collins, Xavier Henry and Cole Aldrich (while Kansas State only lost one of its top four in guard Denis Clemente), but KU still has its usual wealth of talent, including freshman point guard Josh Selby and junior forward Marcus Morris.
And the numbers don't lie: After beating Kansas in his first attempt in January 2008, Martin has dropped six in a row to the Jayhawks, including all three meetings last season.
"I've said from the word go theirs is as good a program in the country," Martin said. "[Kansas head coach] Bill [Self] does a great job. They own the Big 12. If we can get our program not just to knock them down but get our program to compete and beat them, then we can get over the hump."
Baylor will also contend, with the return of LaceDarius Dunn in the frontcourt and highly touted forward Perry Jones, expected to be the next Big 12 star. Texas lost Damion James, Dexter Pittman, Avery Bradley and Justin Mason, but the Longhorns are healthy with Dogus Balbay and Varez Ward in the backcourt, could have a potential star in Jordan Hamilton, have Gary Johnson as a possible scorer inside and have a stellar recruiting class with major impact players Cory Joseph and forward Tristan Thompson.
So the competition will be tough, but there is no secret formula for Kansas State. The Wildcats need Pullen to be a star; last season's newcomer guards -- Martavious Irving, Nick Russell and Rodney McGruder -- must replace Clemente; and, as Martin is quick to point out, the frontcourt (now sans second-leading rebounder Dominique Sutton, who transferred out) has to be much more consistent and productive. If the Wildcats do those things, they will be national championship contenders.
"I like our team, and [winning the title] is our goal; that's what we're shooting for," Martin said. "The Big 12 is so hard, and until somebody beats Kansas -- I keep hearing everyone pick everyone else -- but until someone dethrones them, they're the team to beat."