Breaking down the early-season tourneys
August, 5, 2010
08/05/10
8:58
PM ET
Here's a glance at the early-season tournaments either owned by ESPN or in partnership with ESPN that announced their pairings Thursday. Links to the complete brackets can be found in each section below.
2K Sports Classic benefiting Coaches vs. Cancer
Nov. 8-21
Tournament bracket (pdf)
Predetermined semifinals (New York): Pittsburgh vs. Maryland; Illinois vs. Texas
Projected NCAA tournament teams: Pitt, Texas, Illinois
In the mix: Maryland
Five key storylines:
• Will Pitt's early start (an August trip to Ireland) and veteran experience have it in midseason form in this early-season event?
• Will Cory Joseph be ready to take over at lead guard for the Longhorns?
• How healthy will Texas guards Dogus Balbay (knee) and Varez Ward (hamstring) be early on? If they're at full strength, can the Horns make an early statement?
• Who will be the lead guards for Maryland?
• Illinois brought in another great recruiting class. Will the Illini put it together and get themselves off the bubble this season?

O'Reilly Auto Parts CBE Classic
Nov. 14-24
Tournament bracket (pdf)
Predetermined semifinals (Kansas City, Mo.): Duke vs. Marquette; Kansas State vs. Gonzaga
Projected NCAA tournament teams: Duke, Kansas State, Gonzaga, San Diego State
In the mix: Marquette
Five key storylines
• How will Duke's backcourt blend early in the season with freshman Kyrie Irving, veteran Nolan Smith and transfer Seth Curry?

• How will Gonzaga handle a monster stretch to start the season?
• Can Kansas State ride the K.C. crowd and make a national title statement by knocking off Gonzaga and possibly Duke?
• Will San Diego State be able to emerge out of these four games -- all away from home -- without damaging its at-large chances?
• How will Marquette handle the loss of Lazar Hayward in its rebuilding process?

Puerto Rico Tip-Off (San Juan, P.R.)
Nov. 18-19, 21
Tournament bracket (pdf)
Top half: Davidson vs. West Virginia, Nebraska vs. Vanderbilt
Bottom half: Hofstra vs. North Carolina, Western Kentucky vs. Minnesota
Projected NCAA tournament teams: West Virginia, North Carolina, Minnesota
In the mix: Vanderbilt, Western Kentucky
Five key storylines:
• How will Kevin Jones accept his role as the stud whom Bob Huggins is professing he'll become now that Da'Sean Butler is gone?
• Instead of starting the season with distractions (like last season in Anaheim), will Minnesota handle a smooth beginning and the expectation of being an NCAA tourney team?
• What kind of major impact will UNC's Harrison Barnes have in this three-day tournament?
• What are the chances North Carolina's John Henson picks up where he left off during the NIT run?
• How much of a star can Vanderbilt sharpshooter John Jenkins become during the three days in Puerto Rico?

EA Sports Maui Invitational (Maui, Hawaii)
Nov. 22-24
Tournament bracket (pdf)
Top half: Wichita State vs. Connecticut; Michigan State vs. Chaminade
Bottom half: Oklahoma vs. Kentucky; Virginia vs. Washington.
Projected NCAA tournament teams: Michigan State, Kentucky, Washington
In the mix: Wichita State, Connecticut
Five key storylines:
• What are the chances that Enes Kanter is eligible for Kentucky in this event? And how will Brandon Knight handle being the lead guard for the Big Blue?
• How ready will Michigan State's Kalin Lucas be for the start of the season after his Achilles injury?
• UConn is raving about Shabazz Napier. How effective will he and Kemba Walker be together in the backcourt?
• How will Wichita State handle being the favorite in the Missouri Valley and being on a national stage in November?
• A potential Kentucky-Washington semifinal … need we say more?

Old Spice Classic (Orlando, Fla.)
Nov. 25-26, 28
Tournament bracket (pdf)
Top half: Boston College vs. Texas A&M; Wisconsin vs. Manhattan
Bottom half: Georgia vs. Notre Dame; Temple vs. California
Projected NCAA tournament teams: Wisconsin, Georgia, Notre Dame, Temple
In the mix: Texas A&M
Five key storylines:
• How will Texas A&M deal with the loss of key guard Donald Sloan?
• Will Wisconsin's Jon Leuer follow up his summer on the USA Basketball select team by standing out in Orlando?
• Georgia is a definite sleeper team, but will the Bulldogs play well enough to be taken seriously early in the season?
• What kind of impact will Notre Dame's Scott Martin have for the Irish early on?
• Will Temple get off to a great start or rely on a late-season surge to return to another NCAA tourney under Fran Dunphy?

76 Classic (Anaheim, Calif.)
Nov. 25-26, 28
Tournament bracket (pdf)
Top half: Virginia Tech vs. Northridge; DePaul vs. Oklahoma State
Bottom half: Murray State vs. Stanford; Tulsa vs. UNLV
Projected NCAA tournament teams: Virginia Tech, Murray State
In the mix: UNLV
Five key storylines:
• What are the chances Tre'Von Willis' legal issues will be resolved in time for him to be effective for UNLV in this event?
• Virginia Tech can't afford to slip early, so how will the Hokies handle a tournament made for them to win?
• What are the chances Murray State can start its campaign for an at-large bid or a higher seed with a three-game sweep in Anaheim?
• How will Oklahoma State handle the loss of James Anderson?
• How will Stanford deal with filling Landry Fields' scoring prowess?

Cancun Governor's Cup (Cancun, Mexico)
Dec. 22-24
Tournament bracket (pdf)
Top half: Northeastern vs. Saint Louis; East Tennessee State vs. Southern Mississippi
Bottom half: Texas State vs. Ole Miss; Appalachian State vs. Colorado State
Projected NCAA tournament teams: No locks
In the mix: Saint Louis, Ole Miss, Southern Miss
Five key storylines:
• Who will fill in the Ole Miss backcourt next to stud guard Chris Warren after the departure of Terrico White?
• How will Saint Louis handle being a possible favorite in this field and an A-10 contender?
• How will the young Jason Capel of Appalachian State handle his first head-coaching job?
• If this is Larry Eustachy's best team at Southern Miss, how will the Golden Eagles handle a possible showdown with old C-USA foe Saint Louis in the semifinals?
• What will Northeastern do to replace Matt Janning's influence?
Hawaiian Airlines Diamond Head Classic (Honolulu)
Dec. 22-23, 25
Tournament bracket (pdf)
Top half: Mississippi State vs. Washington State; San Diego vs. Baylor
Bottom half: Utah vs. Butler; Florida State vs. Hawaii
Projected NCAA tournament teams: Baylor, Butler, Florida State
In the mix: Mississippi State, Washington State
Five key storylines:
• How much will Baylor's Perry Jones be a star by the time this tournament starts in late December?
• Will Butler have found a scoring replacement for Gordon Hayward by the time the Bulldogs get to Hawaii?
• How will Florida State have handled replacing the shot-blocking and defense of big man Solomon Alabi? • Will Washington State's Klay Thompson recover from his late-season shooting struggles and get the Cougars back on track?
• What kind of effect will Renardo Sidney have on Mississippi State in the few games before the tournament starts (he has to sit out the first nine)?
Here is an overall breakdown of the tournaments that will air on the ESPN family of networks in November and December:
Best field: Maui Invitational. The field is led by national title and Big Ten co-favorite Michigan State. Kentucky has the top-rated recruiting class and is a sure bet to challenge Florida and Tennessee for the SEC East title. Washington is the Pac-10 favorite and a threat to get back to the Sweet 16 and possibly beyond. Wichita State is the Missouri Valley favorite and a top-30 team. Connecticut has one of the top point guards in the country in Kemba Walker. Virginia is rebuilding but won't be a slouch.
Most anticipated set matchup: Kansas State versus Gonzaga in the CBE semifinals in Kansas City.
Possible top-10 final: Duke versus Kansas State in the CBE in Kansas City, Nov. 23.
Best name final: If it's Michigan State versus Kentucky -- Tom Izzo versus John Calipari -- in the Maui title game, it would be hard to beat for national attention and fan following.
Tantalizing possible final: Butler versus Baylor in the Diamond Head Classic, which would pit the defending national runner-up against one of the Big 12 favorites on Christmas night.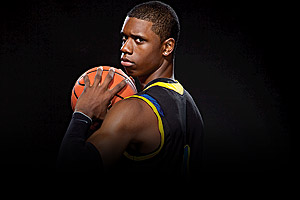 Kelly Kline\ESPN RISE MagazineIf Kentucky and Washington meet in the Maui semis, Jones will be the center of attention -- again.
Most anticipated second-round game: Kentucky versus Washington. If it happens, it will be an intriguing matchup between two high-octane teams that squabbled over Terrence Jones in a dramatic recruiting war. He committed to UW before heading to Lexington. Enes Kanter also committed to Washington early on. Don't think Huskies fans have forgotten … or the players. Immediately after the Maui bracket was revealed, UW guard Isaiah Thomas tweeted: "They didn't want the UW/UK in the 1st rd??? Guess we both gotta win so people can watch what they wanna see."
Most underrated first-round games: Georgia versus Notre Dame in the Old Spice Classic: UGA is a sleeper Top 25 team, while the Fighting Irish are an NCAA tourney contender again. Wichita State vs. Connecticut in the Maui Invitational: The Shockers need to prove they belong on a national level by beating the Huskies in Round 1.
Most wide-open field: Old Spice Classic in Orlando. You can make a case for Wisconsin, Georgia, Notre Dame or Temple to win the event. And while Texas A&M and Cal are rebuilding, both are well-coached and neither will be an easy out.
Better field than advertised: The 76 Classic has a top-three ACC team in Virginia Tech; the Ohio Valley favorite and a possible Top 25 team in Murray State; a Mountain West contender in UNLV; and always pesky Oklahoma State, Tulsa and Stanford. DePaul gets a face-lift under Oliver Purnell, too.
Toughest three-game stretch: In the CBE Classic, Gonzaga plays Mountain West favorite San Diego State at home and then Kansas State in Kansas City and either Marquette or top-ranked Duke.
Second-class status: San Diego State and Rhode Island. The Aztecs play at Gonzaga and then go to Oxford, Ohio, for three games, while not getting a chance at the CBE semifinals in Kansas City. The Aztecs knew this would happen because they had to find a home after being left out of a tournament in Las Vegas. SDSU also desperately wanted a game with Gonzaga. Give coach Steve Fisher credit for playing five straight road games to start the season. (The Aztecs open at Long Beach State.)
As for URI, the Rams are clearly in second-tier situation in the Atlantic 10. Rhode Island will play at Pitt and then go to Toledo for three games against Charleston, the host Rockets and Illinois-Chicago in the Coaches vs. Cancer tournament. They aren't one of the four teams (Pitt, Maryland, Illinois and Texas) heading to New York City for the predetermined semifinals. URI isn't treated the same as Xavier or Temple in terms of marquee, made-for-television games. But get in line, because most of the A-10 isn't, either.
Most anticipated major tourney debuts: North Carolina's Harrison Barnes in the Puerto Rico Tip-Off; Texas' Cory Joseph in the CVC; Baylor's Perry Jones and Mississippi State's Renardo Sidney in the Diamond Head Classic.
Teams that need to live up to the hype: Pitt -- Big East favorite plays rebuilding Maryland and then Illinois or Texas in the CVC semifinals in New York; North Carolina -- the Tar Heels need to rebound off last season's NIT and have a chance to beat quality teams in Puerto Rico if they face Minnesota in Round 2 and then either Vandy or West Virginia in the title game.
Sleeper teams to watch: Saint Louis is a possible A-10 title contender but will face a tough semifinal against upstart Southern Miss and then possibly Ole Miss in the Cancun title game; Florida State has All-American candidate in Chris Singleton and has a chance to lead the ACC pack behind Duke and UNC; Murray State could have beaten Butler last season in the NCAA tournament's second round, and Billy Kennedy has another team worth fearing come March. The Racers could realistically win the 76 Classic.
Intriguing team to watch: Washington State. The Cougars return three studs in Klay Thompson, Reggie Moore and DeAngelo Casto, yet finished last in the Pac-10. Will Wazzu bounce back and be trouble for a loaded field at the Diamond Head Classic?