Rick Pitino speaks out in aftermath of trial
August, 6, 2010
08/06/10
8:04
PM ET
Yes, the U.S. attorney's office in Louisville won its case against Karen Cunagin Sypher for lying to the FBI in her attempt to extort millions of dollars from Louisville men's basketball coach Rick Pitino for a sexual tryst seven years ago.
So the United States government was victorious.
Pitino, however, was not. Nothing about this sordid case made him a winner. There was and will be consequences for his actions and for taking the witness stand during the trial and disclosing intimate details about the encounter -- an incredibly uncomfortable scene that won't be soon forgotten.
"I paid the price," said Pitino by phone Friday, a day after the 50-year-old Sypher was found guilty of three counts of extortion, two counts of lying to the FBI and one count of retaliating against a witness.
"I used extremely poor judgment and I've made my peace with God and my family."
Pitino said that he had no choice but to go to authorities after Sypher attempted to extort him, knowing full well that the information would become public.
"I had no choice in this fight," Pitino said. "I had to take it on. I didn't want this to go public, but she went to the news stations."
But even though Pitino was technically the victim in this case and Sypher will be sentenced Oct. 27 to some sort of jail time, Pitino has become late-night fodder for Jay Leno and mocked by the blogosphere and on Twitter for his detailed statements about the encounter.
"I'm not concerning myself with the perceptions," Pitino said. "I told the truth from day one [of him being extorted in 2009, not of the encounter in 2003] to my employer to [UL athletic director] Tom Jurich and to Dr. [James] Ramsey and to my family right away. The only thing I was concerned with was telling the truth. I taught my players over the last 30 years that if you tell the truth your problems will become a part of the past. If you lie, they are a part of your future."
[+] Enlarge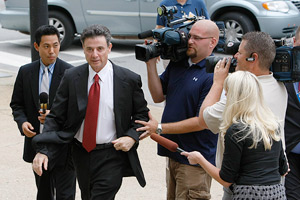 AP Photo/Ed ReinkeRick Pitino's testimony at the trial of Karen Cunagin Sypher didn't exactly help his legacy.
It should be pointed out that Pitino only told the truth to everyone close to him once the extortion took place, not the tryst.
"When you're 57, you're not too concerned about yourself," Pitino said. "Your spirit becomes humble. I derive happiness from my family, my grandchildren.
"I was never going to lose my family," Pitino said of his marriage and his five grown children. "We're strong and we've gone through an awful lot. I told them the truth. I asked for forgiveness and I'm only interested in what my family and what God thinks. I've made my peace with my family and I'm ready to move forward."
Pitino said he was never worried that he would lose his job. He did say on the witness stand that he told his son Richard to leave the Louisville staff to go to be an assistant at Florida under Pitino pupil Billy Donovan as a way to get away from the trial. Richard Pitino said last week that the case was one of the reasons he left Louisville to join Florida.
"I'm very lucky to be a part of Louisville and that's why I stay and why I work for them and for Tom," the elder Pitino said. "People make mistakes in life. I made a big error in judgment. I owned up and someone else is facing six felony accounts. This [case] was for the judge and the jury to decide. I was a witness. That was all."
Pitino made just one appearance at the trial. He said he didn't miss any of the July evaluation period because most head coaches take a day off during the 20 days to allow another coach to get on the road.
And Louisville's recruiting hasn't exactly suffered from the public humiliation of its coach. Sure, Pitino lost out on a few high-profile recruits -- notably Marquis Teague to rival Kentucky despite hiring Teague's high school assistant coach -- but the Cardinals' haul for 2011 is already three players deep, led by an ESPNU top-20 player in shooting guard Wayne Blackshear of Morgan Park, Ill.
On the first weekend of September, Louisville will officially host Quincy Miller and teammate Deuce Bello. Miller is the No. 4-ranked player in the 2011 class and the uber-athletic Bello is another top-75 recruit.
"It has never come up," said Pitino of being asked about the case on the recruiting trail. "Certain recruits have said 'We're praying for you.' We've worked hard to get a great recruiting class. We've worked around the clock to make this a banner recruiting class."
Pitino said he has heard from former players at Kentucky and with the Boston Celtics, telling them that they were pulling for him.
"Every family has hardships," Pitino said. "I was a witness. I told the truth. I'll never discuss it again. I made an error in judgment. I've paid the consequences. My heart is broken, or what I have left of it."
As he did in a spirited and much-debated news conference last August, Pitino again evoked the memory of previous hardships faced by his family. Pitino's brother-in-law and best friend, Billy Minardi, died in the Sept. 11 attacks. Within six months of that tragedy, another brother-in-law, Don Vogt, died after being hit by a cab in New York City.
Those tragedies took 70 percent of his heart, he said. The tryst and extortion trial have "taken the rest of my heart away. I live vicariously through my children and grandchildren and through my players and through the university. I gain my happiness through them. That's not a bad thing right now. I'm trying to share in their moments."
Pitino agreed to a four-year contract extension in March, locking him in with the Cardinals through the 2016-17 season. Pitino's previous contract ran through 2013 and paid him $2.5 million annually.
The Cardinals are moving into the 22,000-seat KFC Yum! Center this season. Clearly, the university is invested in Pitino and is banking on the basketball program being a success with him as coach, despite the sordid details of the case.
Pitino said Jurich once referred to the new Yum! Center as "Pitino's Palace." But the program is no longer about him. Nor does he want it to be perceived that way again, if it ever was by those in Louisville or nationally.
"I don't think I'm that significant," said Pitino. "There's only one John Wooden in this world. [Coaches] are not that significant. I derive my joy from my children and my grandchildren. Basketball is my passion and I love it and I love to see my players succeed. I'm here for them and my children. That's my passion."
And for the foreseeable future, that will be his life. Pitino is tainted. He knows it and he can't dismiss it. But he also still has his job, his family and his life. His reputation is tarnished, but he does have a chance to move on. How he handles this opportunity will define him for the rest of his career and his public life.